Robert Costa of Na­tion­al Re­view, who won praise for his cov­er­age of the fisc­al show­down these past few weeks, has a new in­ter­view out with Sen­ate Minor­ity Lead­er Mitch Mc­Con­nell. In it Mc­Con­nell offered up an as­sess­ment of where Re­pub­lic­ans went wrong in the shut­down stan­doff and seemed to sug­gest he was against the GOP's de­fund­ing ef­forts all along.
"I can tell you when I knew that we'd end up here — Ju­ly," Mc­Con­nell told Costa in the in­ter­view pub­lished Thursday. "We had ex­tens­ive dis­cus­sions in Ju­ly about how the de­fund strategy couldn't pos­sibly suc­ceed." It was a mat­ter of simple math, he said. There are only 46 Re­pub­lic­ans in the sen­ate, and when you add in the pres­id­ent, he knew a de­fund­ing ef­fort had no chance of suc­cess.
After the in­ter­view, Costa, who's known for his un­der­stand­ing of and em­pathy for con­ser­vat­ives, tweeted of Mc­Con­nell:
He's re­lieved the "quix­ot­ic" ef­fort to make have a big stan­doff is over, and he re­minds me he's been throw­ing cold wa­ter on it since Ju­ly

— Robert Costa (@robert­cost­aNRO) Oc­to­ber 17, 2013
His­tory sug­gests oth­er­wise. As TPM's Sahil Kapur re­por­ted at the time, the Sen­ate minor­ity lead­er de­clined to take a po­s­i­tion when pressed by re­port­ers about con­ser­vat­ive ef­forts to block a gov­ern­ment-fund­ing res­ol­u­tion un­less Obama­care is de­fun­ded.
"We've had a lot of in­tern­al dis­cus­sions about the way for­ward this fall, on both the con­tinu­ing res­ol­u­tion and ul­ti­mately the debt ceil­ing. And those dis­cus­sions con­tin­ue," Mc­Con­nell said, ac­cord­ing to Kapur's piece, pub­lished Ju­ly 30. "I know they're go­ing on on the House side as well. There's no par­tic­u­lar an­nounce­ment at this point, but you all are fa­mil­i­ar with the vari­ous points of view about how we might go for­ward later this year."
We'll have to take Mc­Con­nell at his word for what he did be­hind closed doors, but in not splash­ing cold wa­ter on the idea pub­licly, he helped cre­ate a va­cu­um in which the move­ment was al­lowed to flour­ish.
By Sept. 17 he still hadn't taken a po­s­i­tion on a strategy for de­fund­ing Obama­care through the con­tinu­ing res­ol­u­tion. As Jonath­an Strong re­por­ted in Na­tion­al Re­view, "aides to both Boehner and Mc­Con­nell ac­tu­ally in­ter­vened to en­sure that com­ments both of their bosses made did not ac­tu­ally amount to tak­ing a po­s­i­tion. In the res­ult­ing va­cu­um, the push to de­fund Obama­care con­tin­ued to gain mo­mentum. And when Can­tor fi­nally re­vealed the House lead­er­ship's plan last week, it was too late — the seeds of dis­sent had already been planted."
Polling might of­fer some in­sight in­to his change of heart. Mc­Con­nell was fa­cing a vari­ety of com­pet­ing pres­sures from the be­gin­ning, in­clud­ing heat from his 2014 GOP primary chal­lenger, Matt Bev­in, who called on him to sign a pledge vow­ing nev­er to sup­port a con­tinu­ing res­ol­u­tion if it funds Obama­care. As the polit­ic­al dangers of in­cit­ing gov­ern­ment shut­down be­came in­creas­ingly ap­par­ent, that cal­cu­lus star­ted to look more and more off — and more and more like a polit­ic­al risk in a po­ten­tial gen­er­al-elec­tion cam­paign against Demo­crat Al­is­on Lun­der­gan Grimes.
In his in­ter­view with Costa, Mc­Con­nell dis­missed the no­tion that his nav­ig­a­tion of the shut­down was driv­en by poll num­bers, call­ing that "the Moth­er Jones thes­is." It's not par­tic­u­larly con­tro­ver­sial to sug­gest politi­cians are mo­tiv­ated in part by poll num­bers, not in an elec­tion year. But to look at Mc­Con­nell's ac­tions devoid of the lar­ger con­text misses the point. Re­pub­lic­ans have been ad­voc­at­ing grid­lock and host­age-tak­ing for years. In 2011, for in­stance, they took the debt ceil­ing host­age and won ma­jor policy con­ces­sions, though that likely had more to do with the fact that they'd won the 2010 elec­tion and thus its res­ult­ing man­date, as Ezra Klein re­por­ted in Wonk­book on Thursday. "Go­ing for­ward, Re­pub­lic­ans will be more afraid of this kind of brinks­man­ship," Klein pre­dicted, "and Demo­crats will be far less afraid of it."
In­deed, the most passed-around line from the in­ter­view with Costa un­der­scored Klein's point. "We're not go­ing to do this again in con­nec­tion with the debt ceil­ing or with a gov­ern­ment shut­down," Mc­Con­nell said.
Mc­Con­nell de­serves cred­it for help­ing to broker a deal at the end, and more gen­er­ally, for his polit­ic­al savvy. But don't let him re­write the his­tory books with how he thwarted the GOP's big, dumb stan­doff idea. He didn't come early to that party.
What We're Following See More »
STAFF PICKS
Bannon Still Collecting Royalties from 'Seinfeld'
49 minutes ago
WHY WE CARE
The Hollywood Reporter takes a look at a little-known intersection of politics and entertainment, in which Trump campaign CEO Steve Bannon is still raking in residuals from Seinfeld. Here's the digest version: When Seinfeld was in its infancy, Ted Turner was in the process of acquiring its production company, Castle Rock, but he was under-capitalized. Bannon's fledgling media company put up the remaining funds, and he agreed to "participation rights" instead of a fee. "Seinfeld has reaped more than $3 billion in its post-network afterlife through syndication deals." Meanwhile, Bannon is "still cashing checks from Seinfeld, and observers say he has made nearly 25 times more off the Castle Rock deal than he had anticipated."
IT'S ALL CLINTON
Reliable Poll Data Coming in RE: Debate #1
1 hours ago
WHY WE CARE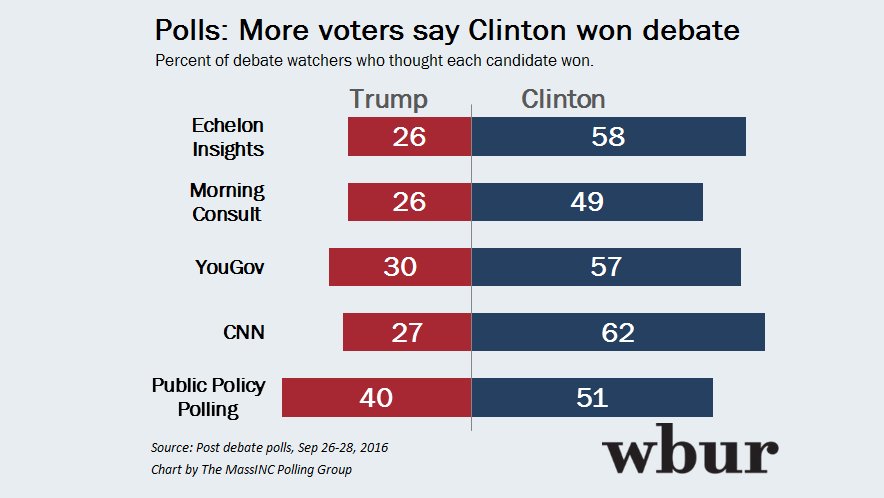 NEXT THURSDAY
Trump Transition Team Meeting with Silicon Valley VIPs
3 hours ago
THE DETAILS
Donald Trump's "transition team will meet next week with representatives of the tech industry, multiple sources confirmed, even as their candidate largely has been largely shunned by Silicon Valley. The meeting, scheduled for next Thursday at the offices of law and lobbying firm BakerHostetler, will include trade groups like the Information Technology Industry Council and the Internet Association that represent major Silicon Valley companies."
WHAT WILL PASS?
McConnell Doubts Criminal Justice Reform Can Pass This Year
3 hours ago
ALSO FIRED UNATTRACTIVE WAITRESSES
Trump Did Business with Cuba
4 hours ago
THE LATEST
Today in bad news for Donald Trump:
Newsweek found that a company he controlled did business with Cuba under Fidel Castro "despite strict American trade bans that made such undertakings illegal, according to interviews with former Trump executives, internal company records and court filings." In 1998, he spent at least $68,000 there, which was funneled through a consluting company "to make it appear legal."
The Los Angeles Times reports that at a golf club he owns in California, Trump ordered that unattractive female staff be fired and replaced with prettier women.