Ja­pan on Monday threw its sup­port be­hind a U.N. First Com­mit­tee state­ment that dis­cour­ages the use any­where of nuc­le­ar weapons but stops short of call­ing for their ban, Ky­odo News re­por­ted.
Ja­pan's sup­port of the state­ment is sig­ni­fic­ant be­cause Tokyo three times pre­vi­ously has re­fused to sign-on to sim­il­ar com­mit­tee state­ments out of con­cern they con­flic­ted with a na­tion­al de­fense policy that re­lies in part on the U.S. nuc­le­ar um­brella.
"It is in the in­terest of the very sur­viv­al of hu­man­ity that nuc­le­ar weapons are nev­er used again, un­der any cir­cum­stances," reads the state­ment by the First Com­mit­tee, which fo­cuses on se­cur­ity and dis­arm­a­ment mat­ters.
The state­ment was brought for­ward by New Zea­l­and and gained the sup­port of an un­pre­ced­en­ted 125 na­tions, ap­prox­im­ately 66 per­cent of the U.N. gen­er­al mem­ber­ship.
Ja­pan is the only na­tion to ever come un­der a nuc­le­ar at­tack. The ex­per­i­ence of the 1945 bomb­ings of the cit­ies of Hiroshi­ma and Na­ga­saki has turned Ja­pan in­to one of the world's biggest pro­ponents of uni­ver­sal de­nuc­lear­iz­a­tion, yet it wants this goal to hap­pen in a gradu­al man­ner. The United States for dec­ades has provided ex­ten­ded de­terrence to Ja­pan, which is con­cerned about the nuc­le­ar-weapons pro­grams of its neigh­bors — China and North Korea.
New Zea­l­and Am­bas­sad­or for Dis­arm­a­ment Dell Hig­gie said "some changes" had been made to the lan­guage of the state­ment "at Ja­pan's re­quest, which has fa­cil­it­ated their in­volve­ment."
The 2013 state­ment does not dis­cuss "out­law­ing" nuc­le­ar arms as a 2012 state­ment did. This year's state­ment notes vari­ous "ap­proaches and ef­forts to­ward nuc­le­ar [dis­arm­a­ment]" — lan­guage that al­lowed gov­ern­ments such as Tokyo to sup­port it as it al­lows for the phased elim­in­a­tion of nuc­le­ar weapons.
Nor­way and Den­mark, which as mem­bers of NATO re­ceive nuc­le­ar de­terrence pro­tec­tion, also sup­por­ted the state­ment. It was not backed by any of the world's nuc­le­ar powers.
A sep­ar­ate ef­fort is tak­ing place in the First Com­mit­tee to gain sup­port for a Ja­pan­ese res­ol­u­tion that for the 20th year calls for the world­wide elim­in­a­tion of nuc­le­ar weapons.
What We're Following See More »
UNTIL DEC. 9, ANYWAY
Obama Signs Bill to Fund Government
2 hours ago
REDSKINS IMPLICATIONS
SCOTUS to Hear Case on Offensive Trademarks
3 hours ago
WHY WE CARE
"The Supreme Court is taking up a First Amendment clash over the government's refusal to register offensive trademarks, a case that could affect the Washington Redskins in their legal fight over the team name. The justices agreed Thursday to hear a dispute involving an Asian-American rock band called the Slants, but they did not act on a separate request to hear the higher-profile Redskins case at the same time." Still, any precedent set by the case could have ramifications for the Washington football team.
STAFF PICKS
Bannon Still Collecting Royalties from 'Seinfeld'
4 hours ago
WHY WE CARE
The Hollywood Reporter takes a look at a little-known intersection of politics and entertainment, in which Trump campaign CEO Steve Bannon is still raking in residuals from Seinfeld. Here's the digest version: When Seinfeld was in its infancy, Ted Turner was in the process of acquiring its production company, Castle Rock, but he was under-capitalized. Bannon's fledgling media company put up the remaining funds, and he agreed to "participation rights" instead of a fee. "Seinfeld has reaped more than $3 billion in its post-network afterlife through syndication deals." Meanwhile, Bannon is "still cashing checks from Seinfeld, and observers say he has made nearly 25 times more off the Castle Rock deal than he had anticipated."
IT'S ALL CLINTON
Reliable Poll Data Coming in RE: Debate #1
4 hours ago
WHY WE CARE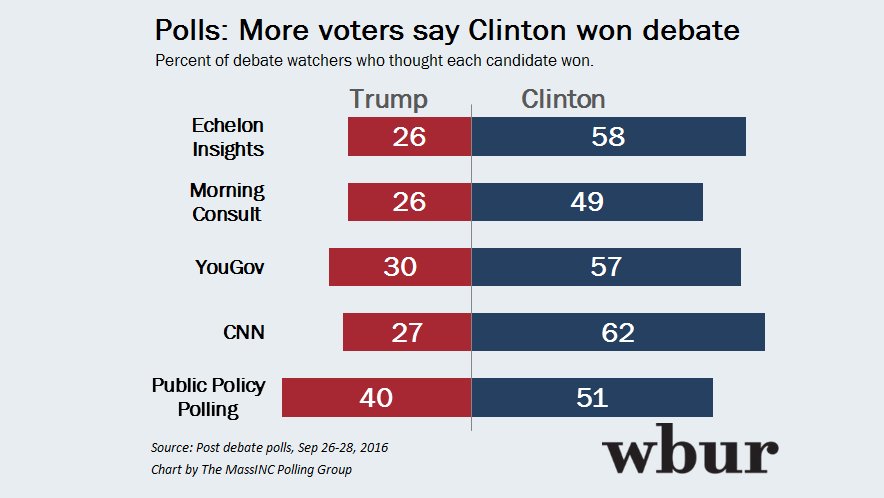 NEXT THURSDAY
Trump Transition Team Meeting with Silicon Valley VIPs
6 hours ago
THE DETAILS
Donald Trump's "transition team will meet next week with representatives of the tech industry, multiple sources confirmed, even as their candidate largely has been largely shunned by Silicon Valley. The meeting, scheduled for next Thursday at the offices of law and lobbying firm BakerHostetler, will include trade groups like the Information Technology Industry Council and the Internet Association that represent major Silicon Valley companies."