It has been six months since the news broke that the In­tern­al Rev­en­ue Ser­vice was tar­get­ing tea-party groups for ex­tra scru­tiny last spring.
Since then, in­vest­ig­at­ors with the House Ways and Means Com­mit­tee have re­viewed more than 300,000 doc­u­ments and in­ter­viewed more than two dozen IRS of­fi­cials, some more than once. Law­makers from both parties say a clear por­trait has emerged of a troubled and un­ac­count­able agency that over­reached when it came to over­see­ing non­profits.
What they haven't yet found is any dir­ect ties link­ing the White House to the scan­dal.
"I think there's no ques­tion it's a scan­dal based on gross mis­man­age­ment from the very top cir­cu­lat­ing all the way down the ranks," said Rep. Charles Bous­tany, R-La., the chair­man of Ways and Means' Over­sight Sub­com­mit­tee that is lead­ing the probe. "We have con­cerns about wheth­er there's a polit­ic­al scan­dal. We haven't veri­fied that yet."
But pa­tience among Ways and Means Demo­crats, es­pe­cially rank­ing mem­ber Sander Lev­in of Michigan, is wear­ing thin. Since the scan­dal first broke, it has emerged that it wasn't just tea-party groups that were on the agency's con­tro­ver­sial "be on the lookout" lists. Some left-lean­ing or­gan­iz­a­tions were on there, too.
Lev­in has said the pan­el's Re­pub­lic­ans have been so fo­cused on mak­ing polit­ic­al hay of the scan­dal that they have fo­cused in­suf­fi­ciently on mend­ing the mis­man­aged tax agency. And he notes that their fo­cus on link­ing the scan­dal to the White House hasn't turned any­thing up.
Bous­tany re­sponds that he and his col­leagues are simply do­ing due di­li­gence by look­ing in­to a broken bur­eau­cracy and try­ing to fer­ret out wheth­er the ad­min­is­tra­tion ex­er­ted any un­due in­flu­ence. "If we hit a wall and we can't prove that, then so be it, if that's what the facts tell us — but we have to get to that point," he said. "Suf­fice it to say the in­vest­ig­a­tion is not nearly com­plete."
The probe didn't start out so par­tis­an and con­tro­ver­sial. In fact, back in May, com­mit­tee Chair­man Dave Camp, R-Mich., and Lev­in is­sued a joint state­ment call­ing for the IRS to turn over doc­u­ments, and to­geth­er they ex­ped­ited the cal­en­dar to sched­ule a hear­ing.
But the good­will began to evap­or­ate by the end of Camp's open­ing re­marks, when he de­clared of the Obama ad­min­is­tra­tion, "This ap­pears to be just the latest ex­ample of a cul­ture of cov­er-ups."
Lev­in was taken aback. The probe had barely be­gun, and Camp was talk­ing about a cov­er-up. Lev­in quickly changed his pre­pared state­ment to re­spond to the charge.
"We star­ted on a bi­par­tis­an basis, but it went down­hill and they have tried to use the IRS for purely polit­ic­al pur­poses," Lev­in said in an in­ter­view earli­er this month.
The tax-writ­ing com­mit­tees of Con­gress have been one of the last refuges of bi­par­tis­an­ship on Cap­it­ol Hill. Camp, Lev­in, and their coun­ter­parts in the Sen­ate — Fin­ance Com­mit­tee Chair­man Max Baucus, D-Mont., and rank­ing mem­ber Or­rin Hatch, R-Utah — con­tin­ue to push ahead on the first com­pre­hens­ive re­write of the na­tion's tax code in a quarter cen­tury.
But the IRS probe has sapped man-hours and strained some of the re­la­tion­ships key to mov­ing for­ward on tax re­form. "Dave Camp has been very much in­flu­enced by, and of­ten guided by, the rad­ic­al­iz­a­tion of the Re­pub­lic­an Party," Lev­in said.
The Ways and Means in­vest­ig­a­tion is one of three sim­ul­tan­eous con­gres­sion­al in­vest­ig­a­tions in­to the IRS; oth­er probes are by the Sen­ate Fin­ance Com­mit­tee and the House Over­sight pan­el, chaired by Rep. Dar­rell Issa, R-Cal­if. While Issa, an ag­gress­ive and me­dia-hungry in­quis­it­or, has grabbed many of the head­lines in re­cent months, only the Ways and Means Com­mit­tee's in­vest­ig­at­ors are al­lowed to peek at priv­ileged tax­pay­er in­form­a­tion, giv­ing them the clearest view in­side the tax agency's op­er­a­tions.
More in­ter­views are sched­uled and more doc­u­ment dumps from the IRS are ex­pec­ted in the com­ing months. Bous­tany said that the probe, which began by fo­cus­ing on the IRS's Cin­cin­nati of­fice, has now be­gun ex­plor­ing evid­ence of sys­tem­at­ic tar­get­ing in the Dal­las branch. Even­tu­ally, he said, he wants to work his way to Wash­ing­ton and the IRS's chief coun­sel, one of only two ad­min­is­tra­tion ap­point­ments at the agency.
"We need to work "¦ all the way up to the seni­or lead­er­ship," Bous­tany said. "We wanted to get the facts from the bot­tom first, which I think would make for a much more thor­ough in­vest­ig­a­tion"¦. You get one crack at these guys when you do these in­ter­views, and we want to know what ques­tions to ask."
Stacy Kaper contributed to this article.
What We're Following See More »
UNTIL DEC. 9, ANYWAY
Obama Signs Bill to Fund Government
4 hours ago
REDSKINS IMPLICATIONS
SCOTUS to Hear Case on Offensive Trademarks
4 hours ago
WHY WE CARE
"The Supreme Court is taking up a First Amendment clash over the government's refusal to register offensive trademarks, a case that could affect the Washington Redskins in their legal fight over the team name. The justices agreed Thursday to hear a dispute involving an Asian-American rock band called the Slants, but they did not act on a separate request to hear the higher-profile Redskins case at the same time." Still, any precedent set by the case could have ramifications for the Washington football team.
STAFF PICKS
Bannon Still Collecting Royalties from 'Seinfeld'
6 hours ago
WHY WE CARE
The Hollywood Reporter takes a look at a little-known intersection of politics and entertainment, in which Trump campaign CEO Steve Bannon is still raking in residuals from Seinfeld. Here's the digest version: When Seinfeld was in its infancy, Ted Turner was in the process of acquiring its production company, Castle Rock, but he was under-capitalized. Bannon's fledgling media company put up the remaining funds, and he agreed to "participation rights" instead of a fee. "Seinfeld has reaped more than $3 billion in its post-network afterlife through syndication deals." Meanwhile, Bannon is "still cashing checks from Seinfeld, and observers say he has made nearly 25 times more off the Castle Rock deal than he had anticipated."
IT'S ALL CLINTON
Reliable Poll Data Coming in RE: Debate #1
6 hours ago
WHY WE CARE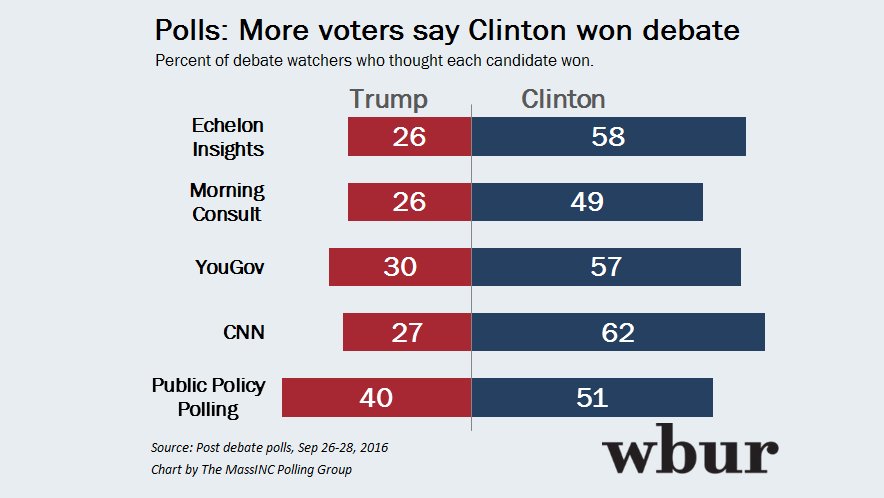 NEXT THURSDAY
Trump Transition Team Meeting with Silicon Valley VIPs
8 hours ago
THE DETAILS
Donald Trump's "transition team will meet next week with representatives of the tech industry, multiple sources confirmed, even as their candidate largely has been largely shunned by Silicon Valley. The meeting, scheduled for next Thursday at the offices of law and lobbying firm BakerHostetler, will include trade groups like the Information Technology Industry Council and the Internet Association that represent major Silicon Valley companies."