President Trump in recent years has demanded boycotts of three countries, two cable networks, a computer maker, two stores, one sports league, a motorcycle maker, a brand of Scotch, a magazine, and a cookie. But this longtime champion of boycotts now has taken a strong—if inconsistent—stand against politically inspired economic boycotts, rushing to the defense of one of his supporters, Home Depot cofounder Bernie Marcus. Those who want to boycott Home Depot, he tweeted Tuesday night, "are vicious and totally crazed."
"They don't want people to shop at those GREAT stores because he contributed ... to your favorite President, me!" he wrote, lamenting that his foes "put out the name of a store, brand or company, and ask their so-called followers not to do business there. They don't care who gets hurt, but also don't understand that two can play that game!" He concluded by urging his supporters to "do to them what they do to you."
The president is being uncharacteristically modest here, though, failing to take the credit he deserves as a longtime champion of political or personal boycotts against those who cross him.
Here are 20 of his targets:
Oreo cookies
Oreos and parent company Nabisco were a favorite target in the 2016 campaign after Trump claimed Nabisco was moving a plant from Chicago to Mexico. He was mistaken about the plant closing and his numbers were wrong, but he milked it for political benefit. "I'll never eat another Oreo again. Ever. Ever!" he said at a Virginia rally in October 2015.
Glenfiddich Scotch
Trump was furious in 2012 when the makers of Glenfiddich scotch sponsored a vote for the "Top Scot." The winner was Michael Forbes, a neighbor of Trump's golf resort in Scotland and a frequent critic of his actions there. "Scots should boycott Glenfiddich garbage for not choosing Olympic & U.S. Open champ Andy Murray over total loser Michael Forbes," he tweeted.
Apple products
During the campaign, Trump was livid that Apple did not help the FBI access the iPhone of one of the perpetrators of the mass shooting in San Bernardino that killed 14 and wounded another 22. "What I think you ought to do is boycott Apple until such time as they give that security number," he said at a rally in South Carolina in February 2016.
The National Football League
Repeatedly, Trump complained that the NFL was failing to crack down on players who did not stand for the National Anthem. "You can boycott our anthem," he tweeted in 2017. "WE CAN BOYCOTT YOU!"
Macy's
Macy's is his favorite target, drawing more than a dozen tweets after the department-store chain dropped the Trump line of clothing in protest of his campaign announcement speech, in which he called Mexican immigrants "rapists." "Macys was very disloyal to me bc of my strong stance on illegal immigration. Their stock has crashed! #BoycottMacys," he tweeted. In another tweet, he added, "I hope the boycott of @Macys continues forever."
Nordstrom
When Nordstrom dropped Ivanka Trump's line of clothing in 2017, citing "poor performance," her father leapt to her defense. "My daughter Ivanka has been treated so unfairly by @Nordstrom," he tweeted, adding, "Terrible!"
CNN
The news network remains one of his favorite targets. In 2017, he tweeted that "[W]e should boycott Fake News CNN. Dealing with them is a total waste of time!"
Fox News
Candidate Trump was furious over the coverage he was getting from Fox after he announced. In September 2015, he tweeted, "Turn off @FoxNews! There is a major boycott going on with them, anyway. Problem solved!"
HBO
Blame comedian Bill Maher for Trump's anger here. In 2013, he called Maher anti-Catholic and tweeted, "Catholics should boycott HBO." The next year, irritated again, he tweeted, "BOYCOTT HBO!" and retweeted a supporter calling Maher "garbage."
Mexico
Trump's anger at Mexico goes back to the 2007 Miss Universe pageant in Mexico City and his claim that a Mexican businessman cheated him out of $12 million. In 2014, he tweeted of Mexico, "Boycott!" At that time, his complaint was over the arrest of a U.S. Marine for crossing the border while armed. But shortly before he announced his presidential candidacy in 2015, he was back to blaming the dispute over money. "I have a lawsuit in Mexico's corrupt court system that I won but so far can't collect," he tweeted. "Don't do business with Mexico!"
Scotland
Again, his own business interests triggered this boycott call. He was displeased when Scotland wanted to put windmills near his golf resort. Approvingly, he tweeted in 2012, "US tourists threaten to boycott Scotland over windfarms." He gave contact information for the Scottish official involved.
Italy
Trump was a big defender of the tabloid darling Amanda Knox when she was accused of murdering her roommate in Italy. "Everyone should boycott Italy if Amanda Knox is not freed – she is totally innocent," he tweeted in 2011.
Rolling Stone magazine
When Rolling Stone in 2013 devoted a cover to Boston bombing suspect Dzhokhar Tsarnaev, Trump demanded punishment. "Boycott & cancel subscriptions," he tweeted.
Chinese merchandise
"Glad to hear patriotic Americans are organizing a movement this August to boycott Chinese products," he tweeted on Aug. 13, 2012.
Harley-Davidson
Trump's steel tariffs hit Wisconsin-based motorcycle maker Harley-Davidson hard enough to force the company to announce in 2018 that it was moving the production of its motorcycles for the European Union to overseas plants to avoid the tariffs. In response, Trump noted that some had called for a boycott of the company. "Great!" was Trump's response.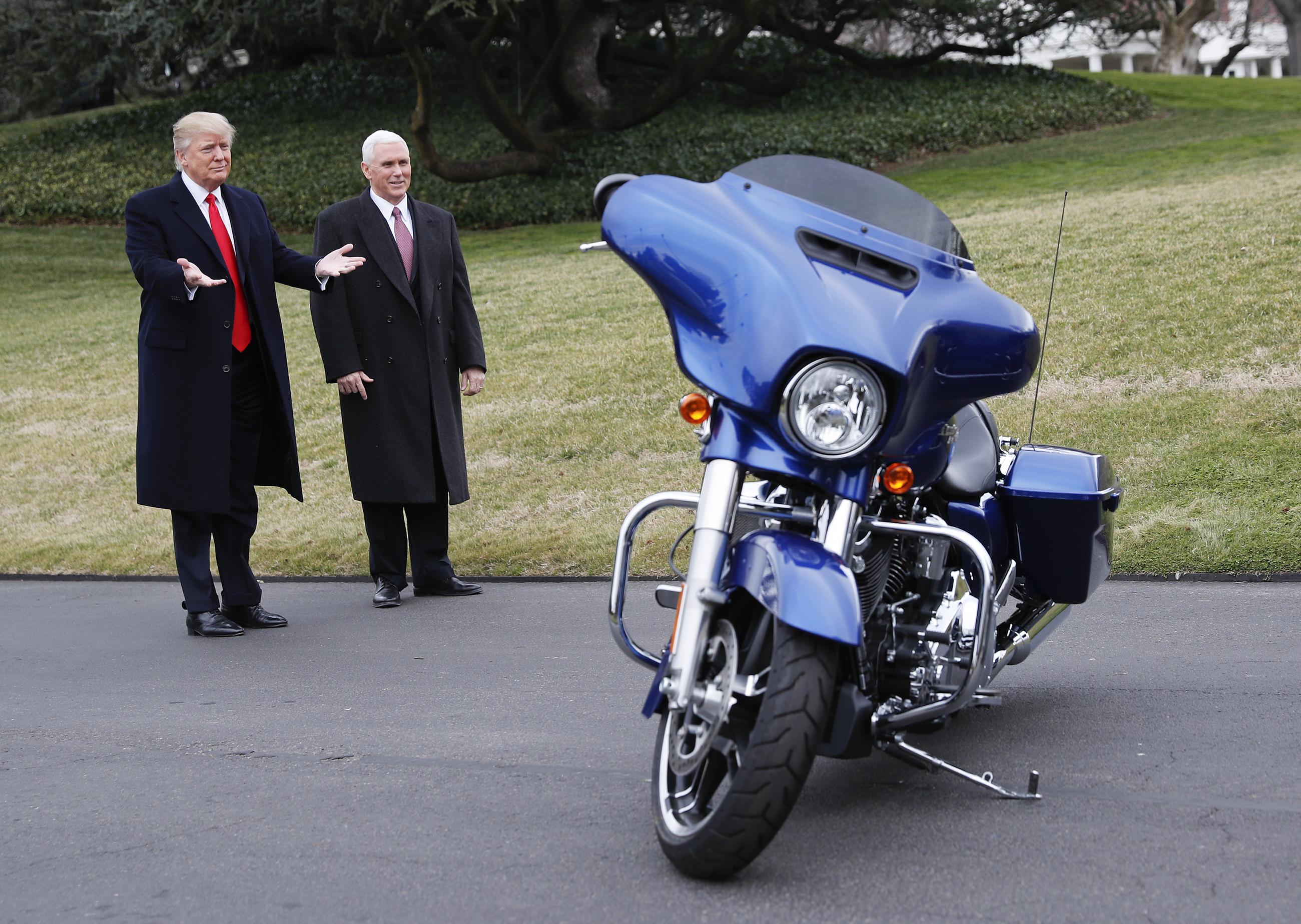 AT&T
Trump was annoyed when he arrived in England last month and discovered CNN "is the primary source of news available from the U.S." His response was to call for a boycott of AT&T's WarnerMedia, which owns the news network. "I believe that if people stoped [sic] using or subscribing to @ATT, they would be forced to make big changes at @CNN, which is dying in the ratings anyway," he tweeted.
Megyn Kelly
Trump had a message for his Fox-watching supporters after Megyn Kelly asked him some tough questions at a debate. "Everybody should boycott the @megynkelly show," he tweeted. "Never worth watching. Always a hit on Trump! She is sick & the most overrated person on tv."
Univision
He definitely didn't like the coverage he was getting from Univision, the country's largest Spanish-language news organization, and he fought back. "Anyone who wants strong borders and good trade deals for the US should boycott @Univision," he tweeted in 2015.
Starbucks
When Starbucks dropped its Christmas-themed cups in 2015, candidate Trump pounced, threatening to toss the coffee shop out of his building in New York. "I have one of the most successful Starbucks, in Trump Tower," he told a rally Illinois. "Maybe we should boycott Starbucks? I don't know. Seriously, I don't care. That's the end of that lease, but who cares?"
Nike
Trump was delighted when conservatives launched a boycott of Nike, Inc. last September after the sports company aired a new ad campaign featuring Colin Kaepernick, the former NFL quarterback who was first to kneel during the National Anthem. Approvingly, he tweeted that the company was "getting absolutely killed with anger and boycotts."