From statehouses to Senate races, Republicans are condemning Democrats writ large as a party of radicals, and abortion is becoming a major component of the argument.
The GOP has begun to fold infanticide into its larger message decrying what they say is proof of the Democratic Party's lean into extremism and socialism, along with Medicare-for-all and the Green New Deal.
President Trump has laced it into his rally repertoire, calling Democrats "the party of high taxes, high crime, open borders, late-term abortion, witch hunts, and delusions." And as campaigns continue to ramp up for 2019 and 2020, there is little expectation among Republicans that the abortion message will fizzle.
"If I could wave a magic wand and make the Republicans do something, it would be to continue to expose the extremism in the other party on this," GOP strategist Scott Jennings said. "It is going to be a winning issue."
The issue was sparked in January, when New York Gov. Andrew Cuomo signed the Reproductive Health Act, which expanded limited abortion rights beyond the 24th week of pregnancy, and days later when Virginia Gov. Ralph Northam made comments about a bill in his state loosening restrictions on late-term abortions.
At the same time, Republican Sen. Ben Sasse of Nebraska introduced legislation that he said would ban infanticide. All but three Senate Democrats opposed it.
As Democratic governors and senators bat down born-alive legislation, the GOP believes that it can craft a winning message that it is the only thing standing between voters and the ideas that it claims those voters resoundingly reject.
Mallory Quigley, a spokeswoman for the antiabortion Susan B. Anthony List, called it "a huge liability to the Democratic Party."
"Is it political? Yes," Quigley said. "But it's not only political. We want to see legislation passed to protect these children."
Critics call the infanticide claims manufactured outrage, pointing to the existing laws that criminalize action taken to end a newborn's life. As it stands, late-term abortion—generally referring to those after 20 weeks of gestation—is a rare procedure typically done in the interest of protecting the mother's health, according to a 2018 Congressional Research Service report.
"This is a political stunt going on nationwide, to include the federal government but also in all these targeted state legislatures," EMILY's List spokesman Ben Ray said. "They know that they need a political weapon, and it's all in bad faith and it's not grounded in reality."
But will it work? There are plenty of places to gauge its efficacy.
This year's three governor races offer a preview of 2020. Louisiana Gov. John Bel Edwards, a Democrat, got out in front of it by touting his antiabortion bona fides before challengers could link him to Northam or national Democrats. And Matt Bevin, Kentucky's GOP governor, is bullish on curbing abortion—though the issue will play out differently depending on which Democrat wins the May 21 primary.
In Mississippi, GOP front-runner Tate Reeves provides a playbook for how to harness antiabortion momentum.
A central element of Reeves's platform is to make Mississippi "the safest place for an unborn child." He told National Journal that the issue of infanticide is top-of-mind among voters and "not unique to Republicans and independents." The state Republican Party ran digital ads linking Reeves's likely Democratic opponent to presidential candidates whose "agenda" includes "late-term abortion."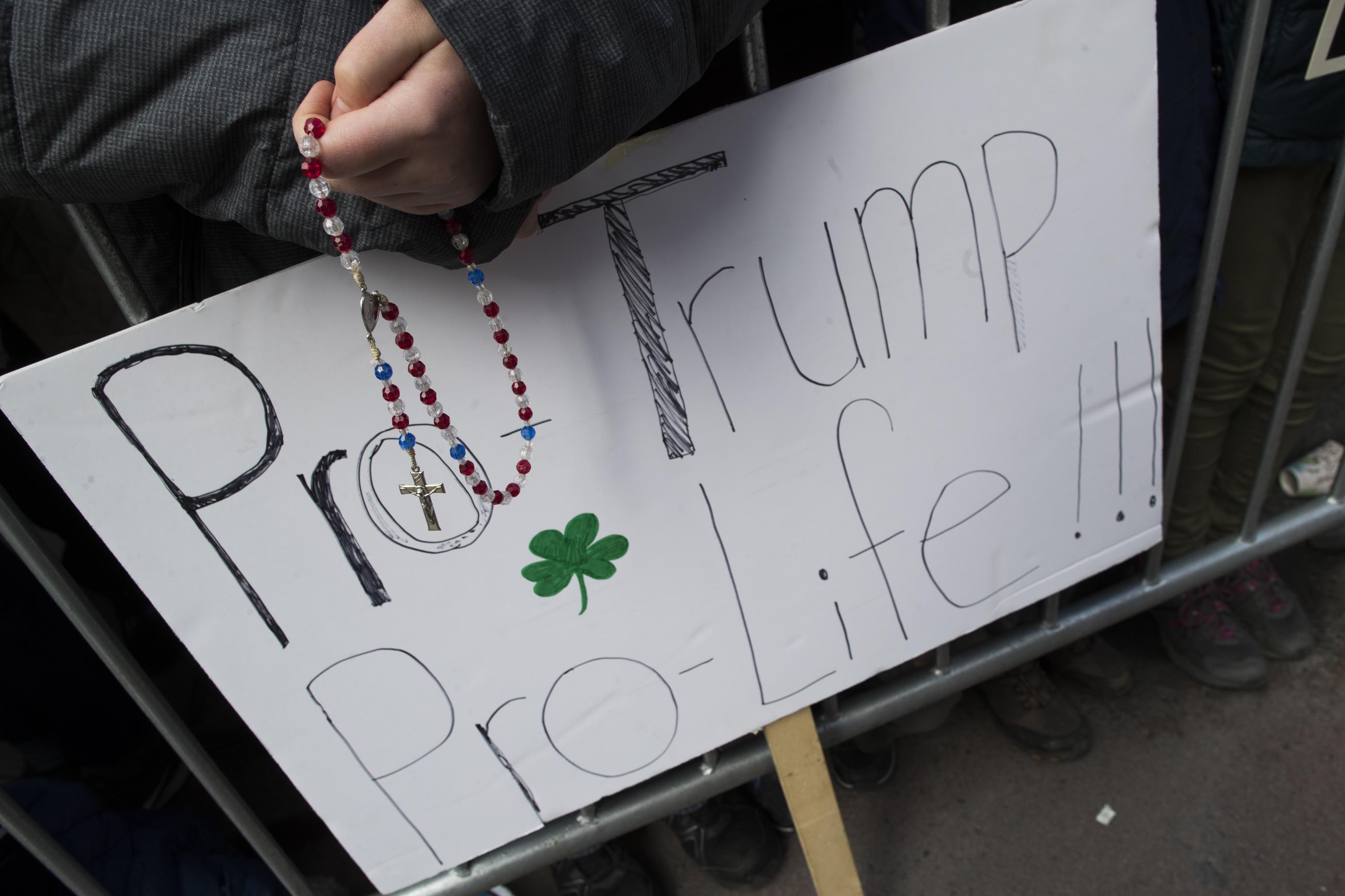 "I'll tell you there are quite a few church-going Christians that have historically identified as Democrats in Mississippi who think that the views of the national Democratic Party simply don't represent what they believe on life issues," Reeves said.
SBA List and other antiabortion groups have rallied outside statehouses to put pressure on lawmakers opposed to born-alive legislation. Quigley said SBAL will work to make sure lawmakers see "political consequences."
In North Carolina, which will be a hub for political observers next year, roughly 200 antiabortion activists gathered last week to protest Democratic Gov. Roy Cooper's recent veto of born-alive legislation. Among them was Lt. Gov. Dan Forest, a Republican exploring a run for governor.
In an interview, Forest said he intends to run a positive campaign and not hit Cooper over the issue. But, mentioning Northam, he criticized what he sees as a nationwide push for late-term abortions and said, "Our General Assembly is going, 'Wait a minute. We don't want to cross that here in North Carolina.'"
GOP Sen. Thom Tillis of North Carolina may see the message of Democratic extremism—including on abortion—as a useful tool given the fervor in Raleigh and his need to solidify support in the face of a wealthy primary challenger. According to a source familiar with the campaign's thinking, the infanticide issue is starting to bubble up and resonate among voters in a new way, and it will likely be part of the conversation.
State Democrats say they haven't seen the focus on infanticide spread beyond the Raleigh echo chamber and that Republicans will be hard-pressed to get a message to stick that's based upon little more than outrage. "It says something that Cooper felt comfortable vetoing this," one national Democrat said.
The GOP uproar comes amid the party's broader efforts to restrict abortion access in a number of key states on the Senate map. Georgia passed a six-week abortion ban that's drawn widespread condemnation from liberal corners. Sen. Joni Ernst, whose home state of Iowa had its own six-week ban ruled unconstitutional in January, has tweeted about socialism and infanticide on a number of occasions as presidential candidates swarm the state.
"It's a coordinated effort," said a source familiar with abortion-rights efforts. "You have these outrageous claims being made on the national level, and I think those serve to provide political cover to six-week bans being passed at the state level."
Infanticide claims are already at play in Alabama, where the state is in the process of attempting to pass an abortion ban with the explicit purpose of overturning Roe v. Wade. After Sen. Doug Jones publicly condemned crude abortion remarks by a fellow Democrat, state Rep. John Rogers, he's come under attack from national and state Republicans who claim that Jones shares Rogers's beliefs.
In contrast, the issue may struggle to gather steam in a state with a strong abortion-rights identity such as New Hampshire, where two dark-money groups linked to Republican billionaire Richard Uihlein ran radio ads claiming that Sen. Jeanne Shaheen favors infanticide.
"The obvious lies being bankrolled by a far-right, out-of-state billionaire are getting zero traction here," state Democratic party Chairman Ray Buckley said.