Oct. 24, 2013, 11:02 a.m.
WASH­ING­TON — Most of Syr­ia's chem­ic­al weapons likely can be trans­por­ted safely out of the coun­try for dis­pos­al else­where, though it re­mains to be seen which if any na­tions vol­un­tar­ily would al­low the agents with­in their bor­ders, a lead­ing chem­ic­al ex­pert said on Wed­nes­day.
The Or­gan­iz­a­tion for the Pro­hib­i­tion of Chem­ic­al Weapons is over­see­ing the de­struc­tion of the es­tim­ated 1,000 met­ric tons of chem­ic­al-war­fare ma­ter­i­als held by Pres­id­ent Bashar As­sad's re­gime in civil-war-torn Syr­ia.
The "chances are we're go­ing to ship them out of Syr­ia," provided the chem­ic­als are still in pre­curs­or form, said Paul Walk­er, a pro­gram dir­ect­or at Green Cross In­ter­na­tion­al, which has fa­cil­it­ated the dis­pos­al of oth­er na­tions' chem­ic­al ar­sen­als.
Speak­ing at an event in Wash­ing­ton, Walk­er said he ex­pects the Syr­i­an weapons in ques­tion have no live agents — mean­ing none of the chem­ic­als have been mixed to­geth­er and poured in­to mu­ni­tions con­tain­ing pro­pel­lants and ex­plos­ives — and thus can be sent safely to an­oth­er coun­try for de­struc­tion.
"I think the stock­pile is prob­ably al­most 100 per­cent pre­curs­or chem­ic­als," Walk­er told a for­um or­gan­ized by the Amer­ic­an As­so­ci­ation for the Ad­vance­ment of Sci­ence and the Fed­er­a­tion of Amer­ic­an Sci­ent­ists.
Dam­as­cus agreed in re­cent weeks to de­clare its chem­ic­al ar­sen­al and to sur­render it for dis­pos­al as part of a U.N. Se­cur­ity Coun­cil-brokered agree­ment. The deal came about after the United States threatened to carry out re­pris­al air strikes on the As­sad re­gime as pun­ish­ment for the Syr­i­an mil­it­ary's widely as­sumed sar­in gas at­tack on ci­vil­ians in Au­gust.
It is not pub­licly known how much of Syr­ia's ar­sen­al is in pre­curs­or or live-agent form. Syr­ia is ex­pec­ted to make its fi­nal de­clar­a­tion to The Hag­ue, Neth­er­lands-based Or­gan­iz­a­tion for the Pro­hib­i­tion of Chem­ic­al Weapons about the ex­act con­tents of its chem­ic­al ar­sen­al and their cur­rent dis­pos­i­tion be­fore next Monday. The de­clar­a­tion when it comes will be clas­si­fied, Walk­er said.
OP­CW mon­it­ors on the ground are wrap­ping up in­spec­tion vis­its to each of the coun­try's 23 de­clared chem­ic­al sites, where they are doc­u­ment­ing the types of agents and mu­ni­tions they find. Pub­lic state­ments com­ing from some European na­tions in re­cent days sug­gest a large-enough amount of the chem­ic­als are in pre­curs­or form that the United States is reach­ing out to for­eign na­tions to see if they would tem­por­ar­ily ac­cept them.
If the chem­ic­al-dis­pos­al work can take place out­side of Syr­ia, it would al­low the OP­CW mon­it­ors over­see­ing the dis­pos­al of chem­ic­al-pro­duc­tion equip­ment to leave be­hind the ex­plo­sions and bomb­ings from the Syr­i­an civil war, Walk­er said.
Ad­di­tion­ally, mov­ing the bulk chem­ic­al agents out of Syr­ia to an­oth­er loc­a­tion would in­crease the like­li­hood of their com­plete de­struc­tion tak­ing place in time to meet an in­ter­na­tion­ally set dead­line of mid-2014, he said.
Walk­er spec­u­lated that roughly 70 per­cent of the bulk chem­ic­als are pre­curs­or agents for sar­in nerve gas and the oth­er 30 per­cent are pre­curs­or ma­ter­i­als for mus­tard blister agent.
Still up in the air is where the chem­ic­als could be shipped to. Sev­er­al coun­tries presently are be­ing dis­cussed as po­ten­tial hosts for the dis­pos­al work, in­clud­ing Al­bania, Bel­gi­um, France and Nor­way.
"It turns out that the United States asked most of West­ern Europe … wheth­er they would help" by host­ing the chem­ic­al-dis­pos­al work, said Walk­er, a former House Armed Ser­vices Com­mit­tee staff mem­ber. "From my un­der­stand­ing, these are the four coun­tries that didn't say no. None of them have said yes yet."
Of those na­tions, Nor­way has been send­ing out the most-pos­it­ive sig­nals that it might agree to host the de­mil­it­ar­iz­a­tion work, ac­cord­ing to Walk­er. "Nor­way has not dealt with much of this [chem­ic­al-weapons dis­pos­al] at all. It has no such cap­ab­il­ity, but ob­vi­ously is a very good coun­try, I think, and wants to com­mit to de­struc­tion and help out."
Den­mark also has said it is pre­pared to help out in whatever way it can with the chem­ic­al-de­mil­it­ar­iz­a­tion ef­fort.
An­oth­er is­sue to con­sider is wheth­er the in­ter­na­tion­al-dis­pos­al pro­ject will have enough re­sources, in the form of money and trained per­son­nel, to com­plete the de­mil­it­ar­iz­a­tion pro­gram in roughly eight months, said Mi­chael Mood­ie, a seni­or spe­cial­ist in in­ter­na­tion­al af­fairs and de­fense is­sues at the Con­gres­sion­al Re­search Ser­vice.
"The di­men­sions of the pro­gram, giv­en the timeline that they have set for them­selves, is really quite re­mark­able and may re­quire a level of re­sources … that thus far may be un­der­es­tim­ated," Mood­ie said at the Wed­nes­day gath­er­ing.
Walk­er noted in re­cent years "there has been heavy pres­sure by the ma­jor fun­ders of OP­CW" — in­clud­ing the United States, Ja­pan, Ger­many and oth­er West­ern European na­tions — to scale back the dis­arm­a­ment body's budget.
The chem­ic­al-mon­it­or­ing and in­spec­tions or­gan­iz­a­tion — which earli­er this month was awar­ded the No­bel Peace Prize — also has had to downs­ize its staff of in­spect­ors from 200 to 112, ac­cord­ing to Walk­er, who ad­ded that 14 new per­son­nel cur­rently are re­ceiv­ing train­ing.
The vet­er­an chem­ic­al-weapons spe­cial­ist es­tim­ated it would cost more than $100 mil­lion to carry out the Syr­i­an chem­ic­al weapons-dis­pos­al pro­ject.
"There's no money [in the OP­CW budget] for an op­er­a­tion of this nature," he said.
What We're Following See More »
UNTIL DEC. 9, ANYWAY
Obama Signs Bill to Fund Government
2 hours ago
REDSKINS IMPLICATIONS
SCOTUS to Hear Case on Offensive Trademarks
3 hours ago
WHY WE CARE
"The Supreme Court is taking up a First Amendment clash over the government's refusal to register offensive trademarks, a case that could affect the Washington Redskins in their legal fight over the team name. The justices agreed Thursday to hear a dispute involving an Asian-American rock band called the Slants, but they did not act on a separate request to hear the higher-profile Redskins case at the same time." Still, any precedent set by the case could have ramifications for the Washington football team.
STAFF PICKS
Bannon Still Collecting Royalties from 'Seinfeld'
4 hours ago
WHY WE CARE
The Hollywood Reporter takes a look at a little-known intersection of politics and entertainment, in which Trump campaign CEO Steve Bannon is still raking in residuals from Seinfeld. Here's the digest version: When Seinfeld was in its infancy, Ted Turner was in the process of acquiring its production company, Castle Rock, but he was under-capitalized. Bannon's fledgling media company put up the remaining funds, and he agreed to "participation rights" instead of a fee. "Seinfeld has reaped more than $3 billion in its post-network afterlife through syndication deals." Meanwhile, Bannon is "still cashing checks from Seinfeld, and observers say he has made nearly 25 times more off the Castle Rock deal than he had anticipated."
IT'S ALL CLINTON
Reliable Poll Data Coming in RE: Debate #1
4 hours ago
WHY WE CARE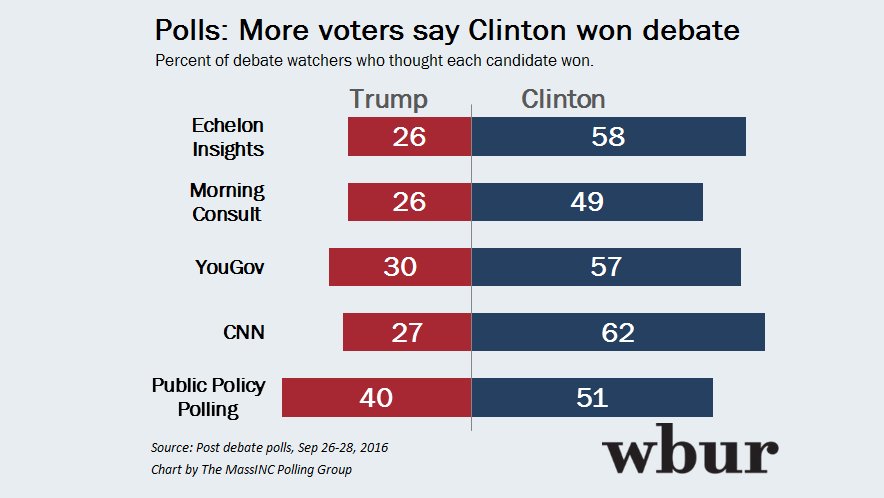 NEXT THURSDAY
Trump Transition Team Meeting with Silicon Valley VIPs
6 hours ago
THE DETAILS
Donald Trump's "transition team will meet next week with representatives of the tech industry, multiple sources confirmed, even as their candidate largely has been largely shunned by Silicon Valley. The meeting, scheduled for next Thursday at the offices of law and lobbying firm BakerHostetler, will include trade groups like the Information Technology Industry Council and the Internet Association that represent major Silicon Valley companies."