Every week, The Next Amer­ica pro­duces a col­lec­tion of edu­ca­tion art­icles that catch our eye. These date from Oct. 21 to Oct. 28.
Is P-Tech Really The An­swer? Pres­id­ent Obama can't get enough of the Path­ways in Tech­no­logy Early Col­lege High School, a Brook­lyn pub­lic school op­er­ated in part­ner­ship with IBM and the New York City Col­lege of Tech­no­logy. There's a lot to like about the school, which trains low-in­come stu­dents for tech­no­logy ca­reers, provides them with no-cost as­so­ci­ates de­grees, and prom­ises to con­nect them with entry-level jobs at IBM. But earli­er this year, Next City poin­ted out some less-likable as­pects of the cor­por­ate part­ner­ship: IBM is cut­ting the very po­s­i­tions the stu­dents are train­ing for, and it's look­ing to use the in­form­a­tion it col­lects on stu­dent learn­ing at P-TECH to de­vel­op and sell data-driv­en edu­ca­tion­al products to oth­er schools. Next City
The Right Way to Bring iPads In­to Schools. The Los Angeles Uni­fied School Dis­trict has hal­ted its plan to put a laptop in the hands of every child after high school stu­dents hacked the locked devices and star­ted us­ing Face­book and stream­ing mu­sic. iPad pro­grams have been less prob­lem­at­ic in dis­tricts where the devices aren't locked in the first place. The best strategy may be to use an iPad as, well, an iPad and not try to turn a tab­let in­to a text­book. Bloomberg Busi­nes­s­week
Col­leges Are Mi­cro-Tar­get­ing Stu­dents. It's now easi­er than ever for col­leges to tar­get spe­cif­ic demo­graph­ics. Thanks largely to data col­lec­ted and sold by the Col­lege Board, ACT and Na­tion­al Re­search Cen­ter for Col­lege and Uni­versity Ad­mis­sions, col­leges can search among mil­lions of stu­dents to find stu­dents with de­sired test scores or from de­sired ZIP codes. Right­Stu­dent, a con­sult­ing firm that sells stu­dent data, says a big need on col­lege cam­puses is find­ing fam­il­ies who can pay full tu­ition. In­side­HigherEd
Charter Schools Really Are Hurt­ing School Dis­tricts. The rise of charter schools is caus­ing some pub­lic school dis­tricts fin­an­cial stress, ana­lysts at Moody's re­port. In­creased charter en­roll­ment isn't a big deal in the South and West, where over­all en­roll­ment is rising, but it can have a dev­ast­at­ing im­pact on shrink­ing dis­tricts in the Mid­w­est and North­east, such as in Phil­adelphia and De­troit. Lost fund­ing thanks to lower en­roll­ment can lead to de­cisions to close pub­lic schools and cut aca­dem­ic pro­grams, spur­ring more stu­dents to leave for charters. "It's sort of a neg­at­ive feed­back loop," Moody's ana­lyst Mi­chael D'Arcy says. Quartz
Good News on STEM Scores. Eighth-graders in 36 states are out­per­form­ing the in­ter­na­tion­al av­er­age in math, while eighth-graders in 47 states are out­per­form­ing the in­ter­na­tion­al av­er­age in sci­ence, ac­cord­ing to a Na­tion­al Cen­ter for Edu­ca­tion Stat­ist­ics re­port. Ex­ams were giv­en to pub­lic school stu­dents in 2011 by the Trends in In­ter­na­tion­al Math­em­at­ics and Sci­ence Study. That said, even the highest-per­form­ing states don't have as many top test takers as do South Korea, Singa­pore, and Taiwan. New York Times
Iowa Re­gent Uni­versit­ies See Most Di­verse En­roll­ment Ever. Al­most 12 per­cent of stu­dents en­rolling in Iowa's pub­lic uni­versit­ies this fall are from ra­cial or eth­nic minor­it­ies. It's not a high per­cent­age, but the com­bined 8.2 per­cent rise in minor­ity stu­dents this year means that the Uni­versity of Iowa, Iowa State Uni­versity, and the Uni­versity of North­ern Iowa are edu­cat­ing their most di­verse stu­dent body ever. More than half of the new minor­ity stu­dents were Iowa res­id­ents. The Gaz­ette
What We're Following See More »
STAFF PICKS
Bannon Still Collecting Royalties from 'Seinfeld'
49 minutes ago
WHY WE CARE
The Hollywood Reporter takes a look at a little-known intersection of politics and entertainment, in which Trump campaign CEO Steve Bannon is still raking in residuals from Seinfeld. Here's the digest version: When Seinfeld was in its infancy, Ted Turner was in the process of acquiring its production company, Castle Rock, but he was under-capitalized. Bannon's fledgling media company put up the remaining funds, and he agreed to "participation rights" instead of a fee. "Seinfeld has reaped more than $3 billion in its post-network afterlife through syndication deals." Meanwhile, Bannon is "still cashing checks from Seinfeld, and observers say he has made nearly 25 times more off the Castle Rock deal than he had anticipated."
IT'S ALL CLINTON
Reliable Poll Data Coming in RE: Debate #1
1 hours ago
WHY WE CARE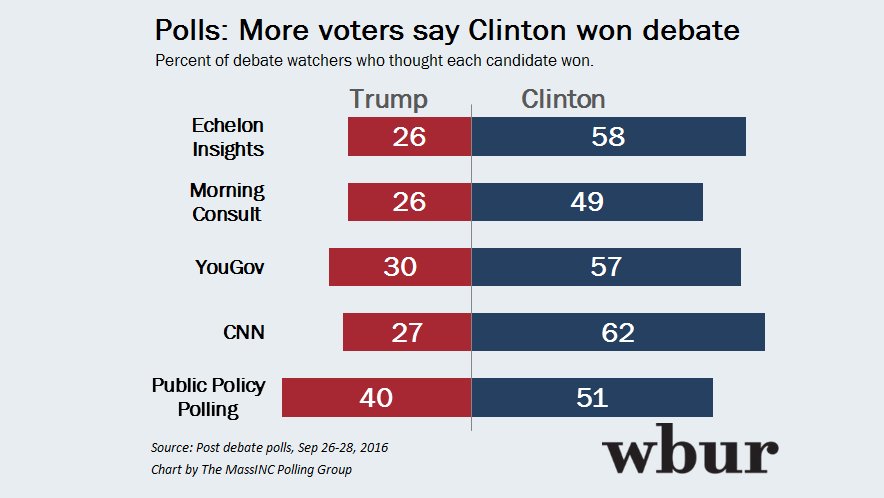 NEXT THURSDAY
Trump Transition Team Meeting with Silicon Valley VIPs
3 hours ago
THE DETAILS
Donald Trump's "transition team will meet next week with representatives of the tech industry, multiple sources confirmed, even as their candidate largely has been largely shunned by Silicon Valley. The meeting, scheduled for next Thursday at the offices of law and lobbying firm BakerHostetler, will include trade groups like the Information Technology Industry Council and the Internet Association that represent major Silicon Valley companies."
WHAT WILL PASS?
McConnell Doubts Criminal Justice Reform Can Pass This Year
3 hours ago
ALSO FIRED UNATTRACTIVE WAITRESSES
Trump Did Business with Cuba
4 hours ago
THE LATEST
Today in bad news for Donald Trump:
Newsweek found that a company he controlled did business with Cuba under Fidel Castro "despite strict American trade bans that made such undertakings illegal, according to interviews with former Trump executives, internal company records and court filings." In 1998, he spent at least $68,000 there, which was funneled through a consluting company "to make it appear legal."
The Los Angeles Times reports that at a golf club he owns in California, Trump ordered that unattractive female staff be fired and replaced with prettier women.