April 25, 2019, 11:15 a.m.
The latest battle in President Trump's war on the White House Correspondents' Association will play out in public view Saturday night when the president holds one of his large political rallies in Green Bay, Wisconsin—700 miles away from the Washington Hilton Hotel, where correspondents will gather for their annual event, recently depleted by a late White House edict barring all officials from attending.
Before that order came out Tuesday morning, dozens of administration appointees had accepted invitations and planned to attend, even with the president making a personal statement through his absence. After the broader order, many news organizations were forced to fill in their suddenly empty seats. Still, a sell-out crowd of 2,600 is expected as the WHCA deals with this latest challenge.
Trump is not the first president to clash with the reporters who cover him. Nor is he the first to dislike the dinner. Nor even the first to decline his invitation. He is the first, though, to openly declare war on the event. "The dinner is boring and so negative that we're going to hold a very positive rally," he told reporters earlier this month when he announced his decision not to attend. He was even more pointed in a series of tweets following last year's dinner when comedian Michelle Wolf skewered him and his administration.
The dinner "was a very big, boring bust ... the so-called comedian really 'bombed'," he tweeted.
"The White House Correspondents' Dinner was a failure last year, but this year was an embarrassment to everyone associated with it. The filthy 'comedian' totally bombed... Put Dinner to rest or start over!" was another.
And: "The White House Correspondents' Dinner is DEAD as we know it. This was a total disaster and an embarrassment to our great Country and all that it stands for. FAKE NEWS is alive and well and beautifully represented on Saturday night!"
He softened his tone slightly in November when he reacted to the news that there would not be a comic at this year's dinner. He tweeted, "So-called comedian Michelle Wolf bombed so badly last year at the White House Correspondents' Dinner that this year, for the first time in decades, they will have an author instead of a comedian. Good first step in comeback of a dying evening and tradition! Maybe I will go?"
Maybe not.
Other presidents may have privately wished for the death of the dinner, liberating them from the pressure of having to be funny on command and freeing up a Saturday night that they'd rather not spend wearing a tuxedo in a hotel ballroom. But most of the 15 presidents who graced the dais at earlier dinners genuinely enjoyed the event.
That tradition started on March 8, 1924, when Calvin Coolidge became the first president to attend the dinner, then held at the Hamilton Hotel. "I am exceedingly glad of an opportunity to come here and be at your annual banquet and have the opportunity to talk to you as one friend talks to another," he said. A decade later, Franklin D. Roosevelt ushered in the dinner's Golden Age, making the WHCA dinner the one event he never missed, even in the darkest days of the Great Depression and World War II. The dinner, with its big-name entertainers and long roster of celebrity attendees, provided him with a welcome respite and some badly needed laughter. "He liked their variety show of professional entertainment, which, in pre-television days, he rarely had other opportunities to watch," noted legendary White House correspondent Merriman Smith.
Remarkably, FDR treasured his honorary membership in the WHCA, and referred to the correspondents' group as "we" and the dinners as "our parties." At the 1944 dinner, he said, "I want to thank you from the bottom of my heart for giving me a very wonderful evening of relaxation and pleasure." He added, "This wonderful show that we have has left me with only one thought: We of the White House Correspondents' Association still have something to do to entertain our fellow citizens." He suggested that the new television networks should air his weekly press conferences.
He then turned to the war. "I am very happy to have been with you tonight. I wish that everybody could come to these parties. And that also we could translate some of our parties ... because these are peculiarly our parties—to some of the fronts way down to the southwestern Pacific, and up in the Aleutians, and across the ocean on the other side to Italy and Sicily and England." A year later, just days before FDR's death, first lady Eleanor Roosevelt wrote that "he had the best time of any he has had since the war" at that year's WHCA dinner.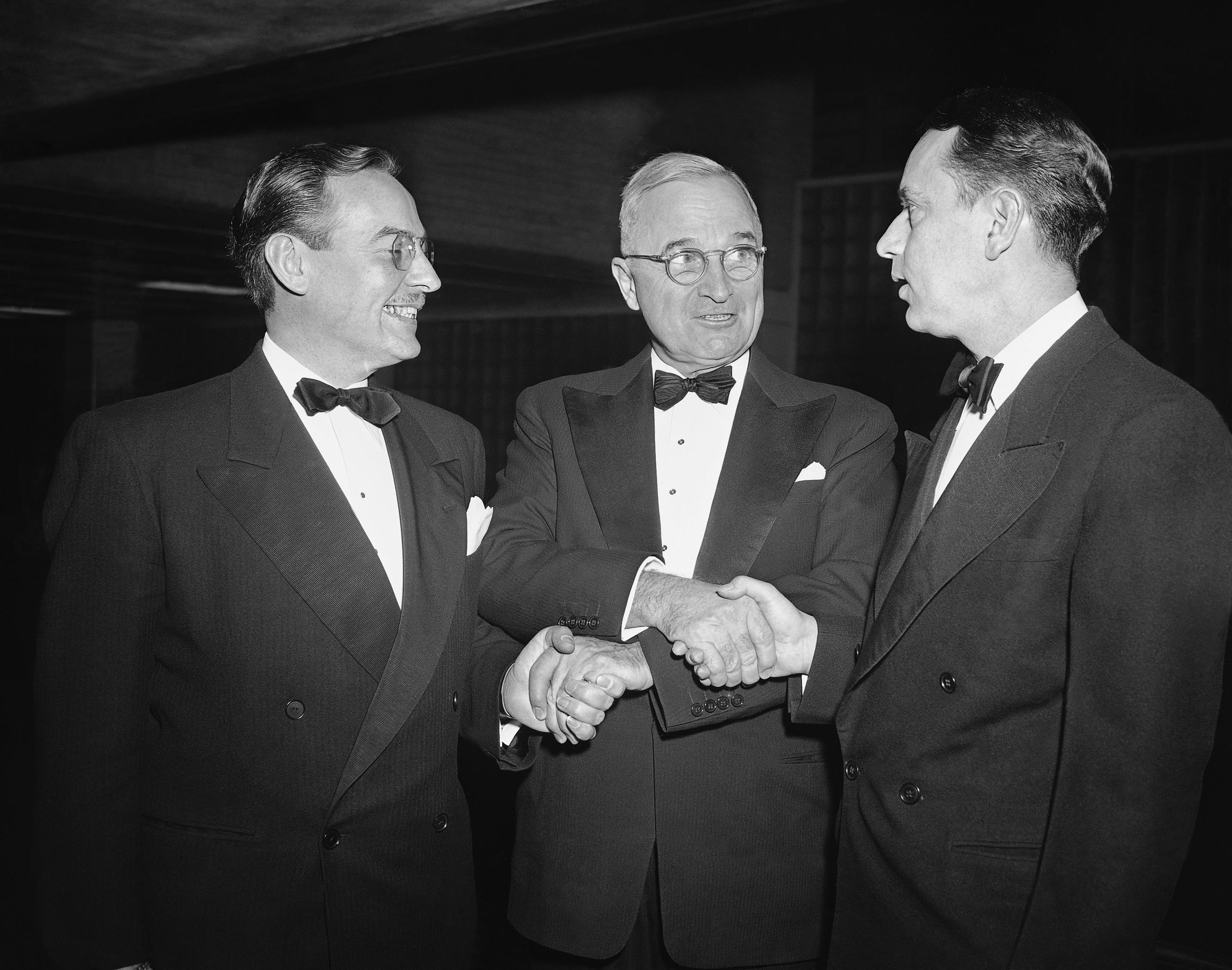 His successor didn't share Roosevelt's joy at the dinner. Harry Truman genuinely liked many of the reporters but detested having to be on the dais when journalism awards were presented for stories he didn't like by what he called "the sabotage press." At the dinner in 1948, he knew the lone award presented at the dinner would go to a reporter who wrote about his administration's efforts to censor the news. In his diary before the dinner, Truman wrote, "Have to give an award to a guy who got it by writing a pack of lies! Freedom of the press. Ain't it grand!!!"
At Truman's request, the dinners were cancelled in 1951 and 1952 with the Korean War providing the excuse. When Truman gave way to Dwight Eisenhower, the WHCA began to balk at its long-standing policy of cancelling the dinner if a president said he would not be attending.
Prior to Trump, the presidents who skipped dinners—Eisenhower, Lyndon Johnson, Richard Nixon, and Jimmy Carter—did so because they did not enjoy the event. Some were open in their disdain, while others tried to mask their antipathy by adding conflicts to their schedule, often at the last minute. Eisenhower, who had suffered a stroke just five months before the 1958 dinner, made it clear that he wanted to spend the weekend at his 189-acre spread in Gettysburg. The absence of the president was so shocking—the first time since Coolidge started attending in 1924—that the correspondents opened the dinner with a Gridiron-style skit portraying Ike as a man who preferred the company of his cows over reporters.
The skit was closer to the truth than the correspondents would prefer to admit. There have been other presidents—most notably Nixon and Carter—who loathed the dinner. Eisenhower was mainly indifferent. For eight years, the correspondents courted him. They moved the dinner to weekdays so he would be free on weekends. They moved the date to October one year to celebrate his birthday. They let him be the first to send a substitute. They gave him gifts. They joined him in singing old Army ditties. They even brought in Irving Berlin to debut a new campaign song for him. But nothing changed his ambivalence.
That attitude was captured in his diary entry on Jan. 18, 1954 when he wrote that members of the press "are far from being as important as they themselves consider, but, on the other hand, they have a sufficient importance ... to insure that much government time is consumed in courting favor with them..." In parenthesis, he added, "For example, I am right now scheduled to go to a cocktail party—something I have not attended in twenty years—for the Washington press corps. ... I am to drop in for the purpose, I suppose, of showing that I am not too high-hat to do so."
After he attended only one dinner in his second term, the annual event seemed imperiled. It was rescued by John F. Kennedy who thoroughly enjoyed both the dinner and the company of reporters. That wasn't the case with his successor, though. Johnson had been attending the dinner since 1941 and by the 1960s, he wanted nothing to do with it. He reluctantly attended in 1964, his first year in office. But he was infuriated by the entertainment, which was provided by the American Society of Composers, Authors, and Publishers to mark its 50th anniversary.
The group had stationed groups of singers in different parts of the ballroom and up on the balcony. A spotlight would hit a group and they would start singing old standards. It seemed never to stop—especially to Johnson, who groused, "How long does this shit last?" Finally, he stalked off the dais. He later told his staff he would not return for the dinner the next year. In a note to the WHCA when they invited him in 1965, he declined, pointedly writing, "I was present last year and well remember the entertainment." In 1966 and 1967, he sent Vice President Hubert Humphrey to speak for him, though he did make a late surprise drop-in in 1967.
Matters only worsened when Nixon succeeded LBJ. Nixon skipped the dinner in three of his six years. In 1970, he accepted the invitation but on the day before he announced he was flying to Hawaii to present the Presidential Medal of Freedom to the three Apollo 13 astronauts. In his place, he sent Chief Justice Warren Burger to the dinner. He went to the dinner in 1971 but had such a miserable time he vented in a remarkable, multi-page memo to his staff.
It was classic Nixon, brimming with paranoia, self-pity, and fury. He ripped into the reporters who received awards, dismissing them all as "way out left-wingers" who were being honored for "a vicious attack" on his administration. "I had to sit there for 20 minutes while the drunken audience laughed in derision as the award citations were read," he wrote. More generally, he wrote that the dinner "as a whole, was probably the worst of this type I have attended. The audience was drunk, crude and terribly cruel." He told his staff "under absolutely no circumstances will I attend any more dinners of this type in the future." He took delight in the damage he could do to the event. "When I am not there these clowns are going to have a lot harder time getting top-flight entertainment."
True to his word, he went to Key Biscayne, Florida, instead of attending the 1972 dinner. But he made dinner history by sending first lady Pat Nixon as his substitute speaker. And he was back at the dinner in 1973. In 1974, he went to Spokane, Washington, and had Vice President Gerald Ford represent him.
Nixon's departure did not end presidential enmity for the dinner. Carter almost matched Nixon in his hostility to the event. He attended in 1977 and had a miserable time. In 1978, he claimed fatigue and spent the weekend at Camp David, sending press secretary Jody Powell in his place to give a decidedly nasty speech.
Carter detailed his enmity in his diary. "Jody's begging me to speak to the White House Correspondents' banquet. ... They are completely irresponsible and unnecessarily abusive. I see no reason for us to accommodate them every time they want me to provide entertainment for a half hour," he wrote on April 25.
Four days later, he wrote: "I was determined not to go. They almost exert blackmail on me to attend, but I am not going to do it in the future. I don't see how the White House press could be any more negative under and circumstances and I'd rather show a sign of strength. And besides, I wanted the weekend off." Carter did return to the dinner in 1979, but in 1980 went to Camp David instead.
Until Trump, that was the end of open rebellion by presidents against the dinner. Presidents attended all 35 dinners from 1982 through 2016, the longest streak in WHCA history. As a private citizen, Trump attended five of those dinners. It was only when he became president that he decided to try to top Nixon and Carter and declare war against the event.
Condon, a former WHCA president, is writing a book on the association and the dinner.