As a member of both the Chickasaw Nation and the National Rifle Association, GOP Rep. Tom Cole found himself at a crossroads earlier this month—caught between his support for improved protections for Native American women and children and his concerns about Second Amendment rights—when he cast his vote in support of the Violence Against Women Act.
Although the Oklahoman shared the concerns of many of his colleagues around certain gun-control provisions in the bill, he broke ranks with his party and the NRA to vote with Democrats and move the legislation to the Senate. Thirty-two other Republicans crossed the aisle as well.
"I told our leadership, look I'm not going to be with you on this bill," he said. "Look, I have an A rating with the NRA. I don't relish voting against a group that I'm normally aligned with, but … I think these provisions are too important. Sometimes you have to make hard choices as a legislator."
VAWA, which expired earlier this year, aims to improve federal and local responses to domestic and sexual violence. The bill moving through Congress, which reauthorizes VAWA, would expand tribal courts' jurisdiction to protect tribal children in cases of domestic violence on Indian land where the perpetrator is non-Indian. Additionally, the legislation would extend tribal jurisdiction to crimes involving assault on law enforcement committed by a non-Indian person.
"The majority of sexual assaults against Native American women on reservations, that's committed by non-natives," said Cole. "They understand in many cases that law-enforcement capacity and jurisdiction are both weak and murky and they take advantage of that situation."
Cole was joined by Rep. Don Young, an NRA board member, who discussed on the House floor his concerns for Alaskan Native women. An amendment he offered, to ensure that lands where abuses generally take place are included in an Alaska Native jurisdiction pilot program, was approved.
"The remoteness and isolation of Native villages—most of which are not connected to the road system, only accessible by air—makes it difficult to prevent violence and care for the survivors," he said on the House floor. "Almost all of these villages lack any form of law enforcement. It can take days for authorities to fly to a village and respond to an incident, particularly when weather conditions are bad."
But the new bill also includes language that drew the ire of the NRA. Those provisions would prohibit intimate partners convicted of abuse or stalking from obtaining firearms.
Cole lamented the provisions as a political play by the Democrats to "arouse the opposition of the NRA."
Even still, while President Trump and Vice President Mike Pence prepare to speak at an NRA event Friday, Cole has been receiving attention from constituents who typically would not support him.
"It's actually come up a couple of times, usually from people that aren't going to vote for me, and in a nice way," he said. "I've had a couple town halls, literally, people that have brought it up and said, 'By the way, before I begin on something else, I really want to thank you for your vote on Violence Against Women.'"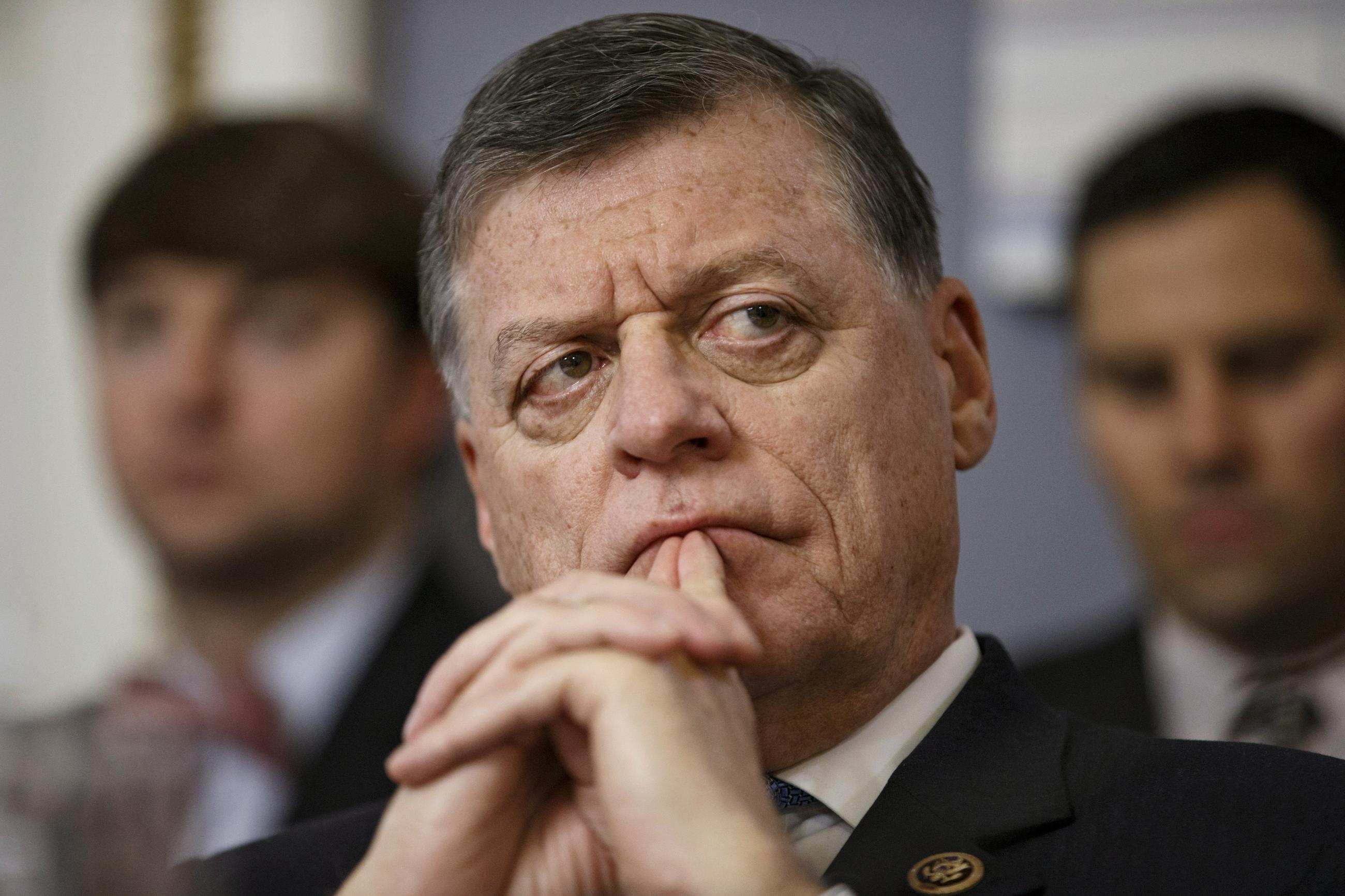 However, unlike some of his other Republican colleagues who have received attention for their votes either for or against VAWA, Cole is not in a swing district.
The Everytown for Gun Safety Action Fund ran Facebook ads criticizing Republican Reps. Don Bacon, Chip Roy, Elise Stefanik, and Steve Watkins for their no votes, as well as Collin Peterson, the only Democrat to vote against the bill. Except for Stefanik, who won her seat in 2018 by almost 14 percentage points, the other four members won their districts by less than 5 points.
"Here's where it comes back to hurt Republicans mostly is if they're in tight districts, if they're in a swing district, that will hurt them. … This is the stuff that causes elections to go against them," said Republican strategist Susan Del Percio.
"It's not like impeachment or Russia or these things that people don't fully grasp," she added. "When you think about swing districts and you think about suburban voters … there's just so much there to unpack in this bill and what it represents, and in a lot of ways what voting against it represents."
Everytown ran five separate ads thanking Republican Reps. Mario Diaz-Balart, Brian Fitzpatrick, Will Hurd, Peter King, and Fred Upton for supporting the bill.
Upton's support for the legislation was motivated in part by a scandal that struck close to home. The congressman pointed to the case of former USA Gymnastics doctor Larry Nassar, who was accused of sexual abuse while working at Michigan State University. He was convicted in 2018.
The bill includes language increasing funds to combat violent crimes on campuses and to train campus personnel on how to appropriately respond to instances of sexual assault and domestic violence.
"There was an amendment that was offered on the floor that passed with my support that requires that when there's a Title IX violation, the university be informed PDQ, pretty damn quick, so that they can begin to take that into account and address it, something that did not happen at Michigan State," he said, adding that he knows one of Nassar's victims.
"She is going out on a limb trying to expose what happened to make sure things like that don't happen again," he said. "That was an important provision that I didn't want to oppose."