A bi­par­tis­an bill tak­ing aim at the center­piece of Pres­id­ent Obama's agenda on cli­mate change prob­ably has little chance of be­com­ing law, but it gives the coal in­dustry and its sup­port­ers a new ral­ly­ing cry against im­pend­ing En­vir­on­ment­al Pro­tec­tion Agency reg­u­la­tions for power plants.
On Monday, House En­ergy and Power Sub­com­mit­tee Chair­man Ed Whit­field, R-Ky., and Sen. Joe Manchin, D-W.Va., in­tro­duced a dis­cus­sion draft of le­gis­la­tion to sig­ni­fic­antly rein in EPA's reg­u­lat­ory au­thor­ity over green­house gases in the elec­tri­city sec­tor.
The draft would block the agency's pro­posed new source-per­form­ance stand­ards for fu­ture power plants, re­leased in Septem­ber. It calls on fu­ture EPA rule-mak­ing for new coal-fired power plants to man­date already ex­ist­ing, com­mer­cially proven tech­no­logy to lim­it green­house-gas emis­sions, and it would al­low Con­gress to de­term­ine when reg­u­la­tions on ex­ist­ing plants take ef­fect.
"We're just us­ing a prac­tic­al, com­mon-sense ap­proach," Whit­field said at a press brief­ing on the bill. "If an en­tity wants to [build a new coal-fired plant] and they can use the best avail­able tech­no­logy … then the EPA … should not be able to stop them from do­ing that."
The re­lease of the dis­cus­sion draft comes ahead of a ma­jor push against the reg­u­la­tions on Tues­day, with a pro-coal rally set to take place on the West Lawn of the Cap­it­ol. The rally, or­gan­ized by Count on Coal, a grass­roots coal ad­vocacy cam­paign, is ex­pec­ted to draw between 3,500 to 4,000 par­ti­cipants, many of them miners and util­ity work­ers con­cerned about the EPA reg­u­la­tions.
"There's a real hu­man im­pact here," said Nancy Gravatt, a spokes­wo­man for the Na­tion­al Min­ing As­so­ci­ation. "There are a lot of people who are very con­cerned about how ex­treme these reg­u­la­tions are and want to make their voices heard."
Coal-state law­makers from both parties are ex­pec­ted to at­tend, in­clud­ing Manchin and two fel­low West Vir­gini­ans — Demo­crat­ic Rep. Nick Ra­hall and Re­pub­lic­an Rep. Shel­ley Moore Capito — along with Sen­ate Minor­ity Lead­er Mitch Mc­Con­nell, R-Ky., and Sen. Heidi Heitkamp, D-N.D.
"I would be hope­ful that [the ad­min­is­tra­tion] would listen and not just give us lip ser­vice," Capito told Na­tion­al Journ­al Daily. "If all we're do­ing is rais­ing the level of dis­cus­sion and shin­ing a light on it and hop­ing to change things that way, I'll take what I can get. Be­cause I'm very frus­trated that it's been a deaf ear up to this point."
En­vir­on­ment­al­ists began at­tack­ing the Whit­field-Manchin draft as soon as it be­came pub­lic Monday. "This would hand­cuff the EPA, pre­vent­ing it from re­du­cing car­bon pol­lu­tion that puts our chil­dren's health at risk," said Dav­id Hawkins, dir­ect­or of cli­mate pro­grams at the Nat­ur­al Re­sources De­fense Coun­cil. "It's the latest at­tempt by rad­ic­als in Con­gress to gut the Clean Air Act's abil­ity to pro­tect fu­ture gen­er­a­tions from the dangers of cli­mate change."
What We're Following See More »
UNTIL DEC. 9, ANYWAY
Obama Signs Bill to Fund Government
4 hours ago
REDSKINS IMPLICATIONS
SCOTUS to Hear Case on Offensive Trademarks
4 hours ago
WHY WE CARE
"The Supreme Court is taking up a First Amendment clash over the government's refusal to register offensive trademarks, a case that could affect the Washington Redskins in their legal fight over the team name. The justices agreed Thursday to hear a dispute involving an Asian-American rock band called the Slants, but they did not act on a separate request to hear the higher-profile Redskins case at the same time." Still, any precedent set by the case could have ramifications for the Washington football team.
STAFF PICKS
Bannon Still Collecting Royalties from 'Seinfeld'
5 hours ago
WHY WE CARE
The Hollywood Reporter takes a look at a little-known intersection of politics and entertainment, in which Trump campaign CEO Steve Bannon is still raking in residuals from Seinfeld. Here's the digest version: When Seinfeld was in its infancy, Ted Turner was in the process of acquiring its production company, Castle Rock, but he was under-capitalized. Bannon's fledgling media company put up the remaining funds, and he agreed to "participation rights" instead of a fee. "Seinfeld has reaped more than $3 billion in its post-network afterlife through syndication deals." Meanwhile, Bannon is "still cashing checks from Seinfeld, and observers say he has made nearly 25 times more off the Castle Rock deal than he had anticipated."
IT'S ALL CLINTON
Reliable Poll Data Coming in RE: Debate #1
6 hours ago
WHY WE CARE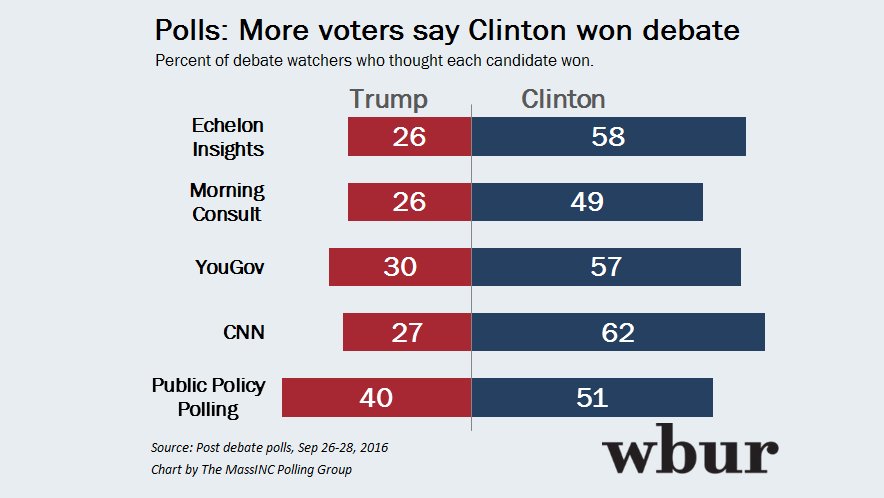 NEXT THURSDAY
Trump Transition Team Meeting with Silicon Valley VIPs
8 hours ago
THE DETAILS
Donald Trump's "transition team will meet next week with representatives of the tech industry, multiple sources confirmed, even as their candidate largely has been largely shunned by Silicon Valley. The meeting, scheduled for next Thursday at the offices of law and lobbying firm BakerHostetler, will include trade groups like the Information Technology Industry Council and the Internet Association that represent major Silicon Valley companies."