The nat­ur­al-gas boom has West Vir­gin­ia think­ing big, with state of­fi­cials bet­ting on frack­ing to re­verse the for­tunes of one of the na­tion's poorest states. But this isn't the Moun­tain State's first en­ergy boom — it has been swim­ming in coal money for a cen­tury — and if West Vir­gin­ia is go­ing to turn re­sources in­to riches this time around, it will have to learn from its past mis­takes.
The first few years of the frack­ing boom re­veal an un­even re­cord, with an­ec­dot­al suc­cess stor­ies mixed with troub­ling sim­il­ar­it­ies from the last en­ergy boom gone wrong.
Throughout its min­ing his­tory, much of West Vir­gin­ia's coal has come out of the ground but been quickly trans­por­ted some­where else, where it was pro­cessed and pre­pared for mar­ket by out-of-state com­pan­ies. Even the com­pan­ies that own the state's mines aren't based there. The na­tion gets more coal from West Vir­gin­ia than from any oth­er state save Wyom­ing, but none of the coun­try's 10 largest coal pro­du­cers have their headquar­ters in the state. West Vir­gin­ia's largest coal pro­du­cer by volume, Con­sol En­ergy, calls Pennsylvania home.
What's left for West Vir­gin­ia, then, is an eco­nomy based heav­ily on re­source de­vel­op­ment, where the state sees be­ne­fits from miners' wages and coal-ex­trac­tion taxes but watches as the cor­por­ate profits go else­where. And after the coal runs out in a par­tic­u­lar area, or the de­mand for it dips in a down eco­nomy, the state is left with little to show for it.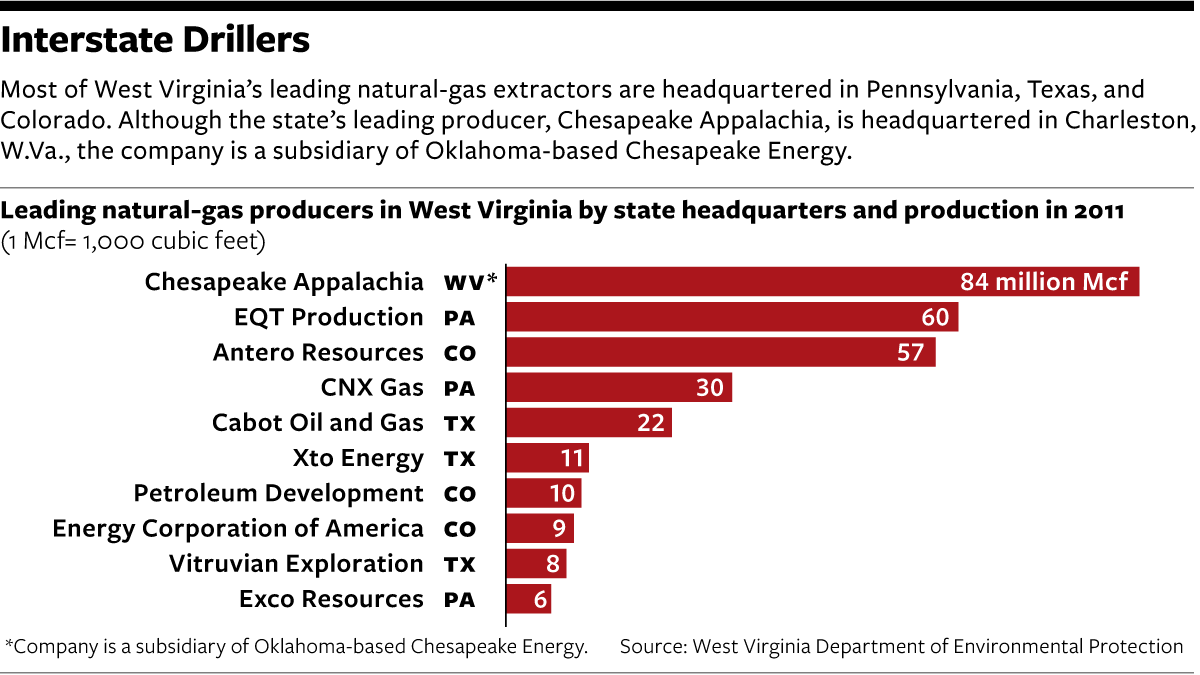 "They came in and bought the land, used the coal, and pulled out, and what used to be some of the richest counties are now some of the poorest. The towns pretty much shut down once the coal com­pan­ies left," said Lynette Maselli, spokes­wo­man for West Vir­gin­ia Sen­ate Pres­id­ent Jeff Kessler, a Demo­crat. "Let's not make the same mis­take twice."
But can West Vir­gin­ia cap­ture more value from nat­ur­al gas than it does from coal?
So far, the state has had little suc­cess at­tract­ing cor­por­ate headquar­ters. Of the top 10 nat­ur­al-gas drillers in the state, only one — Ches­apeake Ap­palachia — is headquartered in West Vir­gin­ia. That is the state's largest pro­du­cer, but it's also a sub­si­di­ary of a much lar­ger com­pany, Ches­apeake En­ergy, which is based in Ok­lahoma.
In oth­er areas, par­tic­u­larly in de­vel­op­ing the in­dus­tries that go along with nat­ur­al-gas ex­trac­tion, West Vir­gin­ia ap­pears to be mak­ing pro­gress.
One drilling firm, Wil­li­ams, is plan­ning to spend $4.1 bil­lion in West Vir­gin­ia through 2014 — a sig­ni­fic­ant in­vest­ment in a state whose an­nu­al budget in 2013 totaled just un­der $12 bil­lion. And not all of the money goes in­to buy­ing min­er­al rights: $1.6 bil­lion is to be spent on a pair of pro­cessing and re­fin­ing fa­cil­it­ies, as well as the in­fra­struc­ture to sup­port them, in the north­ern part of the state, ac­cord­ing to Wil­li­ams spokes­wo­man Sara Del­gado.
And while out-of-state com­pan­ies own a lot of the land they mined dur­ing the coal boom, much of the gas sits on privately held plots, for­cing the drilling com­pan­ies to lease min­er­al rights and make pay­ments to landown­ers.
Over­all, though, it is too soon to tell if West Vir­gin­ia is go­ing to have more suc­cess in its second en­ergy boom than in its first.
The nat­ur­al-gas re­volu­tion is just be­gin­ning in West Vir­gin­ia. Gas pro­duc­tion has been climb­ing for a dec­ade, but the boom star­ted in earn­est in 2011, when the state's nat­ur­al-gas ex­trac­tion in­creased by more than 50 per­cent over 2010, ac­cord­ing to En­ergy In­form­a­tion Ad­min­is­tra­tion stat­ist­ics.
And there's plenty more gas left in the ground. The EIA es­tim­ates the state is still sit­ting on 10.5 tril­lion feet of proven gas re­serves.
In Char­le­ston, the state cap­it­al, the de­bate over how to best cap­it­al­ize on the gas boom will sound fa­mil­i­ar to any­one fol­low­ing the eco­nom­ic policy de­bate in Wash­ing­ton.
The state Re­pub­lic­an Party is em­phas­iz­ing reg­u­lat­ory cer­tainty — GOP Chair­man Con­rad Lu­cas touted a re­cent bi­par­tis­an move to cla­ri­fy the rules for ob­tain­ing drilling per­mits — and push­ing for lower taxes. Lu­cas said the state's sev­er­ance tax, cur­rently set at 5 per­cent of rev­en­ue on all coal or gas sales, should be lowered in or­der to con­vince more drillers to come to West Vir­gin­ia.
"Our sev­er­ance tax is among the highest in the re­gion — lower­ing that would al­ways be a way to at­tract fur­ther de­vel­op­ment," Lu­cas said. "Lower­ing taxes in any way would help spur de­vel­op­ment."
Across the aisle, Kessler, the state Sen­ate pres­id­ent, is push­ing to cre­ate a "fu­ture fund" that would set aside rev­en­ue to earn in­terest and that would be off-lim­its from cur­rent spend­ing. Kessler en­vi­sions the fund's rev­en­ues be­ing spent on in­fra­struc­ture, edu­ca­tion, and oth­er pro­grams in­ten­ded to be­ne­fit state res­id­ents.
"We've got what the world wants," Kessler said. "We've got the best gas, and there's no reas­on to give it away."