Oct. 29, 2013, 10:05 a.m.
Our na­tion­al worry is over: Ral­ph Lauren an­nounced on Tues­day that the cloth­ing for Team USA at the 2014 Winter Olympics was made in Amer­ica.
This may not seem like a big deal to many across this coun­try, but the is­sue of where U.S. Olympi­ans' cloth­ing was man­u­fac­tured has been a con­ten­tious is­sue on the na­tion­al stage in the past, even de­serving an of­fi­cial com­ment from the White House.
Dur­ing the 2012 Games in Lon­don, much of the cloth­ing from Ral­ph Lauren was made in China. Sen­ate Ma­jor­ity Lead­er Harry Re­id, D-Nev., at the time came out strongly against this rev­el­a­tion:
I think they should take all the uni­forms, put them in a big pile and burn them and start all over again. If they have to wear noth­ing but a sym­bol that says USA on it, painted by hand, that is what they should wear.
When pressed, the White House wouldn't lay blame on Ral­ph Lauren or the U.S. Olympic Com­mit­tee, say­ing they were private com­pan­ies. Deputy press sec­ret­ary Josh Earn­est ex­plained fur­ther on Ju­ly 13, 2012:
The pres­id­ent's views on the high qual­ity of Amer­ic­an-made products is well known and something that he talks about quite ex­tens­ively. That in­cludes Amer­ic­an-made cloth­ing; that there are high-qual­ity products that are made here in Amer­ica. And maybe for fu­ture Olympics, those kinds of things will be con­sidered.
In true White House press corps fash­ion, the line of ques­tion­ing took a bizarre turn. "Does the pres­id­ent in­sist on wear­ing Amer­ic­an-made clothes?" one re­port­er asked. Earn­est re­spon­ded coyly, "I haven't checked the la­bel on his ward­robe today."
Fol­low­ing this de­bacle, New York Demo­crats Sen. Kirsten Gil­librand and Rep. Steve Is­rael wrote a let­ter ask­ing that Amer­ic­an Olympi­ans' out­fits be made in the U.S. for fu­ture games. And it seems as if their pleas worked.
Ral­ph Lauren sourced these new out­fits — which will be worn dur­ing the open­ing and clos­ing ce­re­mon­ies, as well as around the Olympic Vil­lage — through 40 dif­fer­ent do­mest­ic man­u­fac­tur­ers, the com­pany boasts. Ad­di­tion­ally, out­fit­ter North Face an­nounced it made the uni­forms for the Amer­ic­an free­style ski team in Cali­for­nia.
The 2012 Olympics was not the first time this was an is­sue. Dur­ing the 2008 games in Beijing, Team USA's uni­forms were made in China. Be­fore then, the Ca­na­dian out­fit­ter Roots made the cloth­ing for Team USA.
For those su­per-pat­ri­ot­ic fans out there, you can get the new gear from Ral­ph Lauren on Nov. 15 be­fore the Olympics be­gin in Feb­ru­ary. Take a look at the gear and how it was made:
What We're Following See More »
STAFF PICKS
Bannon Still Collecting Royalties from 'Seinfeld'
54 minutes ago
WHY WE CARE
The Hollywood Reporter takes a look at a little-known intersection of politics and entertainment, in which Trump campaign CEO Steve Bannon is still raking in residuals from Seinfeld. Here's the digest version: When Seinfeld was in its infancy, Ted Turner was in the process of acquiring its production company, Castle Rock, but he was under-capitalized. Bannon's fledgling media company put up the remaining funds, and he agreed to "participation rights" instead of a fee. "Seinfeld has reaped more than $3 billion in its post-network afterlife through syndication deals." Meanwhile, Bannon is "still cashing checks from Seinfeld, and observers say he has made nearly 25 times more off the Castle Rock deal than he had anticipated."
IT'S ALL CLINTON
Reliable Poll Data Coming in RE: Debate #1
1 hours ago
WHY WE CARE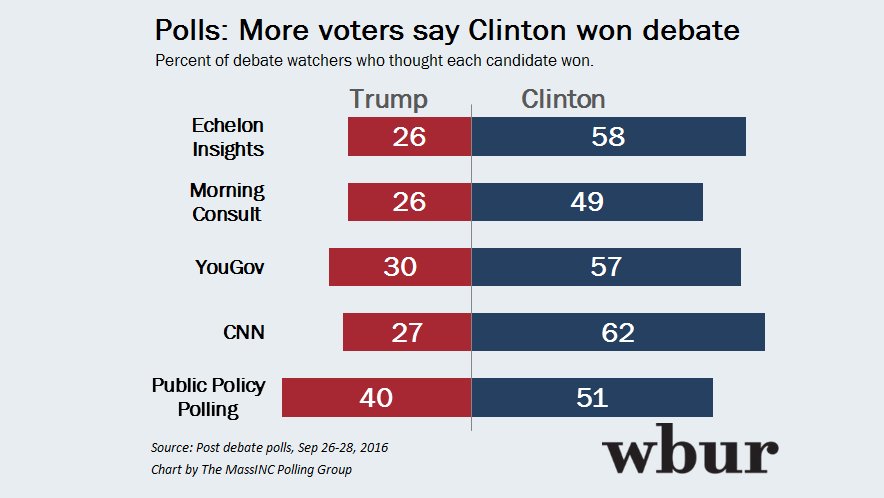 NEXT THURSDAY
Trump Transition Team Meeting with Silicon Valley VIPs
3 hours ago
THE DETAILS
Donald Trump's "transition team will meet next week with representatives of the tech industry, multiple sources confirmed, even as their candidate largely has been largely shunned by Silicon Valley. The meeting, scheduled for next Thursday at the offices of law and lobbying firm BakerHostetler, will include trade groups like the Information Technology Industry Council and the Internet Association that represent major Silicon Valley companies."
WHAT WILL PASS?
McConnell Doubts Criminal Justice Reform Can Pass This Year
3 hours ago
ALSO FIRED UNATTRACTIVE WAITRESSES
Trump Did Business with Cuba
4 hours ago
THE LATEST
Today in bad news for Donald Trump:
Newsweek found that a company he controlled did business with Cuba under Fidel Castro "despite strict American trade bans that made such undertakings illegal, according to interviews with former Trump executives, internal company records and court filings." In 1998, he spent at least $68,000 there, which was funneled through a consluting company "to make it appear legal."
The Los Angeles Times reports that at a golf club he owns in California, Trump ordered that unattractive female staff be fired and replaced with prettier women.