In the Satan­ic break­down of hol­i­day hier­archy, your own birth­day is of the highest sig­ni­fic­ance, fol­lowed by Walpur­gisnacht, ex­actly six months from All Hal­lows Eve, and then Hal­loween. This ac­cord­ing to Lu­cien Greaves, com­mu­nic­a­tions dir­ect­or of The Satan­ic Temple (TST).
Greaves' mes­sage: It's time to stop de­mon­iz­ing Satan­ists. And every­body else for that mat­ter. "Every year, to some great­er or less­er de­gree, we have to deal with the nev­er-end­ing War on Hal­loween that be­sieges us from the de­lu­sion­al fringe," he wrote me over Gchat. "People try­ing to ban Hal­loween, people spread­ing fear-mon­ger­ing folk­tales of poisoned can­dies and Ritu­al Ab­use pred­at­ors."
That sort of in­tol­er­ance is something the Satan­ic Temple, which is dis­tinct from the bet­ter-known Church of Satan, is push­ing back against — and not just rhet­or­ic­ally. This sum­mer Greaves per­formed a Satan­ist ritu­al in which a gay couple kissed atop the graves­ite of the moth­er of the founder of the fam­ously an­ti­gay West­boro Baptist Church (ritu­al par­ti­cipants claimed the ce­re­mony made her soul gay in the af­ter­life). Greaves was charged with de­sec­ra­tion of a grave, a mis­de­mean­or, and will be ar­res­ted should he re­turn to Laud­er­dale County, Miss. He also says he re­ceived sev­er­al amor­ous pro­pos­als.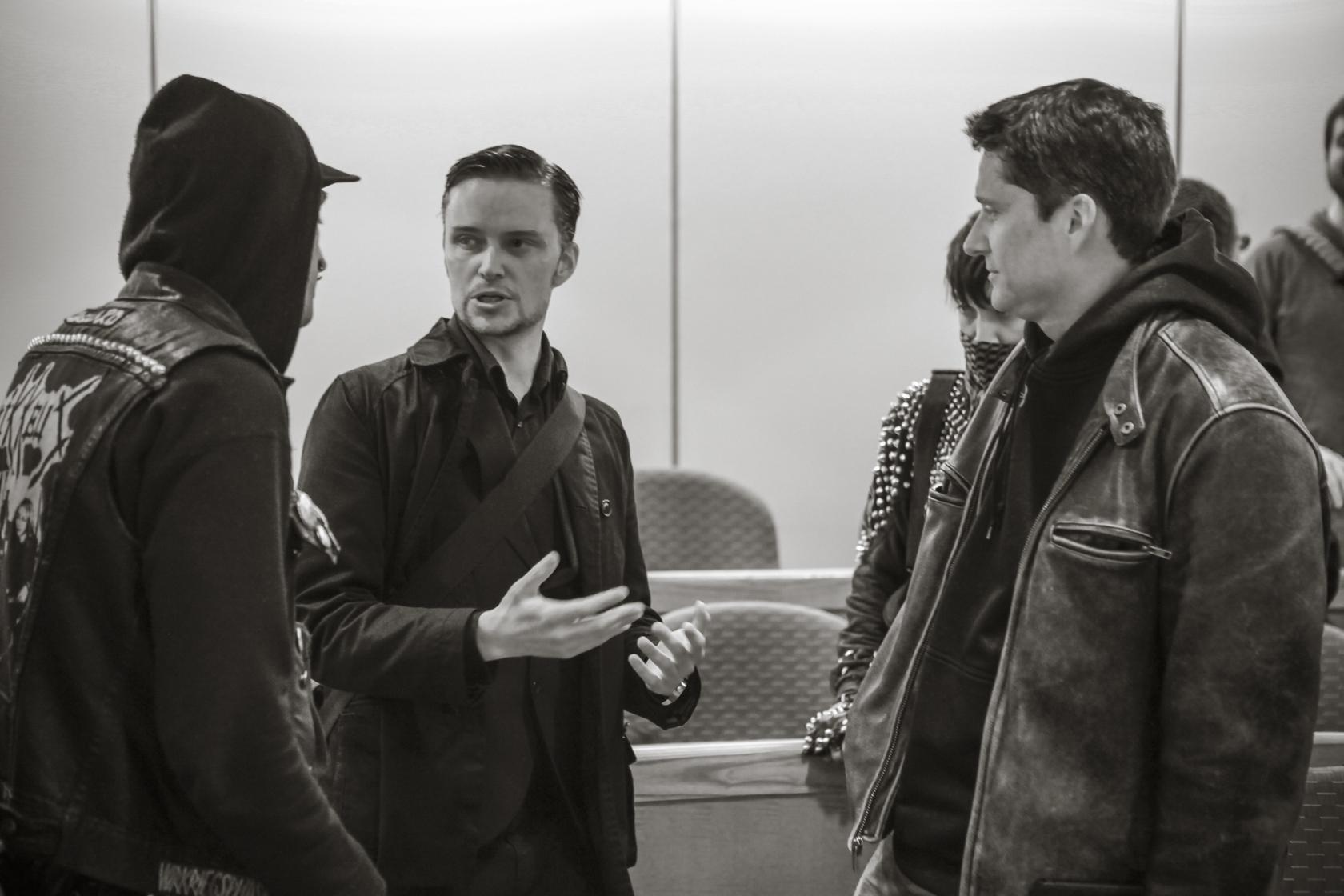 NJ: Do you think it's fair to say that TST is a way of em­power­ing athe­ists? Are people with TST athe­ists?
Greaves: Yes, I do. Athe­ists, all too of­ten, are denied priv­ileges that are af­forded to the re­li­gious.
NJ: What sorts of priv­ileges do you see hav­ing a re­li­gious af­fil­i­ation as con­fer­ring?
Greaves: I am an athe­ist­ic Satan­ist, and the fight, to me, isn't against Chris­tian­ity or re­li­gion, it's against su­per­nat­ur­al­ism. We be­lieve that re­li­gion can be sep­ar­ated from su­per­nat­ur­al­ism.
NJ: What is the part of re­li­gion that you em­brace?
Greaves: We are work­ing on re­li­gious ex­emp­tions now. One of our ten­ets holds that the body is in­vi­ol­able, sub­ject to one's own will alone. As such, we be­lieve we have a right to ex­empt our chil­dren from cor­por­al pun­ish­ment in any of the 19 states where this sav­age prac­tice is still al­lowed.
NJ: What else do re­li­gious ex­emp­tions get you?
Greaves: We also be­lieve we should be able to ex­empt fe­males from in­sult­ing, su­per­flu­ous pro­ced­ures such as trans­va­gin­al ul­tra­sounds (used to dis­suade them from abor­tions).
NJ: Can't they also be used to do things such as ex­empt­ing em­ploy­ers from pay­ing their em­ploy­ees' in­sur­ance cov­er­age for birth con­trol?
Greaves: That's cer­tainly not something we would try to do. However, so long as broad re­li­gious ex­emp­tions are al­lowed, we will try to help our mem­ber­ship be­ne­fit from them.
NJ: I see. So rather than fight­ing re­li­gious ex­emp­tions, you're tak­ing the tool and us­ing it for oth­er things you deem good?
Greaves: Sure. We're of­fer­ing a counter-bal­ance. We're a na­tion of re­li­gious plur­al­ism, and I'm a re­li­gious non-be­liev­er with an ex­pli­cit re­li­gious philo­sophy that I en­dorse.
NJ: Do you nor­mally go by Lu­cien or is that just in con­junc­tion with your work at The Satan­ic Temple?
NJ: It's a good name. I hear it means light, which is rather iron­ic.
Greaves: Lu­ci­fer = light-bring­er. Not so iron­ic after all, maybe.
NJ: What do you do when you're not serving as com­mu­nic­a­tions dir­ect­or to TST?
Greaves: I ac­tu­ally do freel­ance writ­ing, film work, Web design.
NJ: And where are you based?
Greaves: I am in Cam­bridge, Mass.
Greaves: About the same age as you.
NJ: Is there really a com­munity of Satan­ists? Like Satan­ist Satan­ists?
Greaves: Well, there are a good num­ber of self-iden­ti­fied Satan­ists and they, like any­body, ap­pre­ci­ate the op­por­tun­ity to mix with the like-minded and work to­ward the be­ne­fit of their col­lect­ive in­terests. And they should be rep­res­en­ted prop­erly and judged for their ac­tions, not su­per­sti­tions re­gard­ing what some people think Satan­ism is sup­posed to mean.
NJ: Are you count­ing people like you as self-iden­ti­fied Satan­ists?
Greaves: Yes, I am a Satan­ist.
NJ: So you think people are wrong about what Satan­ism is sup­posed to mean?
Greaves: Yes — that Satan­ists wor­ship this idea of Satan as the em­bod­i­ment of all cruelty, dis­ease, dys­func­tion, and neg­at­iv­ity. That be­ing a Satan­ist ne­ces­sar­ily means act­ing against the in­terests of hu­man­ity in gen­er­al. The Satan­ist's Satan is more akin to the Satan of the lit­er­ary ro­mantic satan­ists in­spired by Milton — the Satan of Blake, Byron, and Shel­ley. The Satan as an icon of re­volt against ar­bit­rary au­thor­ity. As a sym­bol of per­son­al sov­er­eignty.
NJ: Do you think there is any­one who ac­tu­ally does wor­ship evil, though?
Greaves: Well, there are in­di­vidu­al cases in which that type of icon­o­graphy was taken up by psy­cho­path­ic in­di­vidu­als. I wrote about one such case, the case of Sean Sellers. And, of course, seri­al killer Richard Ramirez carved a pen­ta­gram in his hand be­fore a court ap­pear­ance. But both of these cases took place dur­ing the "Satan­ic Pan­ic" and neither of them were work­ing with a lar­ger net­work, nor could they point to any satan­ic doc­trine that mo­tiv­ated these works. They simply knew that they had be­come mon­sters. The frame­work of Satan­ism had been con­struc­ted for them by the anti-Satan­ists them­selves. Of course, now I might point out all the psychot­ic killings "the Lord" in­spired. I'll spare you that….