The country's biggest industries are turning to K Street to avoid being ensnared by the Trump administration's tariffs, but results are so far limited.
Lobbying activity on trade issues for the third quarter spiked compared to the same period a year ago, just as the administration escalates trade pressure on China, continues its tariffs on steel and aluminum imports, and threatens to pull out of multilateral deals like the World Trade Organization.
More than 500 companies and lobbying firms identified "tariffs" as an issue on which they lobbied between July and September, according to regulatory filings released Monday by the House of Representatives' Office of the Clerk. That's a jump of more than 100 filings compared to the second quarter and a sharp increase from the middle of last year, when only 43 filers identified tariffs as a lobbying issue.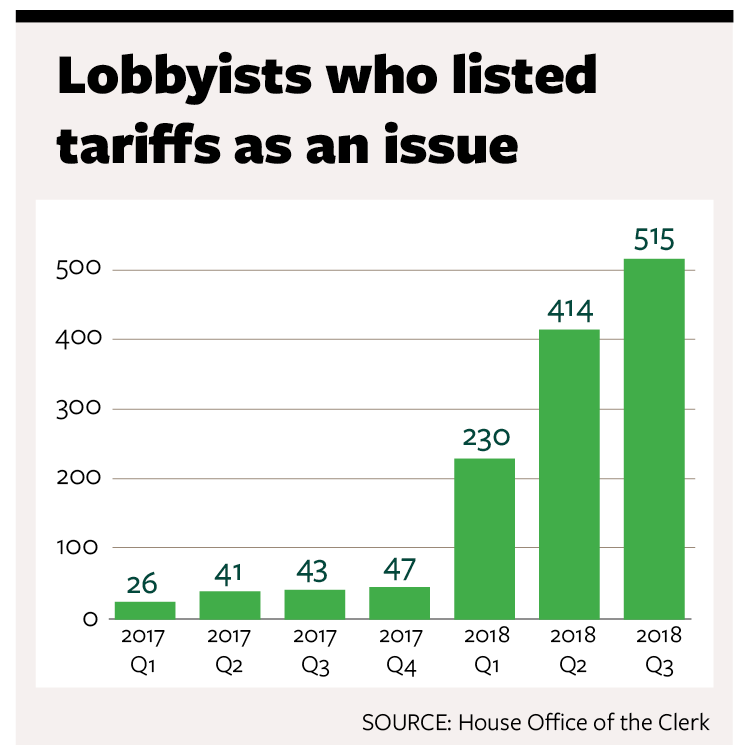 Companies also listed issues such as the recent renegotiation of the North American Free Trade Agreement and a trade pact with South Korea as drivers of third-quarter lobbying expenditures.
The jump signals continued industry concern over the administration's tariff-centric approach on reorganizing the global trade landscape, though many agree that an overhaul is needed in some areas, particularly on Chinese industrial practices.
Major business groups, which have cheered the Trump administration on tax cuts and regulatory rollbacks, are lining up to push the White House away from escalating its tariff fight.
The National Association of Manufacturers increased lobbying spending from $1.3 million in the third quarter of 2017 to $2.9 million in the same period this year.
Lobbying-spending reports are not broken down by issue—only by the total amount spent on a broad list of issues—so it's often unclear how much funding is devoted to each policy area. NAM said trade has been a major focus, with more than 450 legislative- and executive-branch meetings on the issue this year.
"This report reflects the high importance the NAM has placed on trade issues as well as other priorities important to our members," said spokesman Michael Short in an email.
The Business Roundtable, a group of corporate executives from a wide variety of industries, increased spending from $4.5 million in the third quarter of last year to $6.1 million in the same period this year.
Though many companies back the administration's push to stop Chinese industrial policies such forced transfers of intellectual property, as well as foreign ownership and investment restrictions, the White House's tariffs-as-leverage strategy isn't helpful, the Roundtable says.
"We've been actually very supportive in a lot of the administration's objectives in the trade confrontation they're having with China," Business Roundtable president Joshua Bolten told CNBC this month. "We've objected to, however, a lot of the tactics, because we think that the imposition of a heavy dose of tariffs before really sitting down to attempt a negotiation has been counterproductive."
Lobbying expenditures wax and wane, but jumps in spending compared to the third quarter of last year are notable. During that period, Congress was busy writing its sweeping tax-code overhaul, a massive policy upheaval that engaged vast parts of K Street. Increases in lobbying spending compared to that time illustrate the impact of the administration's trade policies across the U.S. economy.
And trade lobbying isn't likely to subside anytime soon. Trump's renegotiated NAFTA, now called the U.S.-Mexico-Canada Agreement, will need congressional approval, likely in next year's Congress.
And if the U.S. and China haven't reached a solution on their trade impasse, U.S. tariffs on some $250 billion in Chinese imports are set to increase next year from 10 percent to 25 percent, and a round of tariffs on a separate $267 billion in Chinese goods could go into effect soon. That would impose tariffs on nearly all Chinese imports to the United States. Trump has also threatened 25 percent tariffs on European imports of cars and car parts.
But for all the increased attention from K Street, lobbyists haven't been able to get Congress or the administration to ease the tariffs.
For the latest round of tariffs on $200 billion in Chinese-made goods, the White House's Office of the Trade Representative has yet to roll out a process in which companies can request an exclusion, a move that a bipartisan group of lawmakers called a "glaring omission" in an Oct. 15 letter to U.S. Trade Representative Robert Lighthizer.
"An exclusion process is vital to ensuring that U.S. companies can seek relief in the event that there are no alternative suppliers or if other special circumstances exist that could harm their ability to compete in the global marketplace," the letter, signed by more then 150 lawmakers, said.
A handful of Democratic senators issued a similar letter last week.
On the initial two rounds of China tariffs, totaling $50 billion, companies could ask the administration for an exemption. So far, thousands of companies have requested exclusions, according to documents filed on the federal government's public comment website.
The press office for the U.S. Trade Representative said it had no announcements regarding an exclusion program.
For Trump's part, he views the tariffs as a strategy to get trade partners to the bargaining table, such as with the recent completion of the new North American trade deal.
"I'm using tariffs to negotiate," Trump said in a lengthy interview with The Wall Street Journal published Wednesday. "I mean, other than some tariffs on steel—which is actually small, what do we have?"
The USMCA, however, did not eliminate the steel and aluminum tariffs on Canada, Mexico, and other countries, and Trump did not mention the tariffs imposed on $250 billion in Chinese imports.
Though the overall volume of lobbyists, business groups, and companies working on trade increased, not all boosted spending in the face of the tariffs.
The American Petroleum Institute, the oil-and-gas industry's biggest trade group, applauded the new North American trade deal, but has maintained that the tariffs on steel and aluminum are harming U.S. energy companies who rely on the steel imports to fabricate pipelines and build equipment domestically. Lobbying spending for the API, however, declined in the third quarter compared to last year.
Chip maker Intel and retailer Walmart also decreased expenditures compared to the same period last year, though each added tariffs as an issue on which they were lobbying.
The API, along with groups like the National Retail Federation and dozens of manufacturing and agricultural groups, have organized Tariffs Hurt the Heartland, a coalition that targets voters in Midwest and rural states ahead of the November midterms with an anti-tariff message.
The group launched a digital advertising campaign last week casting tariffs as taxes paid for by American consumers.
"What may be a rounding error to Washington, D.C. politicians is a shopping list for American families," the group's ad says.