LAS VEGAS—Senate control for the next two years will be decided in part by how successful three House Democrats from southwestern states are in turning out Hispanic voters.
That includes Rep. Jacky Rosen, who dropped into a Cardenas supermarket here in Nevada's heavily Democratic, majority-minority 1st District a week before Saturday's early-voting kickoff to urge shoppers to cast their ballots.
Food "is what brings us together," Rosen said as she walked a lap around the grocery store, salted a tortilla fresh out of the oven, ate ceviche and tortilla chips, and sipped on a strawberry-banana smoothie.
Rosen is locked in a tight race with Republican Sen. Dean Heller, who survived a Democratic challenge in 2012 as President Obama carried the state. After leaving Cardenas, Rosen reminded separate northeast Las Vegas crowds that she is "a granddaughter of immigrants," and called for health-care-access protection and immigration reform.
"People worry about their whole family," Rosen said in an interview after addressing the Rancho High School Hispanic Student Union. "You can worry about immigration. … There's communities under attack right now, but every everybody has to worry about their health. Everyone. Everyone worries about education for their kids or grandkids."
Democrats say they have the message and get-out-the-vote operations needed to mobilize the same coalition of voters who helped Hillary Clinton narrowly carry Nevada in 2016 and close the margins in Arizona and Texas. Polls show the three races are no better than tossups for Democrats, with Texas being the tallest climb, so a jolt from the party's lower-frequency voters could make the difference.
"I think you're going to see historic off-year turnout for Hispanic voters in states across the country," said Fernand Amandi, a Democratic pollster specializing in multilingual polling and communications. "And in many states, they might even provide the margin of victory for the Democrats."
Democrats sorely remember the last midterm election here. They lost three of the four House races and every statewide contest, thanks in part to ticket-topping Republican Gov. Brian Sandoval's 47-point reelection margin. Steven Horsford, who is running for his old 4th District seat, was among the casualties that year.
"Part of what I learned from 2014 is that you've got to be out engaging voters," Horsford said in an interview at the East Las Vegas Community Center in the 1st District, where he joined Rosen and Democratic Rep. Henry Cuellar of Texas at an event celebrating Latino culture.
In an interview last month in Washington, Texas Democrat Beto O'Rourke, a three-term congressman representing El Paso, conceded it will be a "challenge" to get the base to the polls against Sen. Ted Cruz in a state ranked "50th in the country in voter turnout in midterms," but he remained optimistic.
"I expect a very strong turnout everywhere because we're seeing that everywhere that we travel right now," said O'Rourke, rattling off a list of campaign stops on the Mexican border and Houston, "the most diverse city in the United States of America."
Rosen, O'Rourke, and Kyrsten Sinema, a Democrat in an open-seat race in Arizona, were some of the first statewide candidates in the country to invest in Spanish-language paid media. Rosen launched her seventh Spanish-language TV ad Friday, recalling President Trump "came to Nevada to insult" her because she "had the courage to condemn Trump's policy separating children from their parents at the border."
While polling has shown all three Democrats leading Republicans among either Hispanics or Latinos—depending on the poll—since this summer, the demographic isn't monolithic and Republicans have made inroads.
RNC state director Dan Coats said in an interview in downtown Las Vegas that Republicans have made more than one million voter contacts in Nevada, hiring more than three dozen field staff and 2,000 "fellows" trained to build GOTV and voter registration operations.
"Republicans are generally better about voting in midterms than Democrats," Coats said, but the GOP also hopes to expand the electorate. By using the national party's data program, which "scores" the electorate using 4,000 data points per registered voter, "we can identify likely Republican supporters who may not vote in every single midterm."
By the close of registration Thursday the GOP had cut into Democrats' active voter advantage by 22,000—just shy of the margin by which Clinton carried the state. But active Democratic voters still outnumber Republicans by 75,000, a bigger advantage than the party boasted in previous midterm elections and larger than Heller said in April that he hoped to face.
The Nevada Democratic Party, building on Obama's and former Senate Majority Leader Harry Reid's efforts, started ramping up voter registration programs in March. In an interview at the state-party headquarters, where old Reid posters line the walls, Executive Director Alana Mounce said the organization is "more efficient" than it was in 2016 based on the fact that every 64 phone calls the party makes yields a volunteer recruit. She said the party is working on "running up the score" in Las Vegas-anchored Clark County with the help of fluent Spanish and Tagalog speakers on staff who predominantly focus on turning out young voters and "voters of color" both by phone and in person.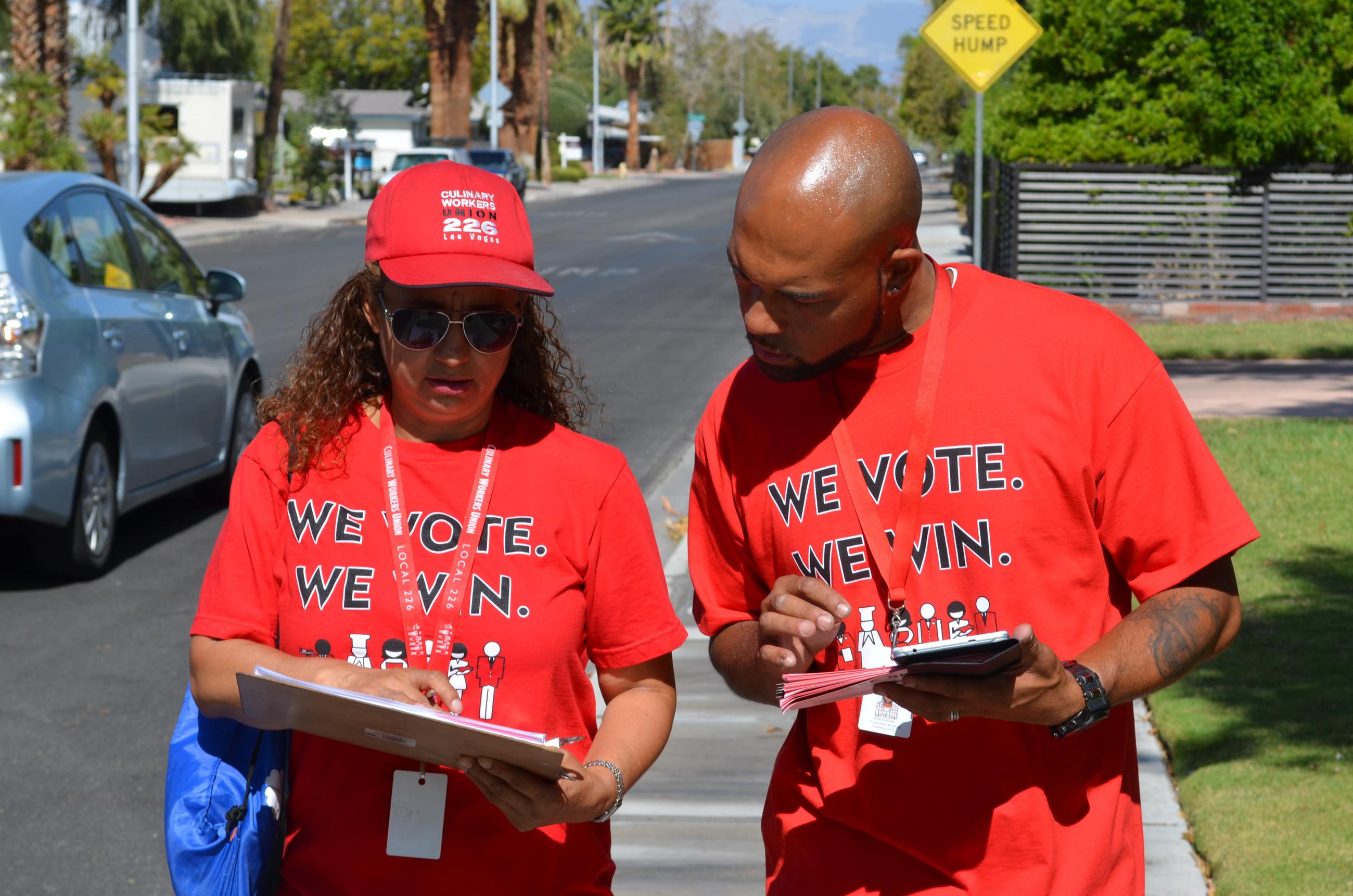 Fifty groups reported spending on federal races in Nevada so far this cycle. The left-leaning groups among them span every corner of the Democratic diaspora, including One APIA Nevada. The nonprofit's volunteers handed out campaign literature in five languages to Asian-American and Pacific Islander homes one recent evening in Enterprise.
For Our Future, a coalition of progressive groups founded by unions and Tom Steyer's NextGen America, has knocked on 300,000 doors since it started canvassing in the Silver State in May and plans to do at least 200,000 more, said its Nevada director Michelle White. She said the coalition hopes to build "long-term sustainable power to organizations on the ground, particularly in communities of color" that otherwise "feel overlooked."
Vanessa Collins, the 3rd District director of the Progressive Turnout Project, said staff secured commitments from 6,000 registered Democrats to vote. That's more than the margin by which Rosen carried that southern district two years ago to win her lone House term.
"Coming out of 2014, when we had that historically low turnout in a midterm election … we said, 'We have to invest in having conversations with these folks earlier than September and October,'" Alex Morgan, the national group's executive director, said of the party's inconsistent voters.
Leslie Marlow, a Progressive Turnout Project canvasser, found some of those voters later that day in a cookie-cutter Henderson development of mostly single-story homes, where she educated registered Democrats about the start of early voting and logged their voting plans and issue priorities into a tablet.
The first person to answer their door was Irma Estrada, a Mexican immigrant who plans to vote next month after normally only doing so in presidential elections. Cody Beilfuss also said he usually only votes every four years, but he'll support Democrats next month.
"Look at the news cycle, man," he told a reporter, adding that he is motivated by the family-separation crisis at the border. "They moved a bunch of kids to a tent city."
The biggest political organization in Nevada, besides party committees and leadership-aligned super PACs, is the Culinary Union. It reported spending $2.6 million on a GOTV effort for Horsford and Rosen, a former union member from her time as a Caesars Palace waitress. It is also backing Clark County Commission Chairman Steve Sisolak's bid for governor.
"I've been seeing that everywhere," one Huntridge Park resident said to two union canvassers of their ubiquitous red shirts. Those activists, Drew Butler and Maria Martinez, who were on union-negotiated leave from their jobs at casinos on the Las Vegas Strip, were encouraging residents to vote early.
While canvassers expect to get silence on the other end of most doors they're knocking, they found multiple Democratic votes. Jocelyne Mendez told them she "had no idea" she was registered to vote until Butler and Martinez showed up on her porch with pamphlets.
"The work that you're doing is what actually makes the difference because the folks you're talking to are people who otherwise would not show up to vote," state Sen. Yvanna Cancela, the union's former political director, told members at a bilingual pre-canvass kickoff surrounded by posters decrying Trump's immigration policies.
"And on Nov. 7," she added, "the story will be 'Culinary Union delivers the majority back to Democrats in the U.S. Senate.'"