If you find your­self pay­ing more for a Slider, Thick­bur­ger, or Ba­con­at­or, you might want to blame the re­new­able-fuel stand­ard, says a video put out by Feed Food Fair­ness in op­pos­i­tion to the corn-eth­an­ol man­date.
Re­finers will likely blend around 13 mil­lion gal­lons of corn eth­an­ol next year — a level set by the En­vir­on­ment­al Pro­tec­tion Agency — which some say is driv­ing up prices across the food in­dustry for oth­er corn-de­pend­ent products. Feed Food Fair­ness is a cam­paign launched this sum­mer by the Na­tion­al Coun­cil of Chain Res­taur­ants to push for re­peal of the stand­ard.
White Castle Pres­id­ent Lisa In­gram says in the video that her com­pany has seen a 47 per­cent spike in beef prices since the start of the re­new­able-fuel stand­ard, with the im­plic­a­tion that much of that jump is due to in­creased feed prices for cattle farm­ers. The in­crease car­ries a $15,000-per-res­taur­ant cost, she said. "When we have fluc­tu­ations in our food costs, that im­pacts our abil­ity to be able to provide value to our cus­tom­ers," In­gram said.
Hardee's and Wendy's fran­chisees also speak out against the stand­ard, say­ing it cuts their profits and, by ex­ten­sion, job cre­ation. 
Last week, 165 House mem­bers signed a let­ter call­ing for re­duc­tions in next year's corn-eth­an­ol man­date. Sens. Di­anne Fein­stein, D-Cal­if., and Tom Coburn, R-Okla., are ex­pec­ted to un­veil le­gis­la­tion this week that would elim­in­ate the corn-eth­an­ol man­date al­to­geth­er. In­dustry groups such as the Amer­ic­an Pet­ro­leum In­sti­tute have also called for a re­duc­tion in eth­an­ol blends, but bio­fuels makers are push­ing back with ar­gu­ments that cut­backs would hamper a grow­ing in­dustry.
What We're Following See More »
NEVER TRUMP
USA Today Weighs in on Presidential Race for First Time Ever
9 hours ago
THE DETAILS
"By all means vote, just not for Donald Trump." That's the message from USA Today editors, who are making the first recommendation on a presidential race in the paper's 34-year history. It's not exactly an endorsement; they make clear that the editorial board "does not have a consensus for a Clinton endorsement." But they state flatly that Donald Trump is, by "unanimous consensus of the editorial board, unfit for the presidency."
COMMISSIONERS NEED TO DELIBERATE MORE
FCC Pushes Vote on Set-Top Boxes
9 hours ago
THE LATEST
"Federal regulators on Thursday delayed a vote on a proposal to reshape the television market by freeing consumers from cable box rentals, putting into doubt a plan that has pitted technology companies against cable television providers. ... The proposal will still be considered for a future vote. But Tom Wheeler, chairman of the F.C.C., said commissioners needed more discussions."
UNTIL DEC. 9, ANYWAY
Obama Signs Bill to Fund Government
14 hours ago
IT'S ALL CLINTON
Reliable Poll Data Coming in RE: Debate #1
16 hours ago
WHY WE CARE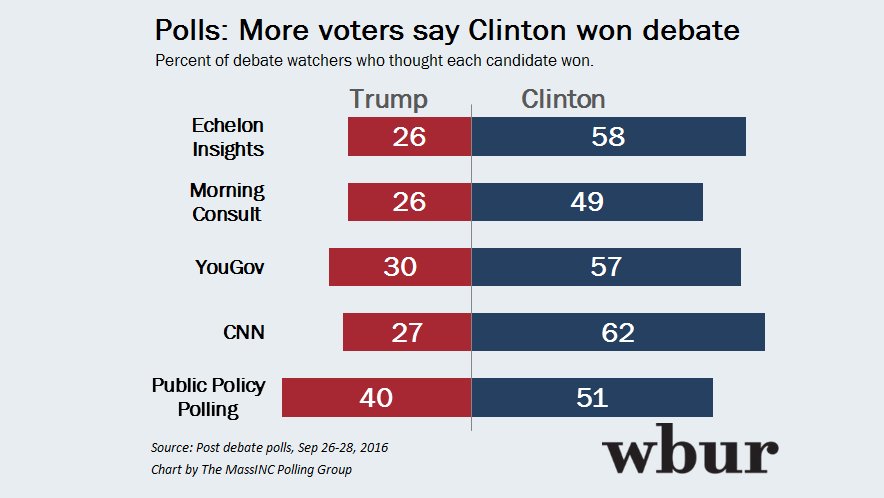 WHAT WILL PASS?
McConnell Doubts Criminal Justice Reform Can Pass This Year
18 hours ago