A ma­jor­ity of pub­lic-school chil­dren in the South and West are poor for the first time in four dec­ades, the South­ern Edu­ca­tion Found­a­tion re­por­ted in its new study, "A New Ma­jor­ity."
In the 2010-11 school year, more than half of the stu­dents in 17 states qual­i­fied for free or re­duced price lunches. And across the coun­try, nearly half — 48 per­cent — of pub­lic-school chil­dren were low in­come. When the lan­guage gap between low-in­come and high­er-in­come stu­dents be­gins as early as 18 months, this demo­graph­ic shift has big im­plic­a­tions for the suc­cess of our na­tion's stu­dents. Al­most half of U.S. pub­lic-school stu­dents may be ar­riv­ing at school for the first time already be­hind — with high­er chances of fall­ing fur­ther be­hind aca­dem­ic­ally, hav­ing lower test scores, drop­ping out, or be­ing "pushed out" — a find­ing of the Dig­nity in Schools Cam­paign.
The re­port found that while the num­ber of low-in­come stu­dents is grow­ing rap­idly, fund­ing for their edu­ca­tion is not, and learn­ing gaps between low-in­come stu­dents and their high­er-in­come peers have per­sisted.
Kath­er­ine Dunn is a pro­gram of­ficer with the South­ern Edu­ca­tion Found­a­tion, a pub­lic char­ity based in At­lanta.
Across all re­gions of the coun­try, the num­ber of poor stu­dents in U.S. pub­lic schools has grown sub­stan­tially over the past dec­ade — by 32 per­cent na­tion­wide from 2001 to 2011, or more than 5.7 mil­lion chil­dren. Cer­tainly the 2008 re­ces­sion com­poun­ded this high growth.
The re­ces­sion also con­trib­uted to both budget cuts to pub­lic edu­ca­tion and to de­clin­ing prop­erty val­ues, re­du­cing tax rev­en­ue for pub­lic schools. In fact, while schools are edu­cat­ing more and more low-in­come stu­dents, fund­ing per stu­dent is grow­ing at a much slower rate — mean­ing few­er re­sources for stu­dents who re­quire great­er sup­port. Poor pub­lic-school chil­dren were most con­cen­trated in U.S. cit­ies, where urb­an schools edu­cate large pop­u­la­tions of stu­dents with the greatest needs.
Mean­while, sig­ni­fic­ant learn­ing gaps between low-in­come stu­dents and their high­er-in­come peers re­mained. (Between the two stu­dent groups from 2003 to 2011, the gap in fourth-grade read­ing scores for the Na­tion­al As­sess­ment for Edu­ca­tion­al Pro­gress held steady at 26 points.) Neither the pub­lic nor the private sec­tor has suc­cess­fully re­duced or elim­in­ated the learn­ing gap for poor stu­dents: Sim­il­ar gaps per­sisted in both pub­lic and private schools.
As low-in­come stu­dents be­come our "new ma­jor­ity," our in­ter­na­tion­al stand­ing hinges on im­prov­ing our edu­ca­tion of these stu­dents. A re­cent re­port on an in­ter­na­tion­al rank­ing of math and sci­ence scores in 2011 showed be­low-av­er­age scores in many South­ern states — the re­gion with the greatest con­cen­tra­tion of low-in­come stu­dents (and a ma­jor­ity of poor pub­lic-school stu­dents since 2007).
To re­verse these trends, we must ad­dress the needs of low-in­come stu­dents. As New York Uni­versity edu­ca­tion pro­fess­or Pedro Noguera has writ­ten, we can­not ex­pect chil­dren to per­form well aca­dem­ic­ally when they do not have ad­equate nu­tri­tion, health care, and de­vel­op­ment­al tools, and we can­not ex­pect fam­il­ies to break the cycle of poverty without qual­ity edu­ca­tion.
Edu­ca­tion is the av­en­ue to mean­ing­ful ca­reers, ad­equate wages, par­ti­cip­a­tion in our demo­cracy, and safe, healthy lives. But edu­ca­tion that pro­duces these res­ults re­quires that we spend more to edu­cate our stu­dents. We must provide high-qual­ity teach­ers, small class sizes, coun­selors, nurses, and an en­ga­ging cur­riculum — and we must reach our stu­dents with these re­sources earli­er, through qual­ity early edu­ca­tion.
Ul­ti­mately, the de­cision comes down to wheth­er we want to in­vest a little at the front end, or a lot at the back end — when our fail­ure to provide equit­able edu­ca­tion to low-in­come stu­dents will mean gen­er­a­tions of poverty and a "new ma­jor­ity" of poor stu­dents in South­ern and West­ern pub­lic schools that will be­come our na­tion's status quo.
What We're Following See More »
STAFF PICKS
Bannon Still Collecting Royalties from 'Seinfeld'
54 minutes ago
WHY WE CARE
The Hollywood Reporter takes a look at a little-known intersection of politics and entertainment, in which Trump campaign CEO Steve Bannon is still raking in residuals from Seinfeld. Here's the digest version: When Seinfeld was in its infancy, Ted Turner was in the process of acquiring its production company, Castle Rock, but he was under-capitalized. Bannon's fledgling media company put up the remaining funds, and he agreed to "participation rights" instead of a fee. "Seinfeld has reaped more than $3 billion in its post-network afterlife through syndication deals." Meanwhile, Bannon is "still cashing checks from Seinfeld, and observers say he has made nearly 25 times more off the Castle Rock deal than he had anticipated."
IT'S ALL CLINTON
Reliable Poll Data Coming in RE: Debate #1
1 hours ago
WHY WE CARE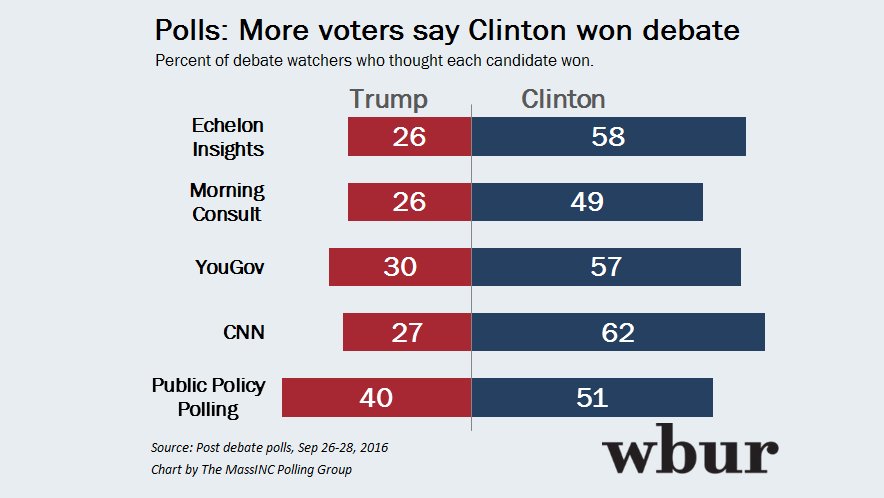 NEXT THURSDAY
Trump Transition Team Meeting with Silicon Valley VIPs
3 hours ago
THE DETAILS
Donald Trump's "transition team will meet next week with representatives of the tech industry, multiple sources confirmed, even as their candidate largely has been largely shunned by Silicon Valley. The meeting, scheduled for next Thursday at the offices of law and lobbying firm BakerHostetler, will include trade groups like the Information Technology Industry Council and the Internet Association that represent major Silicon Valley companies."
WHAT WILL PASS?
McConnell Doubts Criminal Justice Reform Can Pass This Year
3 hours ago
ALSO FIRED UNATTRACTIVE WAITRESSES
Trump Did Business with Cuba
4 hours ago
THE LATEST
Today in bad news for Donald Trump:
Newsweek found that a company he controlled did business with Cuba under Fidel Castro "despite strict American trade bans that made such undertakings illegal, according to interviews with former Trump executives, internal company records and court filings." In 1998, he spent at least $68,000 there, which was funneled through a consluting company "to make it appear legal."
The Los Angeles Times reports that at a golf club he owns in California, Trump ordered that unattractive female staff be fired and replaced with prettier women.