House Ways and Means Com­mit­tee Chair­man Dave Camp, R-Mich., has sub­poenaed the ad­min­is­tra­tion for data on Obama­care en­roll­ment, mak­ing good on an earli­er threat.
The sub­poena to the Cen­ters for Medi­care and Medi­caid Ser­vices, the agency man­aging the rol­lout of the in­sur­ance ex­changes, de­mands all the data it has on en­roll­ment fig­ures by Fri­day. 
"Con­gress needs to know what you know so Con­gress, the Amer­ic­an people's rep­res­ent­at­ives, can also take cor­rect­ive ac­tion," Camp said in a let­ter ac­com­pa­ny­ing the sub­poena. "Both Re­pub­lic­ans and Demo­crats need to un­der­stand the full ex­tent of the crisis if we are go­ing to find a fair and work­able solu­tion for the Amer­ic­an people."
Camp had sent a let­ter last week to CMS Ad­min­is­trat­or Mar­ilyn Taven­ner de­mand­ing the same data. House Over­sight and Gov­ern­ment Af­fairs Com­mit­tee Chair­man Dar­rell Issa, R-Cal­if., also has sub­poenaed the Health and Hu­man Ser­vices De­part­ment for the data.
Taven­ner told the Sen­ate Health, Edu­ca­tion, Labor, and Pen­sions Com­mit­tee on Tues­day that the en­roll­ment in­form­a­tion would be re­leased next week. The ad­min­is­tra­tion plans to re­lease en­roll­ment up­dates monthly.
HHS Sec­ret­ary Kath­leen Se­beli­us said at a House En­ergy and Com­merce Com­mit­tee hear­ing last week that "we have no re­li­able data about en­roll­ment, which is why we haven't giv­en it to date."
Re­pub­lic­ans point to low en­roll­ment fig­ures as proof that the rol­lout was a fail­ure. Many Sen­ate Demo­crats said Tues­day that low en­roll­ment had been ex­pec­ted in the ini­tial months after the rol­lout but that Health­care.gov needs to be fully func­tion­al soon in or­der for people to sign up for cov­er­age that be­gins on Jan. 1.
The ad­min­is­tra­tion has said the in­sur­ance-ex­change web­site will be func­tion­ing prop­erly by the end of Novem­ber.
What We're Following See More »
NEVER TRUMP
USA Today Weighs in on Presidential Race for First Time Ever
7 hours ago
THE DETAILS
"By all means vote, just not for Donald Trump." That's the message from USA Today editors, who are making the first recommendation on a presidential race in the paper's 34-year history. It's not exactly an endorsement; they make clear that the editorial board "does not have a consensus for a Clinton endorsement." But they state flatly that Donald Trump is, by "unanimous consensus of the editorial board, unfit for the presidency."
COMMISSIONERS NEED TO DELIBERATE MORE
FCC Pushes Vote on Set-Top Boxes
7 hours ago
THE LATEST
"Federal regulators on Thursday delayed a vote on a proposal to reshape the television market by freeing consumers from cable box rentals, putting into doubt a plan that has pitted technology companies against cable television providers. ... The proposal will still be considered for a future vote. But Tom Wheeler, chairman of the F.C.C., said commissioners needed more discussions."
UNTIL DEC. 9, ANYWAY
Obama Signs Bill to Fund Government
12 hours ago
IT'S ALL CLINTON
Reliable Poll Data Coming in RE: Debate #1
14 hours ago
WHY WE CARE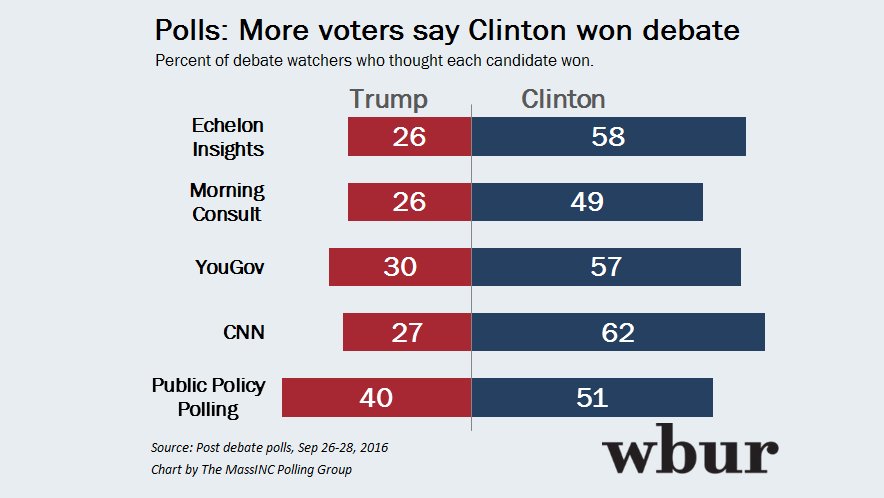 WHAT WILL PASS?
McConnell Doubts Criminal Justice Reform Can Pass This Year
17 hours ago