There's one small prob­lem with the Obama­care en­roll­ment fig­ures the Obama ad­min­is­tra­tion is un­der so much pres­sure to re­lease: They're nearly use­less.
Law­makers, re­port­ers, and out­side stake­hold­ers have been beat­ing down the doors at the Health and Hu­man Ser­vices De­part­ment to find out how many people have signed up for in­sur­ance through Health­Care.gov. That num­ber will be re­leased next week, Cen­ters for Medi­care and Medi­caid Ser­vices Ad­min­is­trat­or Mar­ilyn Taven­ner told a Sen­ate com­mit­tee on Tues­day.
Her prom­ise didn't stop House Ways and Means Chair­man Dave Camp, R-Mich., from is­su­ing a com­mit­tee sub­poena Tues­day de­mand­ing the en­roll­ment data by Fri­day. House Over­sight and Gov­ern­ment Af­fairs Com­mit­tee Chair­man Dar­rell Issa, R-Cal­if., has also sub­poenaed the data.
But simply know­ing the num­ber of people who have signed up — even though that's the num­ber every­one has been clam­or­ing for — isn't very in­struct­ive, health care ex­perts say.
"It just doesn't tell you the real story," said Aus­tin Frakt, a health care eco­nom­ist at Bo­ston Uni­versity.
For starters, the num­ber is sure to be small. Demo­crats an­ti­cip­ated low take-up in the first month, and they have ac­know­ledged that Health­Care.gov's tech­nic­al prob­lems will make Oc­to­ber's num­bers even lower than ex­pec­ted. Re­pub­lic­ans might be able to crow over a small num­ber of en­roll­ments, but it won't be a sur­prise.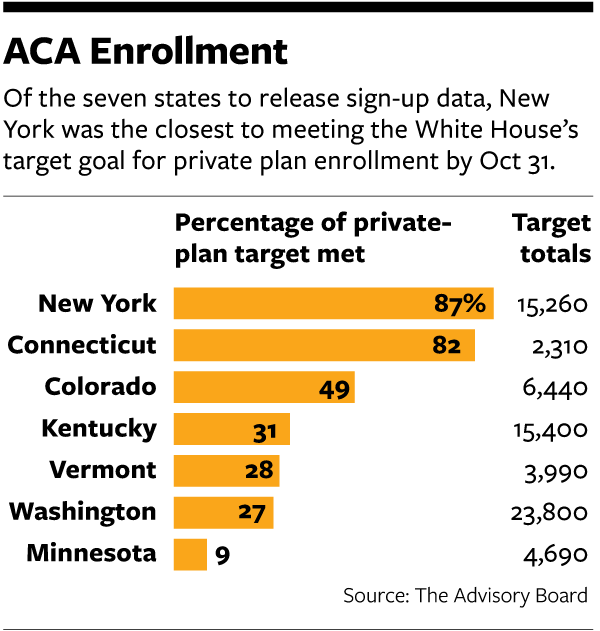 Moreover, fo­cus­ing on the total num­ber of en­rollees leaves oth­er im­port­ant ques­tions un­answered. Obama­care's suc­cess will de­pend not only on how many people en­roll, but also on who they are and where they sign up — in­form­a­tion a top-line en­roll­ment fig­ure won't ne­ces­sar­ily provide.
The ad­min­is­tra­tion's goal is to en­roll about 7 mil­lion people in the first year, and about 40 per­cent of those en­rollees need to be young, healthy con­sumers. Bring­ing young people in­to the sys­tem is crit­ic­al to keep­ing premi­ums low and avoid­ing an in­sur­ance "death spir­al."
Hit­ting that mix across 7 mil­lion Amer­ic­ans isn't good enough, though. Each state has to get the right ra­tio in its own in­sur­ance mar­ket.
"All of this is very state-spe­cif­ic on how it plays out," said Ed­win Park, vice pres­id­ent for health policy at the Cen­ter on Budget and Policy Pri­or­it­ies.
The 36 states us­ing Health­Care.gov are of­ten lumped to­geth­er be­cause their ex­changes are all run by the fed­er­al gov­ern­ment and they're all be­hold­en to the same broken web­site. Count­less re­port­ers and Re­pub­lic­ans have pressed HHS for en­roll­ment fig­ures for the fed­er­ally run ex­change, as if it's one unit.
But each state does still have its own in­sur­ance mar­ket and its own risk pool. En­rollees aren't pooled with any oth­er state, wheth­er they run their own ex­change or not.
Sty­mied by dug-in Re­pub­lic­an gov­ernors, the White House and its al­lies have fo­cused their out­reach cam­paigns on the states with the largest and young­est un­in­sured pop­u­la­tions, namely Flor­ida and Texas.
But a suc­cess­ful en­roll­ment cam­paign in those states doesn't af­fect wheth­er smal­ler states are at risk for un­even en­roll­ment and high­er premi­ums. Get­ting things right in Texas, for ex­ample, doesn't make life any easi­er in Ok­lahoma. And know­ing how many people have en­rolled na­tion­wide won't help in­surers in Ok­lahoma meas­ure their risk.
"Premi­ums and all the dis­cus­sion of rate shock — all that is very state-spe­cif­ic," Park said.
A na­tion­wide en­roll­ment total, pulling to­geth­er all 50 states, would give the health care world a sense of "how far be­hind we are" be­cause of Health­Care.gov's woes and the tech­nic­al prob­lems with some of the 14 state-run ex­changes, Frakt said. Bey­ond that, he said, it's all but use­less. One total for the 36 states us­ing Health­Care.gov wouldn't be much bet­ter.
HHS hasn't said yet wheth­er it will re­lease a state-by-state break­down next week — or wheth­er it will provide de­tails about who has signed up in each state. Of­fi­cials have said dur­ing brief­ings with the press that, while they un­der­stand the de­sire for de­tailed break­downs based on age and oth­er factors, their primary fo­cus now is simply on put­ting to­geth­er an ac­cur­ate total.
Without all of that in­form­a­tion, next week's hotly an­ti­cip­ated fig­ures may not live up to the hype.
"Every­one wants to make a snap judg­ment on how this is go­ing to go, but it's really too early to say. You can't tell for a while, un­til you see in­surers' ex­per­i­ence with 2014 en­rollees," Park said.
Elahe Iz­adi con­trib­uted