The com­mand­er of U.S. mil­it­ary forces in the Pa­cific on Tues­day said he takes the threat of North Korea's work on stra­tegic bal­list­ic mis­siles ser­i­ously, re­gard­less of their cur­rent cap­ab­il­it­ies.
Py­ongy­ang thus far has re­vealed two de­vel­op­ment­al in­ter­con­tin­ent­al-bal­list­ic mis­siles. The older of the two, the Tae­podong 2, had its first suc­cess­ful test-launch nearly a year ago while the new­er one, the road-mo­bile KN-08, has nev­er been flight-tested.
"For our mil­it­ary plan­ning per­spect­ive, when I see the KN-08 road mo­bile mis­siles that ap­pear in a North Korean mil­it­ary parade, I am bound to take that ser­i­ous, but  for not only the pen­in­sula but also the re­gion, as well as my own home­land," U.S. Pa­cific Com­mand head Navy Ad­mir­al Samuel Lock­lear said in re­marks re­por­ted on by the Yon­hap News Agency.
West­ern mis­sile ex­perts are di­vided about just how far along Py­ongy­ang is in its de­vel­op­ment of the KN-08, however they agree the mockups dis­played at a Ju­ly parade were more real­ist­ic than ver­sions seen a year earli­er.
In re­marks to journ­al­ists at the Wash­ing­ton For­eign Press Cen­ter, the ad­mir­al said North Korea wants Wash­ing­ton to think it has the abil­ity to carry out ICBM strikes on the con­tin­ent­al United States.
"Wheth­er they are real or not, or wheth­er they have the cap­ab­il­ity or not, [the] North Korean re­gime wants us to think they do and so we plan for that" Lock­lear was quoted as say­ing by the As­so­ci­ated Press.
Mean­while, A high-rank­ing an­onym­ous South Korean of­fi­cial on Tues­day told Yon­hap that while China's re­cent pro­pos­al for a path to re­ju­ven­at­ing nuc­le­ar ne­go­ti­ations with North Korea was "for­ward-look­ing," it did not go far enough in resolv­ing U.S. and South Korean con­cerns. Seoul and Wash­ing­ton are re­luct­ant to re­turn to the frozen ne­go­ti­ations un­less Py­ongy­ang first demon­strates a con­crete com­mit­ment to de­nuc­lear­iz­a­tion.
What We're Following See More »
NEVER TRUMP
USA Today Weighs in on Presidential Race for First Time Ever
10 hours ago
THE DETAILS
"By all means vote, just not for Donald Trump." That's the message from USA Today editors, who are making the first recommendation on a presidential race in the paper's 34-year history. It's not exactly an endorsement; they make clear that the editorial board "does not have a consensus for a Clinton endorsement." But they state flatly that Donald Trump is, by "unanimous consensus of the editorial board, unfit for the presidency."
COMMISSIONERS NEED TO DELIBERATE MORE
FCC Pushes Vote on Set-Top Boxes
11 hours ago
THE LATEST
"Federal regulators on Thursday delayed a vote on a proposal to reshape the television market by freeing consumers from cable box rentals, putting into doubt a plan that has pitted technology companies against cable television providers. ... The proposal will still be considered for a future vote. But Tom Wheeler, chairman of the F.C.C., said commissioners needed more discussions."
UNTIL DEC. 9, ANYWAY
Obama Signs Bill to Fund Government
16 hours ago
IT'S ALL CLINTON
Reliable Poll Data Coming in RE: Debate #1
18 hours ago
WHY WE CARE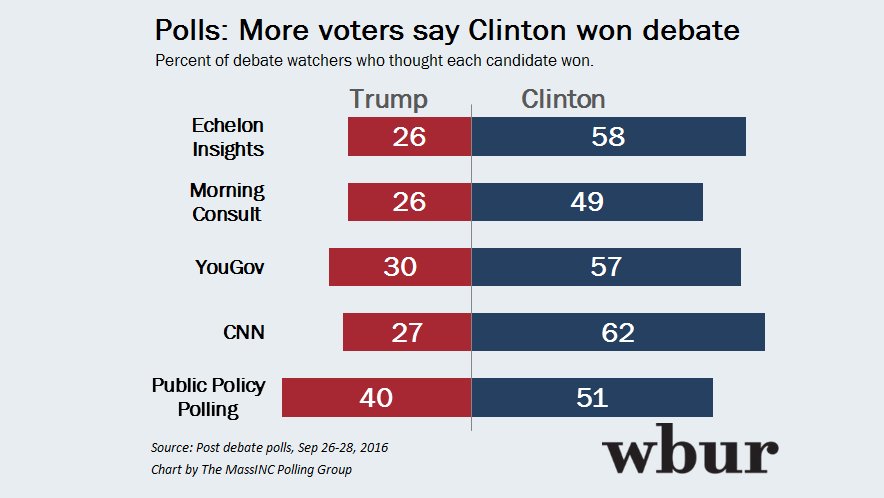 WHAT WILL PASS?
McConnell Doubts Criminal Justice Reform Can Pass This Year
20 hours ago