At the Su­preme Court on Wed­nes­day, the justices heard ar­gu­ments for a case styled Town of Greece v. Gal­lo­way, in which a very ba­sic ques­tion pro­voked long, long, and im­per­fect an­swers.
JUSTICE SCALIA: What about dev­il wor­ship­pers?
Should the town of Greece, loc­ated in the tun­dra out­side of Rochester, N.Y., be al­lowed to start a monthly meet­ing with a pray­er? The plaintiffs say the Chris­ti­an over­tones of the monthly in­voc­a­tion make them un­com­fort­able, and ar­gue that it con­sti­tutes a gov­ern­ment en­dorse­ment of Chris­tian­ity.
In 1983, the Court de­term­ined in Marsh v. Cham­bers that the state of Neb­raska could start le­gis­lat­ive pro­ceed­ings with a pray­er, but, as SCOTUS­b­log ex­plains it, the ex­act cutoff as to when pray­er be­comes state-en­dorsed re­li­gion has nev­er been drawn, aside from a vague re­stric­tion on not pros­elyt­iz­ing or de­noun­cing out­right an­oth­er re­li­gion.
As part of the or­al ar­gu­ment Wed­nes­day, the justices wondered wheth­er there could pos­sibly be one pray­er nondenom­in­a­tion­al enough to be cool with Chris­ti­ans, and, let's say, wor­ship­pers of Zeus. They were pick­ing apart the ar­gu­ment of Douglas Lay­cock, a pro­fess­or of law and re­li­gion at the Uni­versity of Vir­gin­ia, who said that pray­ers could be al­lowed if they were not sec­tari­an. 
"Well, if that is your ar­gu­ment, then you are really say­ing you can nev­er have pray­er at a town meet­ing," Justice Samuel Alito said. Lay­cock then tried to de­fend his po­s­i­tion.
The ex­change that fol­lows high­lights the cent­ral prob­lem of the is­sue: How do you both al­low pub­lic pray­er and be all in­clus­ive? The an­swer veers in­to the ab­surd, dis­sect­ing pray­ers in­to their least of­fens­ive and vaguest com­pon­ents, ap­prov­ing the ones that pass a sniff test, but still im­pli­citly in­voke God and there­fore will of­fend someone, some­where. Justice Ant­on­in Scalia, the staunch Cath­ol­ic, jumped in won­der­ing wheth­er such a pray­er could make dev­il wor­ship­pers happy.
For the re­cord, Lu­cien Greaves, the com­mu­nic­a­tions dir­ect­or of the Satan­ic Temple, says the an­swer is no.
"If the ques­tion is one of wheth­er or not there can be one pub­lic pray­er gen­er­al­ized enough to be all-in­clus­ive to every re­li­gion, the an­swer is ob­vi­ously no," he wrote me via email.
"The dis­cus­sion re­gard­ing some type of all-in­clus­ive pub­lic pray­er na­ively as­sumes one type of re­li­gious con­struct (that of ser­vitude and su­per­nat­ur­al­ism) while seem­ingly dis­reg­ard­ing not only oth­er re­li­gious con­cep­tions, but the pres­ence of those who don't wish to as­so­ci­ate them­selves with any type of re­li­gion what­so­ever."
JUSTICE ALITO: All right. Give me an ex­ample. Give me an ex­ample of a pray­er that would be ac­cept­able to Chris­ti­ans, Jews, Muslims, Buddhists, Hindus. Give me an ex­ample of a pray­er. Wic­cans, Baha'i.
CHIEF JUSTICE ROBERTS: And athe­ists.
JUSTICE SCALIA: And athe­ists. Throw in athe­ists, too.
(Laughter.)
MR. LAY­COCK: We — we take Marsh to — to im­ply that athe­ists can­not get full re­lief in this con­text, and the Mc­Creary dis­sent­ers said that ex­pli­citly. So points on which be­liev­ers are known to dis­agree is a — is a set that's in the Amer­ic­an con­text, the Amer­ic­an civil re­li­gion, the Judeo-Chris­ti­an tra­di­tion — ­
JUSTICE ALITO: Give me an ex­ample then. I think the point about athe­ists is a good point. But ex­clude them for present pur­poses and give me an ex­ample of a pray­er that is ac­cept­able to all of the groups that I men­tioned.
MR. LAY­COCK: About a third of the pray­ers in this re­cord, Your Hon­or, are ac­cept­able.
JUSTICE ALITO: Give me an ex­ample.
MR. LAY­COCK: Can I have the joint ap­pendix? The pray­ers to the almighty, pray­ers to the cre­at­or.
JUSTICE ALITO: To "the almighty."
MR. LAY­COCK: Yes.
JUSTICE ALITO: So if — if a par­tic­u­lar re­li­gion be­lieves in more than one god, that's ac­cept­able to them?
MR. LAY­COCK: Well, some re­li­gions that be­lieve in more than one god be­lieve that all their many gods are mani­fest­a­tions of the one god. But the true poly­the­ists I think are also ex­cluded from the Mc­Creary dis­sent.
JUSTICE SCALIA: What about dev­il wor­ship­pers?
(Laughter.)
MR. LAY­COCK: Well, if dev­il wor­ship­pers be­lieve the dev­il is the almighty, they might be OK. But they're prob­ably out —
(Laughter.)
CHIEF JUSTICE ROBERTS: Who is go­ing to make this de­term­in­a­tion?
What We're Following See More »
NEVER TRUMP
USA Today Weighs in on Presidential Race for First Time Ever
12 hours ago
THE DETAILS
"By all means vote, just not for Donald Trump." That's the message from USA Today editors, who are making the first recommendation on a presidential race in the paper's 34-year history. It's not exactly an endorsement; they make clear that the editorial board "does not have a consensus for a Clinton endorsement." But they state flatly that Donald Trump is, by "unanimous consensus of the editorial board, unfit for the presidency."
UNTIL DEC. 9, ANYWAY
Obama Signs Bill to Fund Government
18 hours ago
IT'S ALL CLINTON
Reliable Poll Data Coming in RE: Debate #1
20 hours ago
WHY WE CARE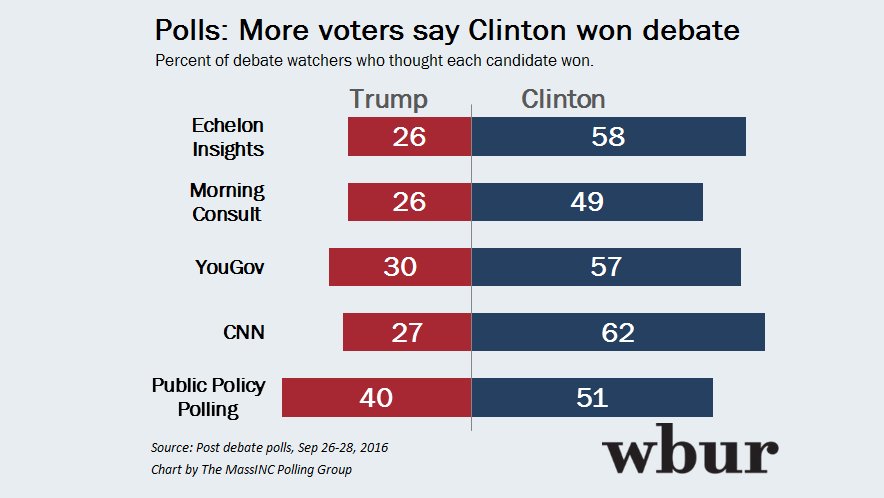 WHAT WILL PASS?
McConnell Doubts Criminal Justice Reform Can Pass This Year
22 hours ago
ALSO FIRED UNATTRACTIVE WAITRESSES
Trump Did Business with Cuba
23 hours ago
THE LATEST
Today in bad news for Donald Trump:
Newsweek found that a company he controlled did business with Cuba under Fidel Castro "despite strict American trade bans that made such undertakings illegal, according to interviews with former Trump executives, internal company records and court filings." In 1998, he spent at least $68,000 there, which was funneled through a consluting company "to make it appear legal."
The Los Angeles Times reports that at a golf club he owns in California, Trump ordered that unattractive female staff be fired and replaced with prettier women.