Nov. 11, 2013, 10:02 a.m.
Rus­si­an se­cur­ity ex­pert Eu­gene Kasper­sky says that the in­fam­ous Stuxnet com­puter vir­us in­fec­ted the In­ter­na­tion­al Space Sta­tion after be­ing in­stalled through a USB stick car­ried on board by a Rus­si­an cos­mo­naut.
Speak­ing to re­port­ers at a Na­tion­al Press Club event in Can­berra, Aus­tralia, last week, Kasper­sky also says the vir­us in­fec­ted a nuc­le­ar power plant in Rus­sia and "badly dam­aged" their in­tern­al in­fra­struc­ture. Kasper­sky re­fused to provide de­tails or elab­or­ate on how the vir­us af­fected ISS op­er­a­tions or how en­gin­eer­ing crews cleaned up the mess left be­hind by the world's most no­tori­ous com­puter vir­us.
The vir­us was al­legedly jointly cre­ated by U.S. and Is­raeli mil­it­ary forces to ser­i­ously dam­age Ir­an's nuc­le­ar pro­gram. (Co­in­cid­ent­ally, that re­la­tion­ship is very com­plic­ated right now.) Stuxnet be­came pub­lic know­ledge after it mal­func­tioned — or worked a little too well — and in­fec­ted mil­lions of com­puters world­wide.
An in­ter­est­ing thing to note about the Rus­si­an cases is how neither sys­tem was con­nec­ted to the in­ter­net when the in­fec­tions oc­curred, sug­gest­ing the vir­us was de­lib­er­ately planted by a for­eign agent. Nor­mally sys­tems dis­con­nec­ted from the In­ter­net's wild west are con­sidered se­cure since a hack­er would need dir­ect, phys­ic­al ac­cess to the sys­tem in or­der to in­stall the vir­us. (Or they would need to trick someone with ac­cess in­to do­ing it for them.) Stuxnet was meant for a spe­cif­ic tar­get, but once it spread across the world, the code was avail­able for any­one — in­clud­ing ma­li­cious in­de­pend­ent hack­ers or cy­ber ter­ror­ists — to ma­nip­u­late at will. It could have been any­one who at­tacked the Rus­si­an sys­tems.
Kasper­sky has warned of the re­per­cus­sions for re­leas­ing Stuxnet in­to the wild. "What goes around comes around," he said. "Everything you do will boom­er­ang." He again stated that no one is safe now that the vir­us is widely avail­able. Any­one can be­come in­fec­ted, in­clud­ing Stuxnet's cre­at­ors; a con­cern that has ex­is­ted since its ori­gin story was first re­por­ted. "There are no bor­ders," in cy­ber­space, Kasper­sky said. Clearly there are no bor­ders in space, either.
Re­prin­ted with per­mis­sion from the At­lantic Wire. The ori­gin­al story can be found here.
What We're Following See More »
SAUDI ARABIA BILL
Veto Override Scheduled for Wednesday in Senate
1 hours ago
THE LATEST
Senate Majority Leader Mitch McConnell said this afternoon that the Senate on Wednesday will take up an override of President Obama's veto of legislation that would allow the families of 9/11 victims to sue the government of Saudi Arabia. "The vote is expected garner the two-thirds majority necessary to override the veto."
MEDIA SHOULD HOLD TRUMP RESPONSIBLE
Reid Devotes Senate Floor Speech to Trump's 'Racism'
2 hours ago
THE LATEST
"Donald Trump is a racist," announced Senate Minority Leader Harry Reid from the Senate floor this afternoon. Reid said all of us are occasionally politically incorrect, but "I don't know of anyone that when that happens doesn't acknowledge it and, if necessary, apologize quickly." But Trump, he added, says things with "full intent to demean and to denigrate." Reid argued that the media isn't holding Trump to account, and should explicitly call him a racist.
ABSENT FROM LIST: GENNIFER FLOWERS
Most Trump Guests Have Military Ties
5 hours ago
TOP OF MIND
Trending on Google: 'Why Should Trump Not Be President'
5 hours ago
THE DETAILS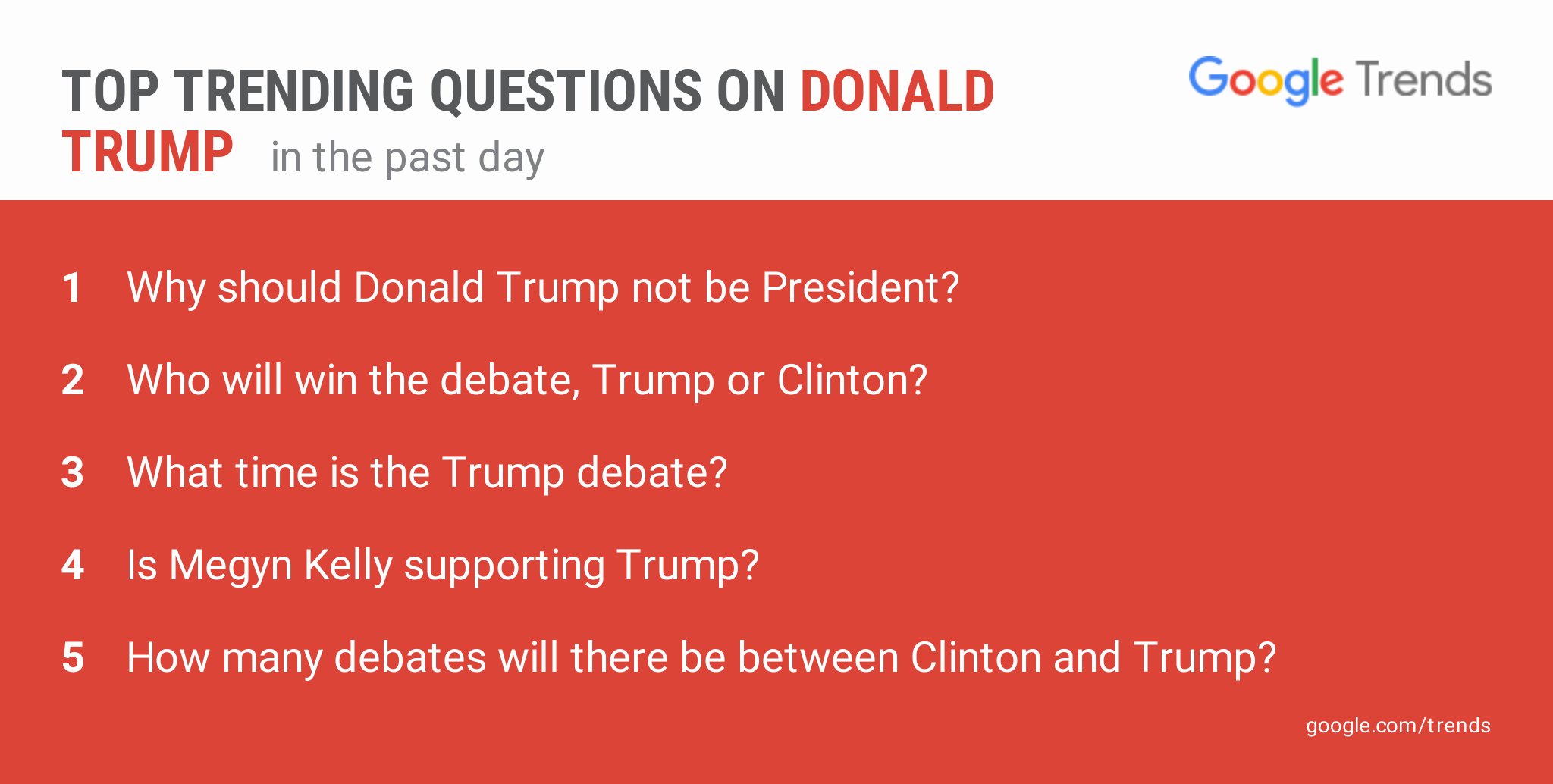 WHO PLAYED THE DONALD?
Longtime Clinton Aide Played Trump in Mock Debates
8 hours ago
THE DETAILS
After keeping the information private for most of the lead-up to the debate on Monday, it has been revealed that longtime Clinton aide Philippe Reines has been playing the role of Donald Trump in her debate prep. Reines knows Clinton better than most, able to identify both her strengths and weaknesses, and his selection for a sparring partner shows that Clinton is preparing for the brash and confrontational Donald Trump many have come to expect.