More Amer­ic­an col­lege stu­dents than ever be­fore choose to study abroad. Still, Amer­ic­an stu­dents aren't nearly as glob­al-minded as their peers from oth­er coun­tries.
Here are six fig­ures from the the newly re­leased an­nu­al Open Doors Re­port on In­ter­na­tion­al Edu­ca­tion­al Ex­change that break this down.
1. 283,000 - The re­cord num­ber of stu­dents the United States sent abroad last aca­dem­ic year, an in­crease of about 3 per­cent.
2. 820,000 - The ap­prox­im­ate num­ber of for­eign stu­dents who stud­ied in the United States last year. China alone sends nearly as many stu­dents to the United States as we send abroad at all. And those who come to study here of­ten stay for a full aca­dem­ic year.
3. $24 bil­lion - The amount of money, ac­cord­ing to the U.S. Com­merce De­part­ment, that for­eign stu­dents have in­jec­ted in­to the U.S. eco­nomy. They also give to the coun­try in less quan­ti­fi­able ways by provid­ing new and glob­al per­spect­ives at cam­puses across the United States.
4. 15,000 - The ap­prox­im­ate num­ber of stu­dents we send to China, the world's fast­est-grow­ing eco­nomy, each year. U.S. stu­dents pur­sue the study abroad ex­per­i­ence a little dif­fer­ently than their glob­al peers. The United King­dom is by far the most pop­u­lar des­tin­a­tion, fol­lowed by Italy, Spain and France. Not ex­actly up-and-com­ing eco­nom­ic or polit­ic­al power­houses. And the Middle East, where the United States re­mains deeply em­broiled? We send a mere hand­ful to study there.
5. 90 per­cent - The per­cent­age of Amer­ic­an col­lege stu­dents who do not study abroad at all.
The takeaway?
While these fig­ures might ap­pear dis­mal, we seem to be headed in the right dir­ec­tion. The num­ber of Amer­ic­an stu­dents go­ing abroad has more than tripled in the past two dec­ades and the up­tick is likely to con­tin­ue.
That's a good thing.
Ac­cord­ing to those be­hind the re­port — the In­sti­tute of In­ter­na­tion­al Edu­ca­tion and the State De­part­ment's Bur­eau of Edu­ca­tion­al and Cul­tur­al Af­fairs — the study abroad ex­per­i­ence is more valu­able than ever.
"The ca­reers of all of our stu­dents will be glob­al ones, in which they will need to func­tion ef­fect­ively in multi-na­tion­al teams," IIE Pres­id­ent Al­lan Good­man said in a state­ment. "They will need to un­der­stand the cul­tur­al dif­fer­ences and his­tor­ic­al ex­per­i­ences that di­vide us, as well as the com­mon val­ues and hu­man­ity that unite us."
This art­icle is pub­lished with per­mis­sion from
Fu­sion
, a TV and di­git­al net­work that cham­pi­ons a smart, di­verse and in­clus­ive Amer­ica. Fu­sion is a
part­ner
of Na­tion­al Journ­al and The Next Amer­ica. Fol­low the au­thor on Twit­ter:
@Emily_­DeR­uy
What We're Following See More »
SAUDI ARABIA BILL
Veto Override Scheduled for Wednesday in Senate
1 hours ago
THE LATEST
Senate Majority Leader Mitch McConnell said this afternoon that the Senate on Wednesday will take up an override of President Obama's veto of legislation that would allow the families of 9/11 victims to sue the government of Saudi Arabia. "The vote is expected garner the two-thirds majority necessary to override the veto."
MEDIA SHOULD HOLD TRUMP RESPONSIBLE
Reid Devotes Senate Floor Speech to Trump's 'Racism'
2 hours ago
THE LATEST
"Donald Trump is a racist," announced Senate Minority Leader Harry Reid from the Senate floor this afternoon. Reid said all of us are occasionally politically incorrect, but "I don't know of anyone that when that happens doesn't acknowledge it and, if necessary, apologize quickly." But Trump, he added, says things with "full intent to demean and to denigrate." Reid argued that the media isn't holding Trump to account, and should explicitly call him a racist.
ABSENT FROM LIST: GENNIFER FLOWERS
Most Trump Guests Have Military Ties
5 hours ago
TOP OF MIND
Trending on Google: 'Why Should Trump Not Be President'
5 hours ago
THE DETAILS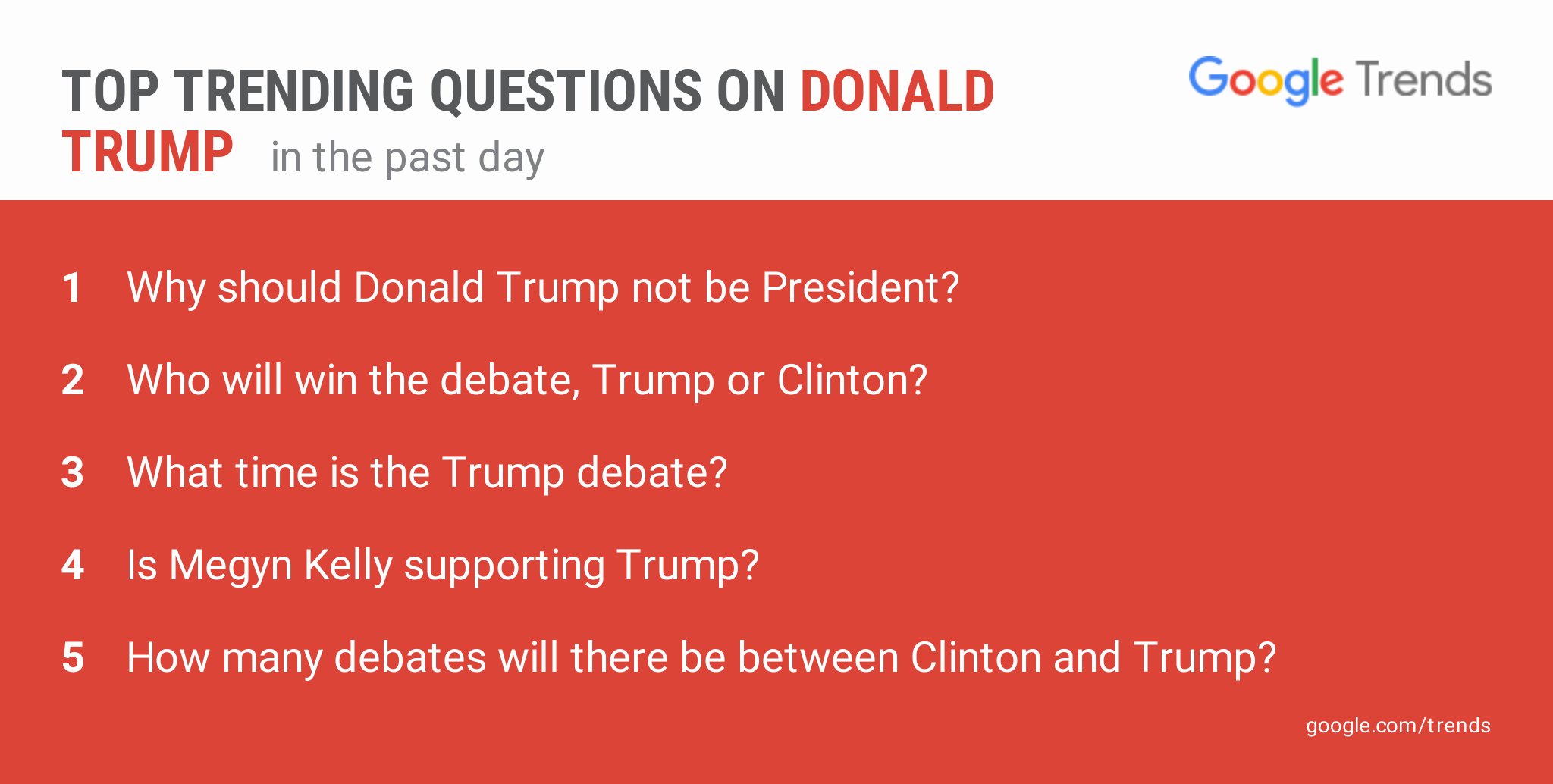 WHO PLAYED THE DONALD?
Longtime Clinton Aide Played Trump in Mock Debates
8 hours ago
THE DETAILS
After keeping the information private for most of the lead-up to the debate on Monday, it has been revealed that longtime Clinton aide Philippe Reines has been playing the role of Donald Trump in her debate prep. Reines knows Clinton better than most, able to identify both her strengths and weaknesses, and his selection for a sparring partner shows that Clinton is preparing for the brash and confrontational Donald Trump many have come to expect.