It is, without doubt, the meme of the day in­side the Belt­way, the latest ex­plo­sion of con­ven­tion­al wis­dom in Wash­ing­ton. Triggered by the botched launch of the Af­ford­able Care Act and Pres­id­ent Obama's re­treat from an oft-re­peated prom­ise, the on­slaught is un­der­way. U.S. News, Na­tion­al Re­view, Com­ment­ary, MS­N­BC, Karl Rove, Peggy Noon­an, and In­vestor's Busi­ness Daily have all warned of a loom­ing "cred­ib­il­ity gap" crip­pling the White House. The Wash­ing­ton Post pos­ited the pres­id­ent's biggest chal­lenge to be "restor­ing his cred­ib­il­ity, not only on health care but also on his over­all lead­er­ship." The in­dict­ment is a broad one, shift­ing in re­cent months as crit­ics saw a pres­id­ent stripped of his cred­ib­il­ity, first on Libya, then on fisc­al is­sues, then on health care, and, most re­cently, on Ir­an.
Memor­ies of Lyn­don John­son's Vi­et­nam — the war that gave birth to the phrase "cred­ib­il­ity gap" — and Richard Nix­on's Wa­ter­gate have been summoned, with their evoc­a­tions of failed pres­id­en­cies and hobbled White Houses. Re­gard­ing Obama, some Wash­ing­ton sav­ants could rightly claim they were ahead of the crowd. Moth­er Jones warned in 2009 of an Obama cred­ib­il­ity gap on Afgh­anistan. Colum­nist Bob Her­bert in The New York Times spot­ted one in Janu­ary 2010. The Root, an Afric­an-Amer­ic­an pub­lic­a­tion, early on lamen­ted a cred­ib­il­ity gap for Obama on black is­sues. And Ger­ard Baker in The Aus­trali­an didn't even wait for Obama's elec­tion, pro­claim­ing a cred­ib­il­ity gap in Septem­ber 2008.
With the pres­id­ent pub­licly apo­lo­giz­ing for his broken prom­ise ("If you like your health care, you can keep it") and the ad­min­is­tra­tion frantic­ally ra­cing to fix the ACA web­site by the end of the month, it is hard to dis­pute that Obama's cred­ib­il­ity is un­der siege. But nobody really knows how last­ing or deep the dam­age will be.
It is lo­gic­al to as­sume that dam­age has been done. 
Obama apo­lo­gized again Thursday in his White House press con­fer­ence, sug­gest­ing he was guilty of "two fumbles" in what he de­scribed as a big game. He ac­know­ledged a hit to his cred­ib­il­ity. But he poin­tedly ad­ded, "The game's not over" and prom­ised to re­gain the trust of the Amer­ic­an people. "I think it's le­git­im­ate for them to ex­pect me to have to win back some cred­ib­il­ity on this health care law in par­tic­u­lar and on a whole range of these is­sues in gen­er­al," he said. He ad­ded that the mis­takes were his fault. "That's on me," he said flatly.
But he re­jec­ted any link­age between the "fumbles" on health care and the rest of his agenda, spe­cific­ally in­sist­ing the polit­ic­al fal­lout from health care should not af­fect im­mig­ra­tion re­form.  Those who try to link the two, he said, are "look­ing for an ex­cuse not to do the right thing on im­mig­ra­tion re­form."
Some­what philo­soph­ic­ally, he ac­cep­ted the cur­rent cri­ti­cism, say­ing, "There are go­ing to be ups and downs dur­ing the course of my pres­id­ency. The latest in­dic­a­tion of the cur­rent "down" came Wed­nes­day when Gal­lup re­leased new polling show­ing that only half the coun­try viewed the pres­id­ent as "hon­est and trust­worthy." Fifty per­cent now say that, down 5 points since Septem­ber. This is usu­ally the meas­ure poll­sters use to gauge cred­ib­il­ity. At the least, it is a warn­ing sign that the gov­ern­ment shut­down and the flawed health care rol­lout have taken a toll on the pres­id­ent's per­son­al im­age. But it is tough­er to meas­ure what this means for the rest of Obama's time in of­fice, be­cause neat lo­gic doesn't al­ways ap­ply to the pres­id­ency. If it did, Bill Clin­ton would not have seen his ap­prov­al rat­ings rise after he ad­mit­ted he had lied to his wife and his Cab­in­et and was im­peached for ly­ing to a grand jury.
"Ap­prov­al rat­ings go up and down," says Frank New­port, Gal­lup's ed­it­or in chief. "But ba­sic faith in the per­son is more pre­cious and a more fun­da­ment­al judg­ment about a pres­id­ent. Once you lose that, it is harder to get it back." But, New­port tells Na­tion­al Journ­al, it would be a mis­take to over­re­act to the cur­rent dip. "Fifty per­cent is still high. Com­pared to oth­er pres­id­ents, 50 per­cent is not bad, when his over­all ap­prov­al rat­ings are down in the low 40s. In Clin­ton's last years in of­fice, his hon­est and trust­worthy was 20 points lower than that."
In­side the White House, top aides in­sist they take the threat to the pres­id­ent's cred­ib­il­ity ser­i­ously. But they are fo­cused on what one seni­or of­fi­cial calls "sub­stant­ive cred­ib­il­ity." In this view, you fix the cred­ib­il­ity by fix­ing the policy. The White House be­lieves it is cru­cial for the pres­id­ent to keep his prom­ise to have the web­site up and op­er­at­ing by the end of this month. If that hap­pens and the health care im­ple­ment­a­tion is seen to be work­ing, they be­lieve the pres­id­ent's rat­ings will re­bound. In this, they get some sup­port from An­drew Ko­hut, found­ing dir­ect­or of the Pew Re­search Cen­ter. He ties Obama's cur­rent dip to all the pub­li­city at­tend­ing the health care rol­lout. "The em­phas­is in the trends has to be on how people see cur­rent con­di­tions," Ko­hut says. "There is a fair amount of blow­back on health care policy, with people be­ing very crit­ic­al of the way it has come off in its early days, and that has an im­pact."
But even poll­sters urge cau­tion about read­ing too much in­to their rat­ings on "hon­est and trust­worthy." They keep go­ing back to Jimmy Carter, who earli­er this year was ranked by Read­er's Di­gest as one of the "most trus­ted people in Amer­ica." Carter "had high per­son­al rat­ings and abysmal per­form­ance rat­ings," re­minds Ko­hut. But he was crushed in his bid for a second term at the same time the pub­lic viewed him as hon­est and trust­worthy.
And New­port points to Clin­ton for the oth­er side of the equa­tion. "Clin­ton was be­low 50 per­cent on this his wholead­min­is­tra­tion. He was al­ways per­ceived as not all that hon­est. It wasn't that he lost it; he nev­er had it — even though he was elec­ted twice and ended up with very high ap­prov­al rat­ings," New­port says. "The pub­lic just ac­cep­ted as part of the Clin­ton per­sona that he wasn't all that hon­est."
The les­sons of Carter and Clin­ton are why there should be great cau­tion today in draw­ing hasty con­clu­sions on this pres­id­ent's cred­ib­il­ity. What in­flu­enced voters the most in those two pres­id­en­cies was not per­son­al hon­esty. It mattered less that Carter was seen as hon­est than that the coun­try saw host­ages, gas lines, and in­fla­tion. It mattered less that Clin­ton was seen as a rogue than that the coun­try saw bal­anced budgets, prosper­ity, and peace.
The fact is, nobody really knows how to meas­ure a pres­id­ent's cred­ib­il­ity. And nobody really knows how much it mat­ters to the Amer­ic­an pub­lic or how much it af­fects a pres­id­ent's abil­ity to gov­ern. That won't stop today's crit­ics, of course. They will con­tin­ue to draw sweep­ing con­clu­sions. They just won't al­ways be cred­ible.
What We're Following See More »
UNTIL DEC. 9, ANYWAY
Obama Signs Bill to Fund Government
2 hours ago
REDSKINS IMPLICATIONS
SCOTUS to Hear Case on Offensive Trademarks
3 hours ago
WHY WE CARE
"The Supreme Court is taking up a First Amendment clash over the government's refusal to register offensive trademarks, a case that could affect the Washington Redskins in their legal fight over the team name. The justices agreed Thursday to hear a dispute involving an Asian-American rock band called the Slants, but they did not act on a separate request to hear the higher-profile Redskins case at the same time." Still, any precedent set by the case could have ramifications for the Washington football team.
STAFF PICKS
Bannon Still Collecting Royalties from 'Seinfeld'
4 hours ago
WHY WE CARE
The Hollywood Reporter takes a look at a little-known intersection of politics and entertainment, in which Trump campaign CEO Steve Bannon is still raking in residuals from Seinfeld. Here's the digest version: When Seinfeld was in its infancy, Ted Turner was in the process of acquiring its production company, Castle Rock, but he was under-capitalized. Bannon's fledgling media company put up the remaining funds, and he agreed to "participation rights" instead of a fee. "Seinfeld has reaped more than $3 billion in its post-network afterlife through syndication deals." Meanwhile, Bannon is "still cashing checks from Seinfeld, and observers say he has made nearly 25 times more off the Castle Rock deal than he had anticipated."
IT'S ALL CLINTON
Reliable Poll Data Coming in RE: Debate #1
4 hours ago
WHY WE CARE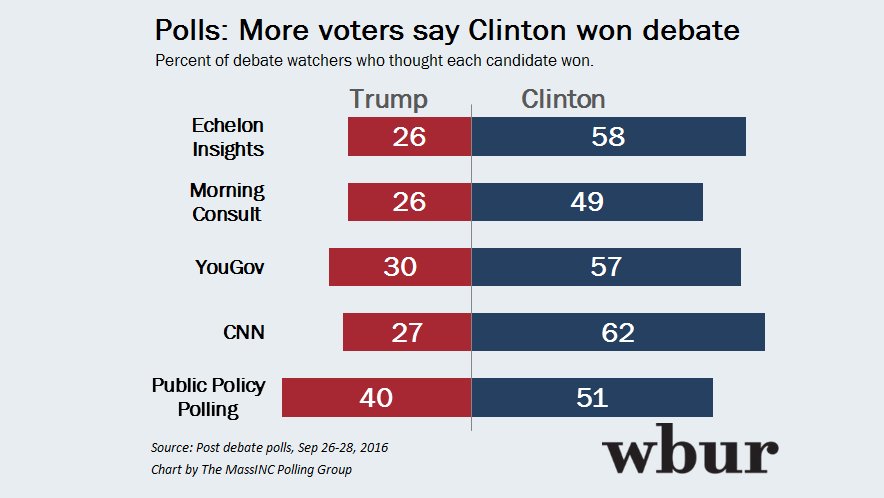 NEXT THURSDAY
Trump Transition Team Meeting with Silicon Valley VIPs
6 hours ago
THE DETAILS
Donald Trump's "transition team will meet next week with representatives of the tech industry, multiple sources confirmed, even as their candidate largely has been largely shunned by Silicon Valley. The meeting, scheduled for next Thursday at the offices of law and lobbying firm BakerHostetler, will include trade groups like the Information Technology Industry Council and the Internet Association that represent major Silicon Valley companies."