Pres­id­ent Obama might have tem­por­ar­ily de­fused a polit­ic­al powder keg with­in his own party on Thursday, but the Af­ford­able Care Act shows signs of con­tin­ued volat­il­ity, with con­gres­sion­al Demo­crats keep­ing a wary eye on the law's on­go­ing rol­lout and mulling wheth­er to re­spond le­gis­lat­ively.
White House ad­visers, in­clud­ing Chief of Staff Denis Mc­Donough, de­ployed to Cap­it­ol Hill to al­lay grow­ing Demo­crat­ic fears over the fumbled star­tup of the pres­id­ent's sig­na­ture ini­ti­at­ive, by and large se­cur­ing sup­port from Demo­crat­ic lead­ers but leav­ing polit­ic­ally vul­ner­able mem­bers in a dif­fi­cult po­s­i­tion.
"The White House has learned a les­son that you shouldn't over-prom­ise. You need to be able to do what you say and say what you do," said Rep. Jim Mor­an, D-Va.
Mc­Donough show­cased dozens of small im­prove­ments to Health­Care.gov, the strug­gling web­site for the fed­er­al in­sur­ance ex­change, which helped re­duce ten­sions among many frus­trated House Demo­crats.
Sen­ate Demo­crats emer­ging from a closed-door meet­ing with White House of­fi­cials at the Cap­it­ol fell in­to two cat­egor­ies: lead­er­ship and oth­ers who said le­gis­la­tion to fix the law's flaws was no longer needed, and those, in­clud­ing red-state Demo­crats like Sen. Mary Landrieu of Louisi­ana, who said con­gres­sion­al ac­tion would prob­ably be ne­ces­sary.
"I said the pres­id­ent's an­nounce­ment this morn­ing was a great first step and we will prob­ably need le­gis­la­tion to make it stick," said Landrieu, who already has pro­posed le­gis­la­tion to make changes in the health care law.
Ad­ded Sen. Max Baucus, D-Mont.: "It's a step in the right dir­ec­tion. We may need to go farther."
Even if le­gis­la­tion is pur­sued, it would face a rocky road. "There isn't a bill out there that could pass both the House and the Sen­ate," a seni­or Demo­crat­ic Sen­ate aide said. "The con­struct­ive fixes have to be done ad­min­is­trat­ively."
The aide ad­ded: "Are we go­ing to go in a dif­fer­ent dir­ec­tion? Are we go­ing to say we still want le­gis­la­tion? I think that's still be­ing dis­cussed."
As­sist­ant Sen­ate Ma­jor­ity Lead­er Dick Durbin, D-Ill., backed the White House's pro­pos­al, telling re­port­ers after the meet­ing that there's no need for le­gis­la­tion to fix the law. He also sug­ges­ted he doesn't be­lieve Re­pub­lic­ans will act in good faith any­way to make any needed changes to the law.
"We have yet to hear the first Re­pub­lic­an in the House or the Sen­ate stand up and say, I'm ready to sit down and talk about con­struct­ive changes in the Af­ford­able Care Act," Durbin said. "Their goal is clear. De­fund it. Des­troy it."
House Demo­crat­ic lead­ers de­pic­ted a bill hit­ting the floor Fri­day from Rep. Fred Up­ton, R-Mich., as a step to­ward re­peal­ing Obama­care, and will of­fer a mo­tion to re­com­mit. The Up­ton bill would let people keep their in­sur­ance plans without re­quir­ing the com­pan­ies to ac­tu­ally sell them. "We think our Demo­crats "¦ a large part of them will be against the Up­ton bill," said House Minor­ity Whip Steny Hoy­er, D-Md.
But a num­ber of vul­ner­able House Demo­crats are still un­de­cided or open to vot­ing for the pro­pos­al, such as Rep. Nick Ra­hall of West Vir­gin­ia. Groups are run­ning ads against him in his dis­trict, ty­ing him to Obama's prom­ise that people who like their plans can keep them.
"I'm con­cerned about my in­teg­rity with voters who have re­turned me here for 38 years," Ra­hall said. "They know me well enough to know I wouldn't pur­pose­fully mis­lead them and that I'm an hon­est straight-shoot­er, and al­ways re­flect their val­ues…. I just need to find the an­swers my­self."
For his part, Obama ac­know­ledged the polit­ic­al trouble he caused Demo­crats, sug­gest­ing just how deeply the law's im­ple­ment­a­tion may have wounded the party.
"There is no doubt that our fail­ure to roll out the ACA smoothly has put a bur­den on Demo­crats, wheth­er they're run­ning or not, be­cause they stood up and sup­por­ted this ef­fort through thick and thin," Obama said Thursday. "And I feel deeply re­spons­ible for mak­ing it harder for them rather than easi­er for them to con­tin­ue to pro­mote the core val­ues that I think led them to sup­port this thing in the first place."
Sam Baker contributed to this article.
What We're Following See More »
UNTIL DEC. 9, ANYWAY
Obama Signs Bill to Fund Government
2 hours ago
REDSKINS IMPLICATIONS
SCOTUS to Hear Case on Offensive Trademarks
3 hours ago
WHY WE CARE
"The Supreme Court is taking up a First Amendment clash over the government's refusal to register offensive trademarks, a case that could affect the Washington Redskins in their legal fight over the team name. The justices agreed Thursday to hear a dispute involving an Asian-American rock band called the Slants, but they did not act on a separate request to hear the higher-profile Redskins case at the same time." Still, any precedent set by the case could have ramifications for the Washington football team.
STAFF PICKS
Bannon Still Collecting Royalties from 'Seinfeld'
4 hours ago
WHY WE CARE
The Hollywood Reporter takes a look at a little-known intersection of politics and entertainment, in which Trump campaign CEO Steve Bannon is still raking in residuals from Seinfeld. Here's the digest version: When Seinfeld was in its infancy, Ted Turner was in the process of acquiring its production company, Castle Rock, but he was under-capitalized. Bannon's fledgling media company put up the remaining funds, and he agreed to "participation rights" instead of a fee. "Seinfeld has reaped more than $3 billion in its post-network afterlife through syndication deals." Meanwhile, Bannon is "still cashing checks from Seinfeld, and observers say he has made nearly 25 times more off the Castle Rock deal than he had anticipated."
IT'S ALL CLINTON
Reliable Poll Data Coming in RE: Debate #1
4 hours ago
WHY WE CARE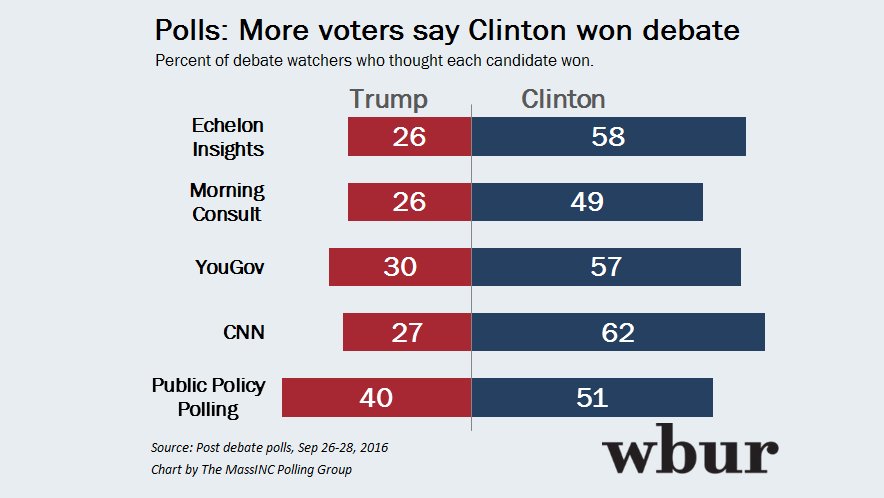 NEXT THURSDAY
Trump Transition Team Meeting with Silicon Valley VIPs
6 hours ago
THE DETAILS
Donald Trump's "transition team will meet next week with representatives of the tech industry, multiple sources confirmed, even as their candidate largely has been largely shunned by Silicon Valley. The meeting, scheduled for next Thursday at the offices of law and lobbying firm BakerHostetler, will include trade groups like the Information Technology Industry Council and the Internet Association that represent major Silicon Valley companies."