Add to Briefcase
March 21, 2018, 8 p.m.
If the primary was a fight, the day after the nominations were secured made it clear that the slugfest to decide the Illinois governor race has only just begun.
Republican Gov. Bruce Rauner and challenger J.B. Pritzker already spent a combined $8.4 million attacking each other through Tuesday, according to Advertising Analytics. The Democrat blew through $6.2 million of the $33 million he spent on TV to air 20 ads targeting Rauner, while the governor shelled out $2.2 million of his $17 million in TV spending on four attack ads against Pritzker.
It was "the most expensive nonpresidential primary of all time," according to Advertising Analytics. And in the opening hours of the main event, both self-funders indicated they will continue to run the same negative campaigns against each other—now without the distraction of insurgent challengers from their ideological flanks.
"A general election with Bruce Rauner and J.B. Pritzker as the nominees will be very happy times for Illinois TV stations," said Tom Bowen, a Chicago-based Democratic strategist. "It will be an escalating firefight that will have no end."
Democrats are optimistic, four years after Rauner unseated Democrat Pat Quinn by 4 points. Hillary Clinton won the state in 2016 by nearly a million votes, a Southern Illinois University Paul Simon Public Policy Institute poll conducted last month found Pritzker leading Rauner by 15 points, and about twice as many voters participated in Tuesday's Democratic primary as in the GOP primary.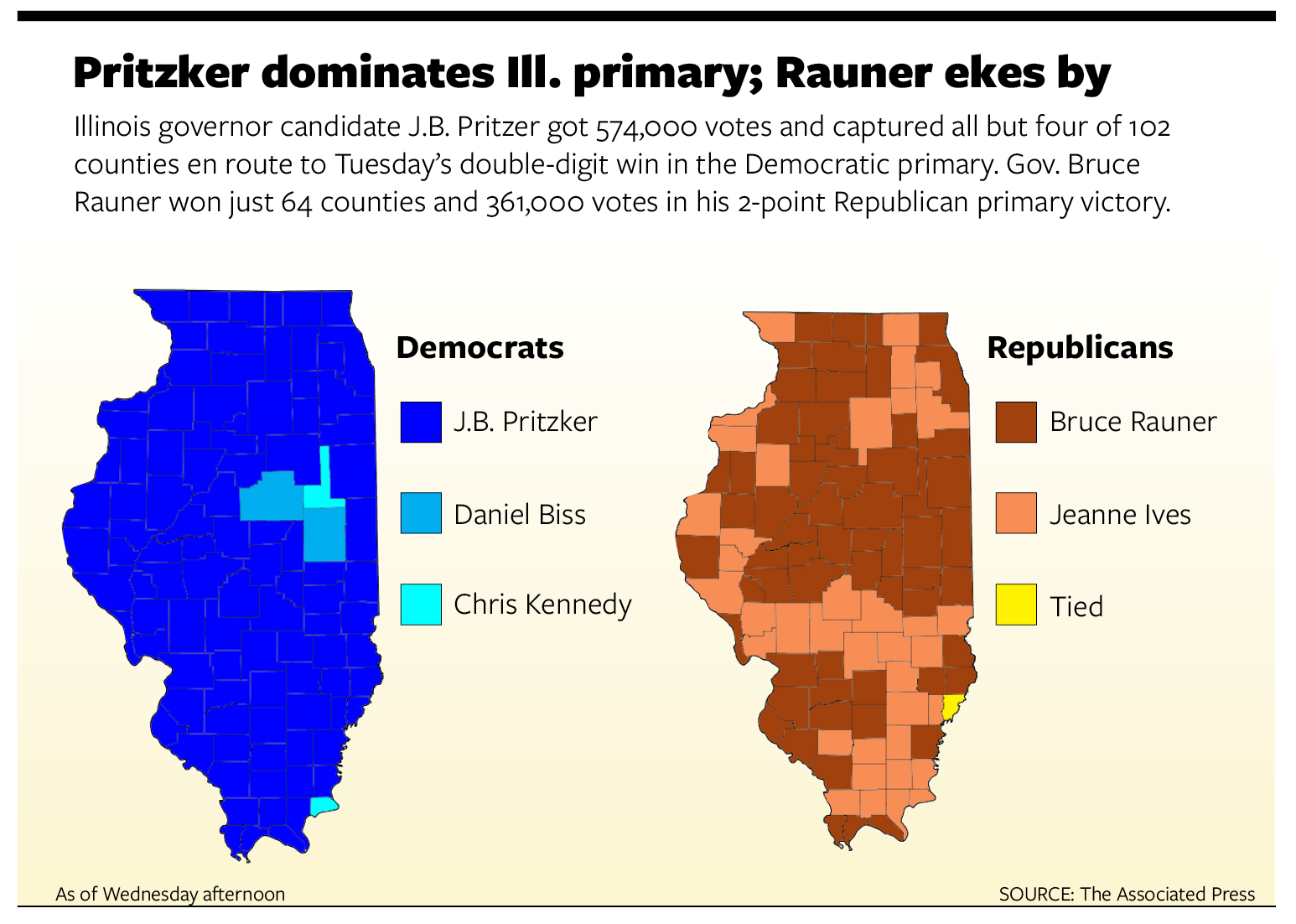 "Bruce Rauner is the one with one of the hardest jobs in politics," said Pritzker pollster Jefrey Pollock. "He's got to tell people a story about the last four years that runs counter to their own fundamental beliefs."
But Republicans think their own trump card is in Springfield, where Democrats' long-time dominance has also produced some of the state's most unpopular figureheads.
Many of Rauner's primary TV ads mentioned Mike Madigan, the longest-serving state House speaker in American history and chairman of the state's Democratic Party. He aired spots calling his primary opponent, state Rep. Jeanne Ives, Madigan's "favorite Republican" and broadcast 2008 FBI wiretaps (in whole and in part) of conversations between Pritzker and then-Gov. Rod Blagojevich discussing potential Senate appointments to replace Barack Obama.
"'I'm the only thing standing between you and Mike Madigan': I think that's the case he's going to make to people," said Lance Trover, a former senior adviser to Rauner.
Pritzker's own messaging is also consistent. His campaign's first digital ad of the general election was nearly identical to his last primary TV spot, which labeled Rauner a "failure." His first TV ad, which aired in May, accused Rauner of making things "worse" for Illinoisans.
Both nominees emerged from primaries in which about half of their party chose somebody else, and those primary opponents spent months attacking them using messages similar to what the nominees will use against each other. For instance, Ives aired ads blaming Rauner for an outbreak of Legionnaires' disease at a veterans home, a tragedy that Pritzker also included in his new digital ad.
Rauner's campaign on Wednesday released a digital ad that excerpts Pritzker's main primary opponents, state Sen. Daniel Biss and Chris Kennedy, calling the establishment favorite "Mike Madigan's candidate" and "the poster-child for pay-to-play politics … there to protect the status quo." The 30-second spot could run on TV, a spokesman said.
"The election in November will be a choice between someone who will stand up to the machine and someone who has long been a part of it," Rauner said in a statement. "Between someone who will fight for hardworking families and someone who will protect the political insiders."
Both national parties' gubernatorial campaign committees, often loath to spend money during a primary, did not wait this time around. Last weekend, the Democratic Governors Association spent about a half-million dollars to air ads meddling in the GOP primary, including some that went toward attacking Rauner.
And State Solutions, a political nonprofit funded by the Republican Governors Association, ran ads promoting Rauner's budget plan and blaming "duct-tape dynasty" Democrats like Blagojevich, Madigan, and Quinn for the state's fiscal crisis.
On Tuesday, both groups pledged to support their respective wealthy nominees in the race, which will determine whether Democrats will control the redistricting process after the 2020 census, as they did after 2010.
"With a strong candidate like J.B. Pritzker, Illinois is a top pickup opportunity for Democrats in the fall," Washington Gov. Jay Inslee, chairman of the DGA, said in a statement. "The DGA looks forward to working to elect J.B. Pritzker to serve as Illinois's next governor."