States and communities are weighing whether to employ a historically controversial service that would provide clean needles and dispose of dirty syringes as a way to combat disease transmission during the deadly opioid epidemic.
The Trump administration declared the crisis a public health emergency five months ago, and in that time Congress has managed to dedicate $6 billion in funding for the opioid response, with senators looking to add even more. House members have also considered a raft of legislation to balance patient access to treatment with promotion of enforcement tools.
But there's one part of the epidemic that Washington is not so interested in wading into.
As communities grapple with the impact of the crisis, a growing number of local politicians are looking to expand access to needle exchanges. City halls and statehouses are exactly where the debate should stay, according to some members of Congress who have been vocal on the epidemic.
"States probably are in a better position; they're closer to it," said Sen. Jeff Flake of Arizona.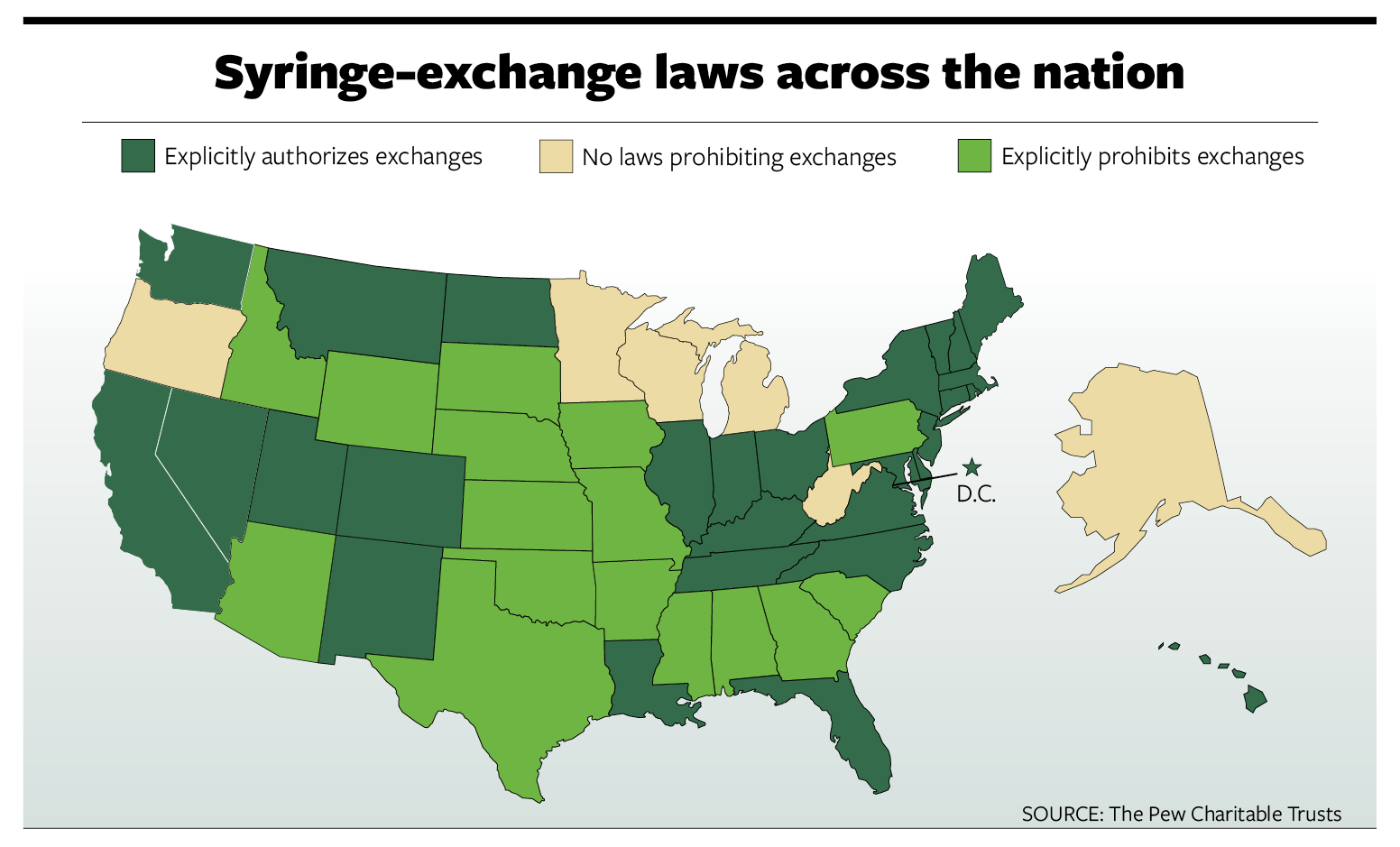 The Arizona legislature is currently considering a bill that would legalize needle exchanges, and the legislature in Iowa is looking at something similar.
"Each state has a unique set of challenges to combat drug abuse and implement life-saving programs; some communities are overwhelmed with heroin abuse, while others are still ravaged by the abuse of powerful prescription painkillers and meth," said Rep. Hal Rogers of Kentucky, who helped to partially roll back a federal ban preventing resources from going to such services in 2016. "I believe federal resources are being used effectively to help support important resources, like needle-exchange programs, and I applaud our communities that have ramped up efforts to reduce needle-related diseases, like HIV and hepatitis C."
Some communities have seen increases in HIV and hepatitis rates while opioid misuse and abuse intensifies. The West Virginia Department of Health and Human Resources, for example, saw an uptick of HIV in three counties last year. The state currently has the highest overdose-related death rate in the country.
"In these counties, the spread of bloodborne pathogens via injection drug use (IDU) is a major public health concern, and risk reduction programs offering syringe services were not available, although they were available in other counties," stated a Centers for Disease Control and Prevention report released last week.
The report added that the counties share characteristics with Scott County, Indiana, where there was an HIV outbreak in 2015 linked to injection drug use, including a high rate of drug-overdose deaths, prescription-opioid sales, and unemployment. The outbreak in Indiana led then-Gov. Mike Pence, who had been against needle exchanges, to allow for a short-term program.
But as West Virginia is dealing with outbreaks of its own, Charleston Mayor Danny Jones has said he wants to shutter the needle-exchange program. "My desire is to run that back through council, reverse the process, and make it illegal for them to pass out those needles," Jones said, according to WOWK-TV.
West Virginia Office of Drug Control Policy Director Michael Brumage blasted the mayor's plan at a U.S. Chamber of Commerce event last week. "We established a syringe-service program with the thought of preventing Charleston, West Virginia and Kanawha County from becoming the next Scott County, Indiana," he said.
Brumage said Charleston city officials are disturbed by the number of needles they find in public spaces. "We've offered to work with the police but have been rebuffed, frankly speaking," he said.
A volunteer for the program told National Journal that it does more than just exchange needles. "We have a full-service health clinic," said Susan Gardner, assistant dean of professional and student affairs at the University of Charleston School of Pharmacy. "There's access to long-acting birth control, there's access to condoms, there's access to testing for STDs and hep C and hep B and HIV. There's recovery services available from the moment they walk in the door, so it's so much more than just exchanging needles."
Sen. Shelley Moore Capito of West Virginia, who worked with Rogers to remove the federal ban on funding, noted the rise of HIV and hepatitis C in her state. "I understand the mayor's concern; he's a good friend of mine. … But I still think a needle-exchange program is going to lead to healthier outcomes," she said.
Some experts say Congress could go even further to support these programs. "If feds were willing to fully authorize needle-exchange [funding], they would go forward in every state, I daresay, at least among specific populations," said health law and ethics professor James Hodge of Arizona State University.
The ban on federal funds going to support these services was in effect from 1988 until 2016, when Rogers, Capito, and Senate Majority Leader Mitch McConnell led an effort to largely remove it. Now, a restriction remains on federal money going directly to needles, but funding can go to personnel, rent, and other costs for the programs.
Capito said she doesn't think more federal support is necessary, adding that the issue would be best dealt with locally. "I think it can be handled, and we've handled it in our communities," she said.