On Thursday, Rhonda Foxx delivered a packet of résumés to Sen. Jeff Merkley's office. Merkley is in the market for a legislative director, and although Foxx doesn't work for him—she's chief of staff to Rep. Alma Adams—she wanted Merkley to consider hiring a black woman.
Foxx is part of a growing movement of lawmakers, staffers, and outside lobbyists pushing Congress to adopt more-diverse hiring practices. Advocates have begun diversity initiatives in both the House and the Senate, pushed for lawmakers to create equitable internship programs, and pressured both chambers to begin tracking demographic data. Congressional staffers, particularly those in top positions like hers, are overwhelmingly white.
Part of the reason is the process through which applicants are hired. For senior positions, "members often turn to their personal circles," said Foxx. "Just by nature of who we are as human beings, our social networks tend to be a little more segregated." White staffers, in other words, tend to hire more white staffers.
At the lower level, minority applicants face other obstacles to getting a foot in the door (or on the Hill). According to a June study conducted by the bipartisan advocacy group Pay Our Interns, only 51 percent of GOP Senate offices and 31 percent of Democratic Senate offices paid their interns. In the House, those figures dropped to 8 percent and 3.6 percent, respectively. "People of color generally have a lot less wealth," explained Don Bell, director of the Black Talent Initiative at the Joint Center for Political and Economic Studies. For them, taking an unpaid internship might not be an option.
The lack of diversity can have a significant impact on politics. Top staffers are usually in charge of crafting policy, developing legislation, and picking experts to testify on issues affecting minority communities. At their core, diversity initiatives are about "creating spaces for those communities who are often left out," said Kirsten Allen, communications director for Rep. Bonnie Watson Coleman.
Allen, Foxx, Bell, and others pushing for diverse-hiring practices have made progress, albeit slowly. "The first fundamental piece," Bell said, "was having an organized effort both with stakeholders on Capitol Hill and pressure from outside groups to let members of Congress know that this was an issue that people cared about."
The most recent push began in 2015, when the Joint Center released a report criticizing both parties for failing to hire minority staffers. Among other things, the report recommended members adhere to the "Rooney Rule," an NFL policy that requires teams to interview at least one minority candidate for head-coaching and senior-management positions.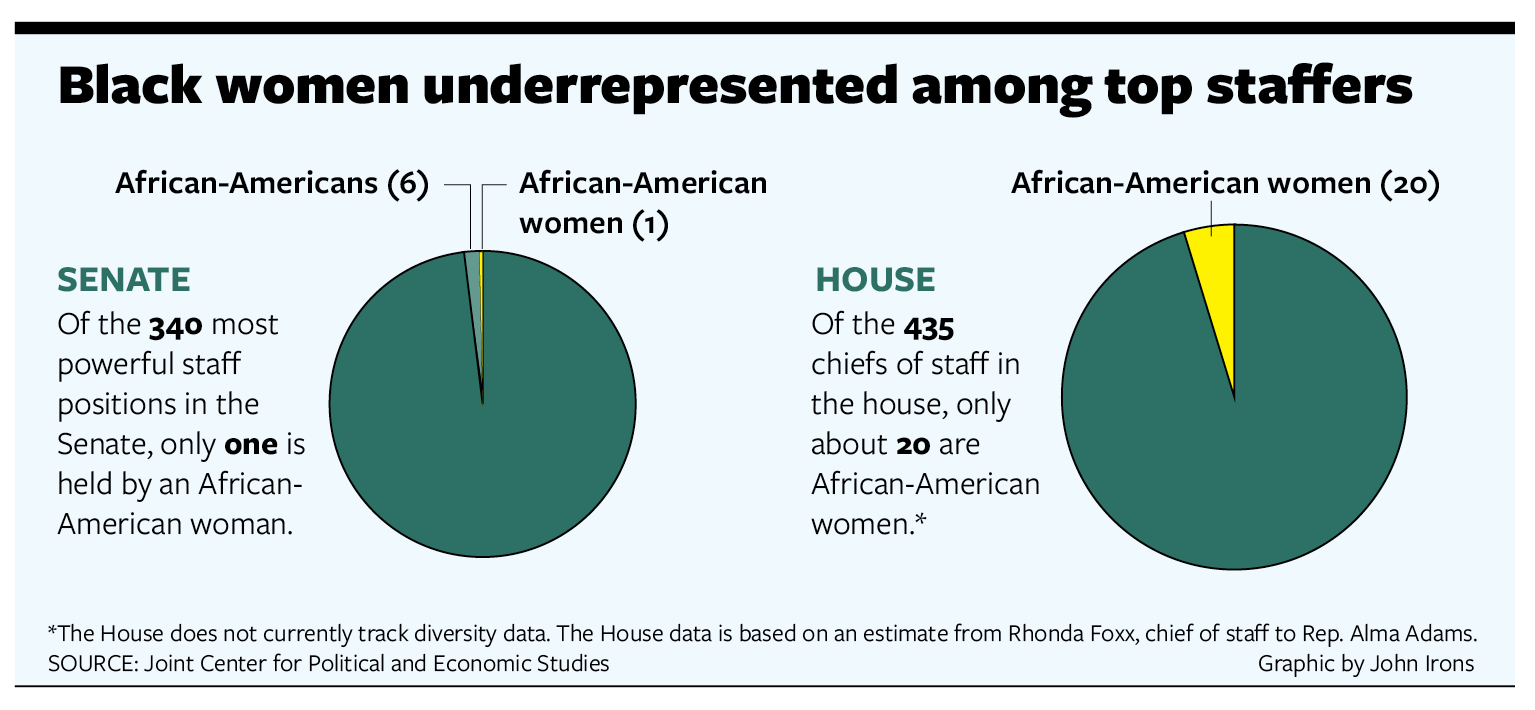 A slew of victories followed. In late 2016, incoming Minority Leader Chuck Schumer proposed that Senate Democrats accept the recommendation and formalize the oversight role of the Senate Democratic Diversity Initiative, run through his office. In February 2017, Senate Democrats agreed to the change, and months later released the results of a demographic poll, which showed that African-Americans hold only six high-level staff positions in the Senate. In December of 2017, new Sen. Doug Jones hired Senate Democrats' only African-American chief of staff.
Bell applauded the release of demographic data, which he said is necessary to determine "just how deep the problem is." He did point out, however, that the data is incomplete, because no comparable program exists for the GOP or for House Democrats. Bell wants Congress to create a chief diversity officer, who would charged with collecting demographic data on all staffers, regardless of chamber or party. "We've seen this in companies, we've seen this in other federal agencies," Bell said. "Most other entities in this country are required to collect demographic data. Congress doesn't do it."
For her part, Foxx hopes to create increase diversity by creating a congressional equivalent to CEO Action, a private-sector conference where hiring managers gather to discuss diversity and inclusion. "We need to have a Chiefs of Staff Action, where offices pledge to work towards creating a more unified workforce on Capitol Hill," she wrote in an email. "The alarming reality is, we aren't debating if there are five, 10, or 15 people of color in key roles. We are debating if there is one, or none. That alone should make us recognize that there is a problem."