When Vice President Mike Pence casts a tiebreaking vote in the Senate, as he's already done six times, he's assuming his "ex officio" duties as president of the Senate. The Latin term, meaning "by virtue of one's office," dates to the Roman empire.
Today, it means that federal officeholders, by virtue of their titles, often get more than they bargained for, as they find themselves thrust into additional roles.
Pence, for example, has a position on the Smithsonian Institution's Board of Regents. He does not attend the museum's quarterly meetings, but another prominent Washingtonian does: Chief Justice John Roberts. According to Smithsonian spokesperson Linda St. Thomas, Roberts "runs" the meetings by "calling on people, listening to reports, and setting the agenda" with the secretary beforehand. The board also includes six Congress members: three in the Senate and three in the House.
In Congress, ex officio positions can materially affect politics. Sens. Jack Reed and John McCain are both members of the Senate Intelligence Committee, thanks to their leadership roles on the Senate Armed Services Committee. In their ex officio roles, both questioned former FBI Director James Comey during a June meeting. Under Senate rules, the chairman and ranking member of a committee may participate ex officio in the business of any of its subcommittees.
Even federal judges are allowed to serve in ex officio positions, so long as they are not compensated financially and aren't involved in fundraising or budgeting decisions. The judge's service, a federal ethics brief states, "must not interfere with the prompt and proper performance of judicial duties." Judge Jed Rakoff of the Southern District of New York, for example, served on the National Commission on Forensic Science. In July, he coauthored an editorial in The Washington Post criticizing the Justice Department for "squandering progress" on forensic science.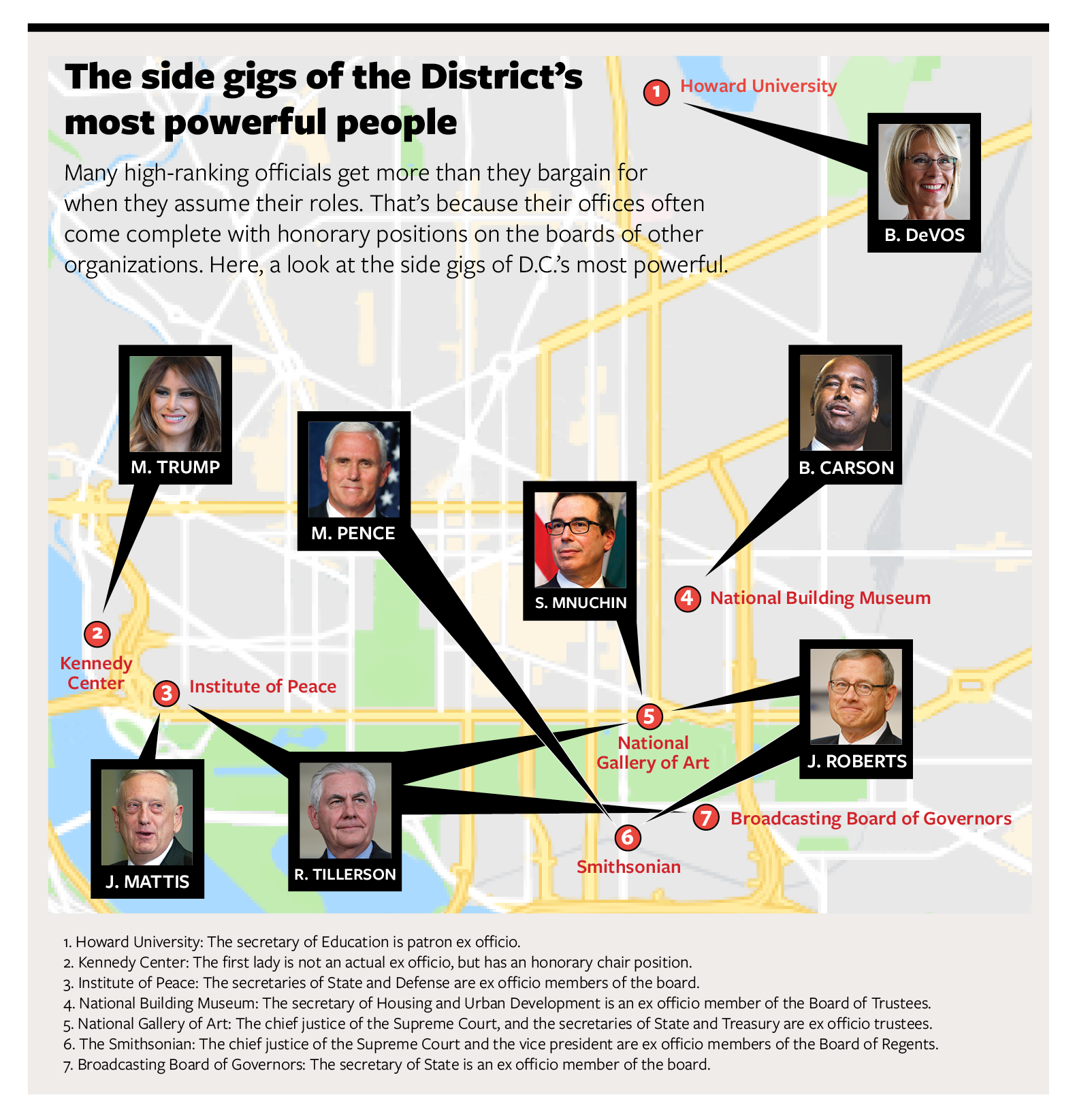 Members of President Trump's Cabinet hold ex officio positions too. The United States Institute of Peace bestows board positions on the secretaries of State and Defense, Rex Tillerson and James Mattis. With his confirmation, Tillerson also earned a seat on the board of the Kennedy Center, joining the secretaries of Education and Health and Human Services, the librarian of Congress, and the speaker of the House. The sitting first lady acts as honorary board chair.
Attorney General Jeff Sessions and White House Chief of Staff John Kelly are both ex officio members of First Responder Network Authority, an independent entity within the Commerce Department authorized by Congress to develop a broadband network for first responders.
Such honorary offices can make for strange bedfellows. Education Secretary Betsy DeVos's appearance at Howard University last year sparked a backlash. Turns out, DeVos has an ex officio seat on the historically black university's board. A spokesperson for Howard confirmed that she hasn't been back since.
Of course, not all of these officials attend board meetings themselves. "We do allow designees from the various entities to attend board meetings in lieu of the named ex officio member," explained Emma Filar, the director of marketing and communications at the National Building Museum, which granted Housing and Urban Development Secretary Ben Carson an ex officio position. Mattis and Tillerson also send representatives to USIP meetings, rather than attend themselves. But it's something to put on the résumé.