After helping to elect some of the nation's most prominent governors, state public-financing programs are maxing out this cycle as candidates seek more cash for increasingly expensive campaigns.
The number of candidates running this year and interested in utilizing public financing, combined with the problem of outdated campaign finance rules, threaten to weaken a cornerstone of past efforts to regulate money, level the playing field, and limit outside influence on elections.
"It's an issue almost everywhere, funding these programs," said Paul S. Ryan, vice president of policy and litigation at Common Cause, which advocates campaign finance reform.
Eleven states offer public financing for governor candidates, according to the National Conference of State Legislatures, and they are mostly financed by legislative appropriation or voluntary contributions by taxpayers. Major cities have recently launched their own versions: Seattle's municipal elections last year offered "democracy vouchers" that voters can spend on candidates of their choice. The D.C. Council unanimously passed public financing this month, but Mayor Muriel Bowser, who is seeking a second term this year, has expressed concerns about its cost.
In the midst of its own budget crunch, Connecticut offers one of the country's most generous public campaign grants. More than a dozen governor candidates say they plan to raise enough qualifying, small-dollar contributions to receive $1.25 million for the primary and another $6 million for the general election should they win their party's nomination. Gov. Dannel Malloy is retiring after using public financing to win two terms.
Joshua Foley, a staff attorney at Connecticut's State Elections Enforcement Commission, estimated the clean-elections program will start with about $32 million on hand this summer that can be replenished mid-cycle by borrowing revenue from taxes on corporations.
"Predicting how much [the] election is going to cost is a much more difficult analysis because we don't know how many people are going to participate," Foley said.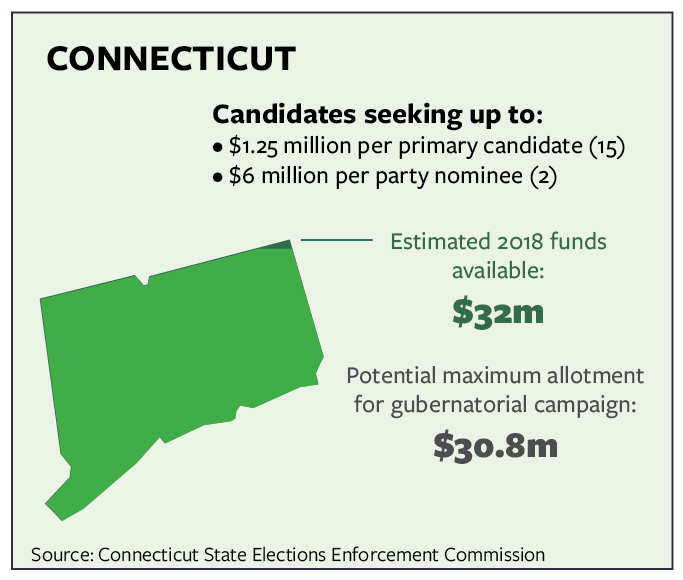 Nine candidates in Maine, where Gov. Paul LePage is term-limited, have indicated they plan to seek public funds for their campaigns just three years after voters increased the payout to candidates. A smattering of Democrats and independents, a Republican, and a Green Party contender could each claim as much as $3 million from an eight-figure fund, for which Maine's ethics commission has sought an additional $1.7 million.
"[If] everybody qualifies, there isn't enough money. That's just a given," said Paul Lavin, the assistant director of the Maine Ethics Commission. However, Lavin noted, "critical points that will determine who will be eligible for funding" include getting on the ballot, raising enough qualifying contributions, and winning the primary.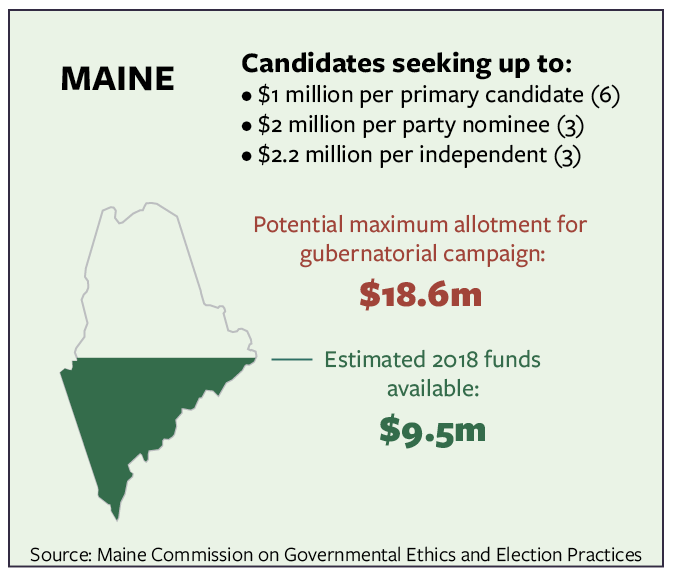 Maryland, where less than four years ago Republican Larry Hogan became the first governor ever to win the office with public funds, lacks the reserves to accommodate the seven Democrats in the race, though state Sen. Richard Madaleno is the only candidate to publicly say he'll pursue the funds. Former White House aide Krish Vignarajah said Tuesday she is "definitely still considering" doing so, but noted that "unfortunately it's not funded in the current budget."
Jared DeMarinis, director of the Maryland State Board of Elections Division of Candidacy and Campaign Finance, said that if multiple primary candidates seek the funds he may have to ration the primary disbursements on a first-come, first-serve basis in order to afford the $2.8 million grant for the general election. The program has about $2.9 million in savings.
"If anybody grabs any money in the primary, I can't write the full check" for the general election, DeMarinis said.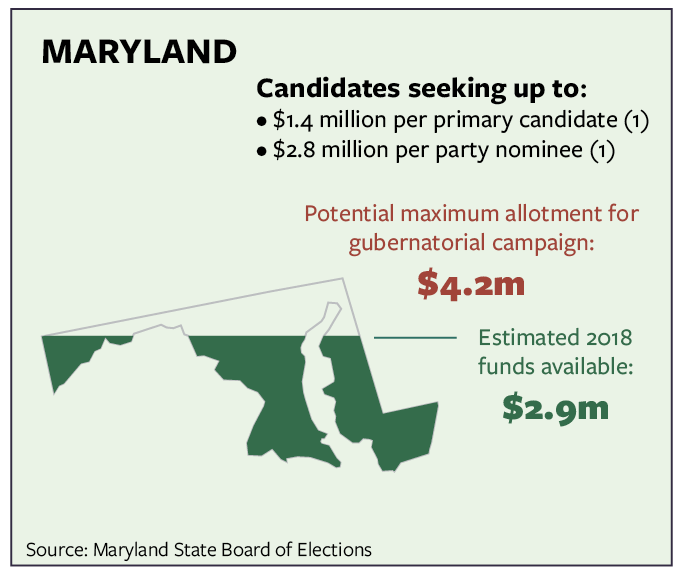 Public records indicate that Michigan's front-runners for the respective nominations, Democrat Gretchen Whitmer and Republican Bill Schuette, will seek public funding. Democrat Abdul El-Sayed and Republicans Brian Calley and Patrick Colbeck have also expressed interest. Should all five primary candidates get the maximum $990,000 payout, the addition of two nominees publicly funded to the tune of $1.1 million each would use up most of the fund's $7.2 million.
Other candidates could pass on public funding altogether as they ramp up for expensive contests. A spokeswoman for Hawaii Gov. David Ige, who secured over $100,000 in public financing in 2014, said he hasn't determined whether he will seek that funding again but is "committed to securing the resources needed to communicate." Ige's opponents, Democratic Rep. Colleen Hanabusa and House Republican Leader Andria Tupola, haven't expressed interest in participating, either.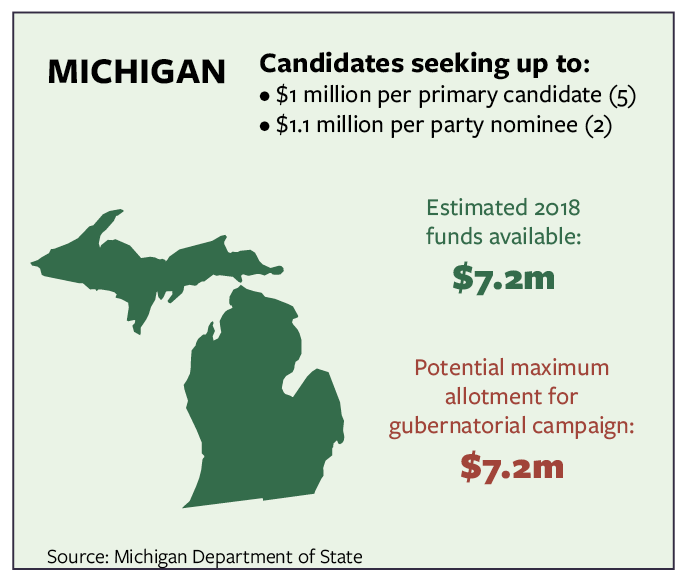 In Arizona in 2002, then-state Attorney General Janet Napolitano received more than $1 million in public funds in her narrow victory over former Republican Rep. Matt Salmon.
"If not for the matching funds, I don't think we would have been successful," said Mario Diaz, who managed Napolitano's 2002 campaign.
But times have changed: In 2011, the Supreme Court struck down an Arizona provision that gave publicly funded candidates more resources if they were outspent. Spokesmen for both Democratic candidates this year—Steve Farley and David Garcia—said they won't pursue funds as they prepare to face the well-financed incumbent, GOP Gov. Doug Ducey.
"In all these states, candidates make a basic decision," said Nick Nyhart, president of campaign finance advocacy group Every Voice. "Do the restrictions by which I have to abide—will they in a negative way outweigh the benefits that I get from public financing?"