For the fourth time in as many months, Congress will try to pass a short-term spending bill with a deadline just days away, as the two parties disagree over how to boost border security, overhaul the visa system, and address the status of young immigrants who illegally came to the country.
With many Democrats refusing to back any spending bill unless an immigration compromise is reached, the fate of a short-term bill remains unclear. Republicans in the House are also dealing with their own divisions, as defense hawks, weary of funding the military in fits and starts, are threatening to rebuke leaders and vote against the short-term measure.
"What you're going to see in my conference is the Armed Services committee members—a lot of them, maybe—saying they're not going to vote for it because it does hurt the military every time we do a [short-term bill]," House Homeland Security Committee Chairman Michael McCaul said Tuesday evening.
Conservatives, too, remain a question mark. "The votes are not currently there to pass it with Republicans," House Freedom Caucus Chairman Mark Meadows said of the stopgap bill, declining to say whether he would support it.
As a result, on Tuesday evening Speaker Paul Ryan pitched his members on a four-week short-term deal that would also delay some Obamacare taxes and fund the Children's Health Insurance Program for six years, a package that leaders hope could convince enough Republicans to vote for the bill to pass it without Democrats. The health program covers nearly 9 million children and has been operating under short-term extensions as Democrats and Republicans disagree over funding.
Congress has to pass a bill to fund the federal government by Friday to avert a partial shutdown and the furloughing of hundreds of thousands of employees. The Republican-led House and Senate will likely try to pass a spending bill before then to keep the lights on through mid-February.
Last year, President Trump's administration announced that it would rescind the Deferred Action for Childhood Arrivals program unless Congress could pass a bill by early March to codify it into law. The program, created by the Obama administration through executive action, provides legal protections to around 700,000 young people who illegally came to the country.
On Tuesday, Homeland Security Secretary Kirstjen Nielsen told CBS, "It's not going to be a priority of the Immigration and Customs Enforcement to prioritize their removal." Still, Congress is pushing for a legislative fix to permanently address the legal status of DACA recipients, and Democrats are trying to use the spending negotiations as leverage, since Republicans can't pass a funding bill on their own in the Senate.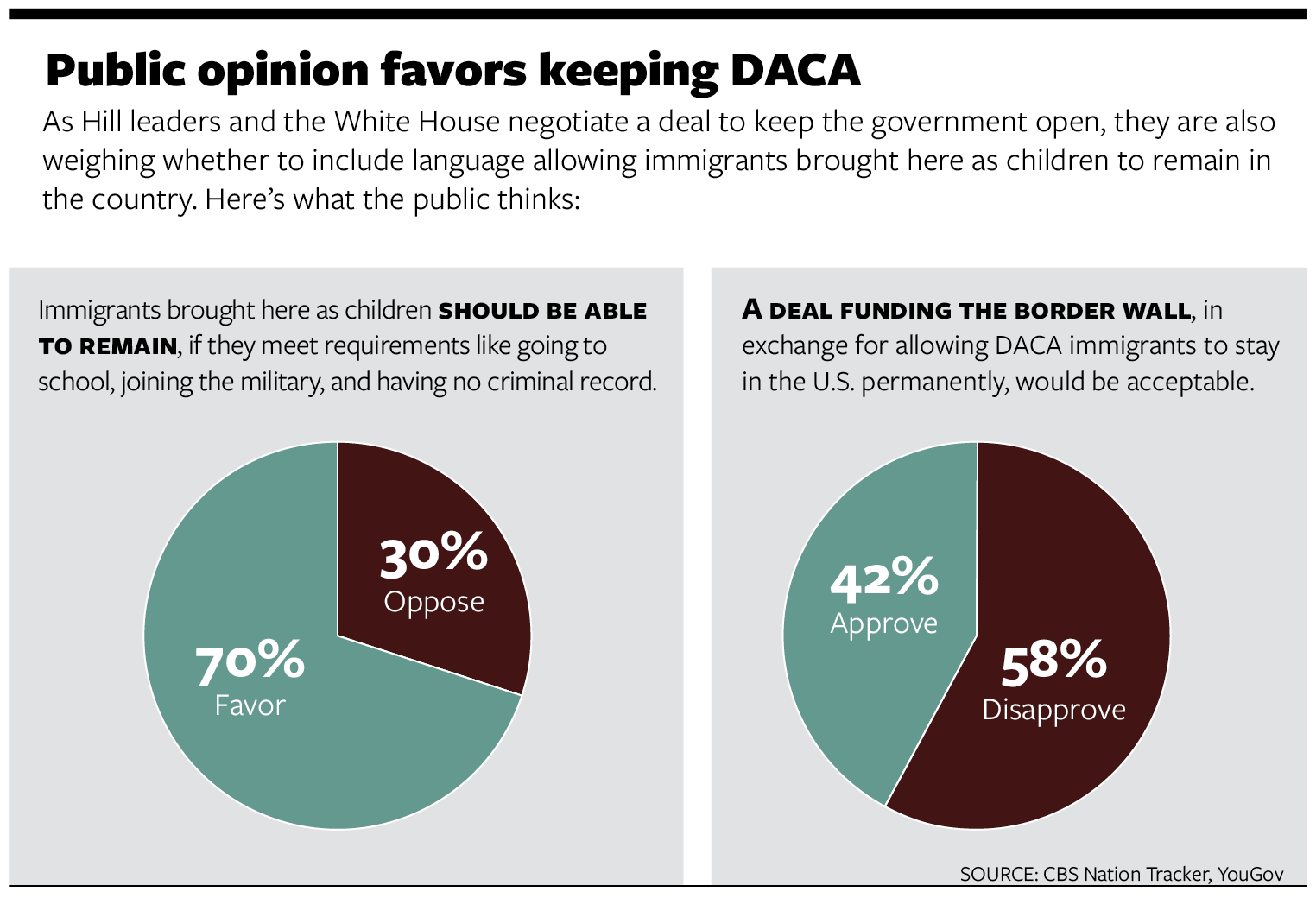 In interviews Tuesday, several Senate Democrats avoided questions on whether they would support a short-term bill without first striking a deal on the DACA program, buoying Republicans' confidence that they'll have the votes they need later in the week to keep the government running. But other Democratic senators ruled out supporting a funding bill until Congress struck a deal.
"These are American citizens in every single way but a piece of paper," said Sen. Cory Booker. "I'm not going to leave them behind."
The administration's move announcing its intent to rescind DACA complicated delicate negotiations over how to fund the military and other domestic programs above budget caps set in place by a 2011 law.
A group of senators has crafted a proposal that would create an arduous path to citizenship for the DACA recipients, spend $1.6 billion for border security, and overhaul the visa-diversity and family-sponsorship programs.
But the administration rejected that deal last week, pushing for much more money in border security, according to Democratic Sen. Dick Durbin. In a meeting with lawmakers Thursday, Trump also threatened the state of the negotiations when he reportedly called for more immigrants from countries like Norway rather than from some "shithole countries" in Africa.
Over the weekend celebrating the Rev. Martin Luther King Jr. holiday, some Democrats, including Rep. John Lewis, a civil-rights icon, called the president a racist, a charge he denied. After initially saying they did not recall the president's controversial statement, a couple of Republicans at the contentious White House meeting—Sens. David Perdue and Tom Cotton—then claimed they didn't hear the president call any country a "shithole."
Sen. Lindsey Graham, who was also in the room, then criticized his colleagues, and indicated that he had protested to the president at the time. "My memory hasn't evolved," Graham told The Post and Courier of Charleston, South Carolina. "I know what was said and I know what I said."
The sniping continued Tuesday. When asked by NBC's Frank Thorp if it's acceptable to call any country a "s-house" or a "s-hole," Cotton responded, "Well, Lindsey Graham called Mexico a 'hellhole' in a public hearing of the Senate Judiciary committee five years ago."
Some Republicans like Cotton believe that a government shutdown over immigration would hurt Democrats running for reelection in states that Trump won in 2016. But others are wary of that prospect, arguing that the public would blame the Republicans in charge of the White House and Congress.
In the House, the Republican chairs of the Judiciary and Homeland Security committees, Bob Goodlatte and McCaul, introduced an immigration bill with support from conservatives in the chamber. Conservatives are pushing to hold a vote on the bill this week. Although Ryan called it a good bill, he has declined to say he would bring it to the floor.
Meanwhile, House defense hawks will again make a pitch to fund defense for a full year, rather than one month with the other appropriations bills, said Rep. Scott Perry. The House tried that strategy last year, but the Senate declined to pass it, instead opting for a government-wide short-term measure.