The reversal of Obama-era policies on marijuana could push Congress to provide more legal protections for recreational use, possibly as part of the forthcoming government-funding deal. But time is running short on that option.
The debate around the use of marijuana and states' rights to regulate the drug has been rekindled after Attorney General Jeff Sessions announced he is rescinding guidance to the Department of Justice that advised prosecutors not to go after cannabis-related businesses and consumers if they follow state regulations. Sessions said he wanted to return "to the rule of law."
The move triggered an immediate backlash. Republican Sen. Cory Gardner of Colorado said on the floor that he would put a hold on all DOJ nominations until the decision is reversed, and House Minority Leader Nancy Pelosi called for congressional action to respect state law and protect users against prosecution.
But what would such policy look like?
Marijuana is deemed a "Schedule I" drug by the Drug Enforcement Administration, which means it has no currently accepted medical use in the U.S. and has a high potential for abuse. Cannabis for medical purposes, however, has had an extra layer of protection for several years thanks to a temporary congressional measure attached to government-funding bills.
Since 2014, Congress has prohibited the DOJ from spending funds to interfere with states implementing their own laws on medicinal use. The provision, known as the Rohrabacher-Blumenauer amendment, has to be renewed each fiscal year and is set to expire on Jan. 19.
Now, lawmakers are weighing a significant change. With Sessions taking aim at state-legalized pot, some members are considering not only the reauthorization of this language, but possibly its expansion to recreational use.
"I come at this from a states'-rights perspective. So whether it's the Rohrabacher amendment, whether it's expanding that, there's a number of options we have to consider," Gardner told National Journal on Monday.
Gardner met with Sessions on Wednesday and the two emerged from the meeting still at loggerheads. Gardner said in a statement that he reiterated his concerns about states' rights and they agreed to continue the discussion.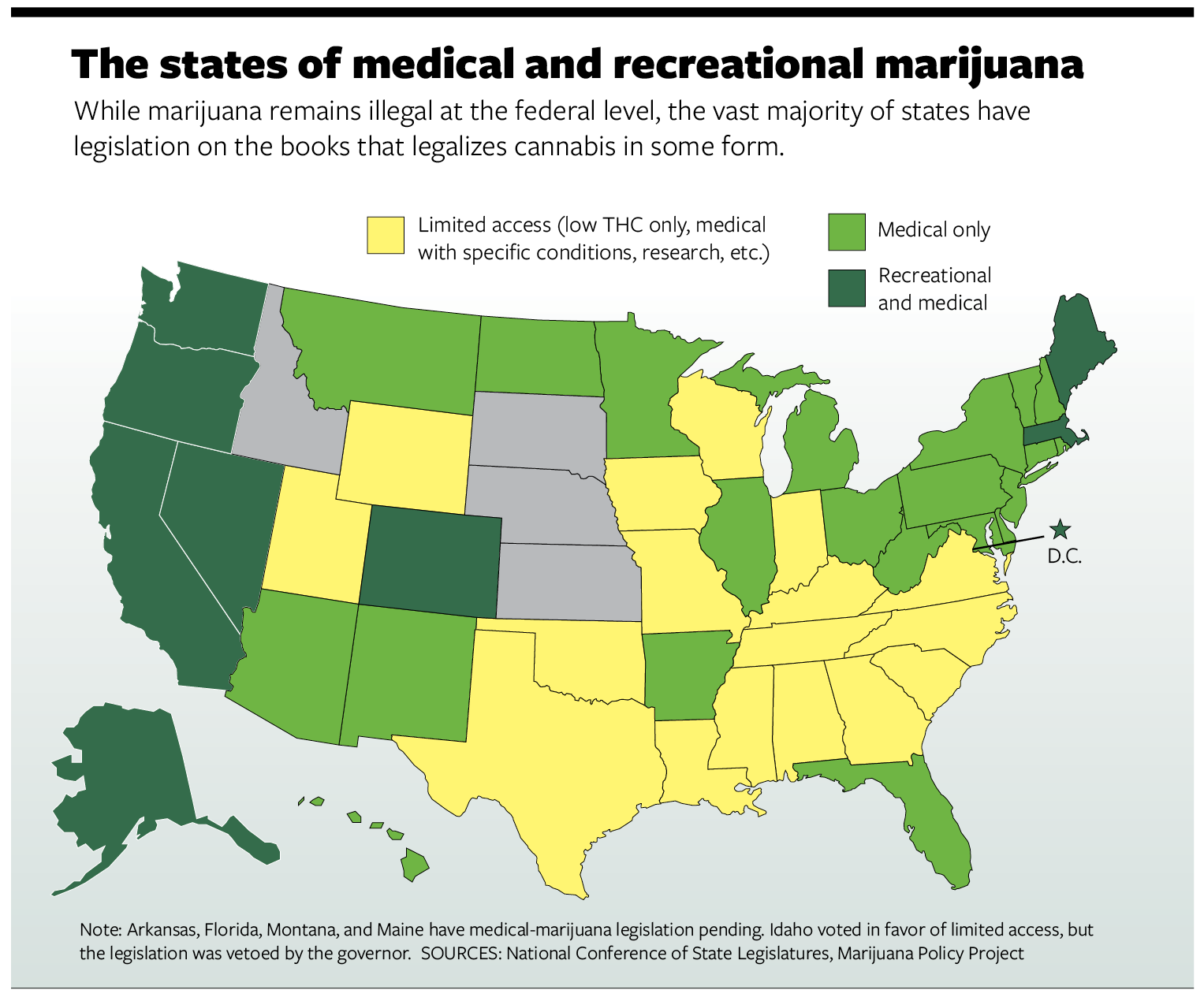 Pelosi also said Congress should consider expanding this provision. "Democrats will continue to insist on bipartisan provisions in appropriations bills that protect Americans lawfully using medical marijuana. Congress should now consider expanding the provisions to cover those states that have decriminalized marijuana generally," she said in a statement.
But with the government-shutdown deadline coming fast, and lawmakers facing a mountain of issues to wade through in mid-January, passage of the provision is not a guarantee.
"The reality is a lot of our champions on the Hill, I feel like, weren't as focused on the necessity of passing this again or really prioritizing it over some of the other issues that are coming up in the appropriations process," said Steph Sherer, founder and executive director of Americans for Safe Access. "Really, the silver lining I'm seeing in the timing of Sessions's announcement is that hopefully shows our champions and supporters in Congress we really have to pass this reauthorization or there will be nothing between medical-cannabis patients and Sessions."
The Senate funding bill for the DOJ included the protection for medical-cannabis distribution, but this was absent from the House text.
John Hudak, a senior fellow in governance studies at the Brookings Institution, warned that there are powerful Republican committee chairs who oppose marijuana reform. He pointed to Rep. Bob Goodlatte and Sen. Chuck Grassley, who chair the judiciary committees in their respective chambers, as examples.
"That said, there is a powerful and vocal, impassioned majority in Congress that want these protections extended," he added.
Hudak said that even with gatekeepers in place opposing the amendment, supporters have managed to put it in spending bills for the past few years.
"If anything, Sessions has upped the ante on that and made it more likely that members of Congress are willing to spend political capital to make sure that it's in there," he said.
Preventing the DOJ from encroaching on state laws does not resolve all issues when it comes to cannabis-based businesses. Republican Sen. Rand Paul of Kentucky, for example, highlighted his bill to create a safe harbor for banks that provide financial services to marijuana businesses.
"I think we should change federal law to conform with state law," Paul said.
Democratic Sen. Cory Booker of New Jersey also touted the Marijuana Justice Act, which would legalize marijuana at the federal level, on Monday. Booker's legislation aims to incentivize states through federal funds to change their laws if they have a disproportionate effect on low-income individuals or people of color.
But finding a sweeping agreement on marijuana is likely easier said than done, as the debate over legalization raises many issues. Providing the same type of protections that already exist for medical marijuana to recreational use is probably more within Congress's reach, Hudak said.
"The reasons why people support or oppose marijuana legalization vary dramatically," Hudak said, citing a range of concerns including criminal justice, race, states' rights, personal liberty, and fiscal issues. "Ultimately, I think the challenge for passing full-scale legalization in the United States is that many, many Republicans who support reform support states' rights."