Though sen­at­ors have had months to think through their po­s­i­tion on meas­ures to curb mil­it­ary sexu­al as­saults, more than 20 have shied away from tak­ing pub­lic po­s­i­tions — in­clud­ing ma­jor fig­ures such as Minor­ity Lead­er Mitch Mc­Con­nell, R-Ky., and Ma­jor­ity Whip Dick Durbin, D-Ill.
Some Sen­ate aides say privately they be­lieve that many just do not want to ad­mit they are plan­ning to op­pose the le­gis­la­tion head­ing to the floor, and they want to avoid tak­ing a stand on an is­sue the Pentagon is heav­ily lob­by­ing.
Still, many of those sen­at­ors who say they are on the fence ap­pear to be hung up over lo­gist­ic­al ques­tions sur­round­ing how the amend­ment sponsored by Sen. Kirsten Gil­librand, D-N.Y. — which would re­move as­sault cases from the chain of com­mand — would work.
With the ad­di­tion­al sup­port of Ma­jor­ity Lead­er Harry Re­id, D-Nev., and Sens. Dean Heller, R-Nev., and Cory Book­er, D-N.J., an­nounced this week, the bill has 50 sen­at­ors pub­licly be­hind it but is still shy of the 60 needed, as the vote ap­proaches.
"I per­son­ally will make sure I call or speak to every single un­de­cided sen­at­or today," Gil­librand said Tues­day. She has en­lis­ted former mil­it­ary lead­ers and sur­viv­ors of mil­it­ary sexu­al as­sault to make per­son­al ap­peals to se­lect col­leagues, and she as­serts that 20 to 25 sen­at­ors are un­de­cided.
Yet even as these fence-sit­ters mull their op­tions, those choices are in­creas­ing, as an amend­ment by Sen. Claire Mc­Caskill, D-Mo., has emerged as a primary al­tern­at­ive to Gil­librand's le­gis­la­tion. It would add ad­di­tion­al mod­est re­forms that en­joy broad bi­par­tis­an sup­port and are ex­pec­ted to be eas­ily ad­op­ted.
And Mc­Caskill her­self has emerged as the lead op­pon­ent to Gil­librand's ef­fort.
Mc­Caskill says that per­haps only five or six sen­at­ors are un­de­cided, and she in­sists that her ef­forts lob­by­ing col­leagues against Gil­librand's amend­ment are about en­sur­ing the best policy to ad­dress sexu­al as­saults.
"Policy mat­ters," she said. "This is just about the policy: what is best for vic­tims, what will put more per­pet­rat­ors in pris­on."
Sen. Chris Murphy, D-Conn., has not de­clared a po­s­i­tion pub­licly. "I've just been care­ful about this," he said. "I want to com­pare Gil­librand's pro­pos­al to the steps that the mil­it­ary is tak­ing on their own and what's in the un­der­ly­ing bill."
Murphy ad­ded, "The un­der­ly­ing is­sue for me is what will cut down on re­tali­ation; the fear of re­tali­ation is what prompts a lot of these crimes to go un­re­por­ted, and I thought from the very be­gin­ning it is not a clear-cut case that an out­side re­port­ing sys­tem will ne­ces­sar­ily cut down on re­tali­ation. It likely will in­crease pro­sec­u­tions, but I'm still tak­ing a look at the is­sue of re­tali­ation."
Murphy said he has talked to Mc­Caskill, Gil­librand, Sen­ate Armed Ser­vices Com­mit­tee Chair­man Carl Lev­in, D-Mich., and the De­fense De­part­ment.
He said some of the Pentagon's ar­gu­ments leave him un­per­suaded.
"Their ar­gu­ment is that the chain of com­mand will be dam­aged. I'm also not con­vinced of that ar­gu­ment. I'm not sure why a com­mand­ing of­ficer would care any less about root­ing out sexu­al as­sault simply be­cause he doesn't have pro­sec­utori­al power any longer"¦. I don't really think the sky will fall if you set up a pro­cess out­side the chain of com­mand to fer­ret out the worst crimes."
Greg Jac­ob, the policy dir­ect­or with the Ser­vice Wo­men's Ac­tion Net­work, said his group is field­ing sev­er­al tech­nic­al ques­tions.
"All the of­fices we are talk­ing to, they are not just un­de­cided just to be un­de­cided," he said. "They really have ques­tions. They are really drilling down and ask­ing for de­tailed ex­plan­a­tions on this stuff — wheth­er it's the bill, wheth­er it's mil­it­ary law, they want to make the right de­cision. For them, it is a big deal."
Gil­librand has mod­i­fied her amend­ment so it would ap­ply to any ma­jor crime that is pun­ish­able by a year or more in pris­on, but it would ex­empt 37 spe­cif­ic mil­it­ary crimes.
What We're Following See More »
UNTIL DEC. 9, ANYWAY
Obama Signs Bill to Fund Government
2 hours ago
REDSKINS IMPLICATIONS
SCOTUS to Hear Case on Offensive Trademarks
3 hours ago
WHY WE CARE
"The Supreme Court is taking up a First Amendment clash over the government's refusal to register offensive trademarks, a case that could affect the Washington Redskins in their legal fight over the team name. The justices agreed Thursday to hear a dispute involving an Asian-American rock band called the Slants, but they did not act on a separate request to hear the higher-profile Redskins case at the same time." Still, any precedent set by the case could have ramifications for the Washington football team.
STAFF PICKS
Bannon Still Collecting Royalties from 'Seinfeld'
4 hours ago
WHY WE CARE
The Hollywood Reporter takes a look at a little-known intersection of politics and entertainment, in which Trump campaign CEO Steve Bannon is still raking in residuals from Seinfeld. Here's the digest version: When Seinfeld was in its infancy, Ted Turner was in the process of acquiring its production company, Castle Rock, but he was under-capitalized. Bannon's fledgling media company put up the remaining funds, and he agreed to "participation rights" instead of a fee. "Seinfeld has reaped more than $3 billion in its post-network afterlife through syndication deals." Meanwhile, Bannon is "still cashing checks from Seinfeld, and observers say he has made nearly 25 times more off the Castle Rock deal than he had anticipated."
IT'S ALL CLINTON
Reliable Poll Data Coming in RE: Debate #1
4 hours ago
WHY WE CARE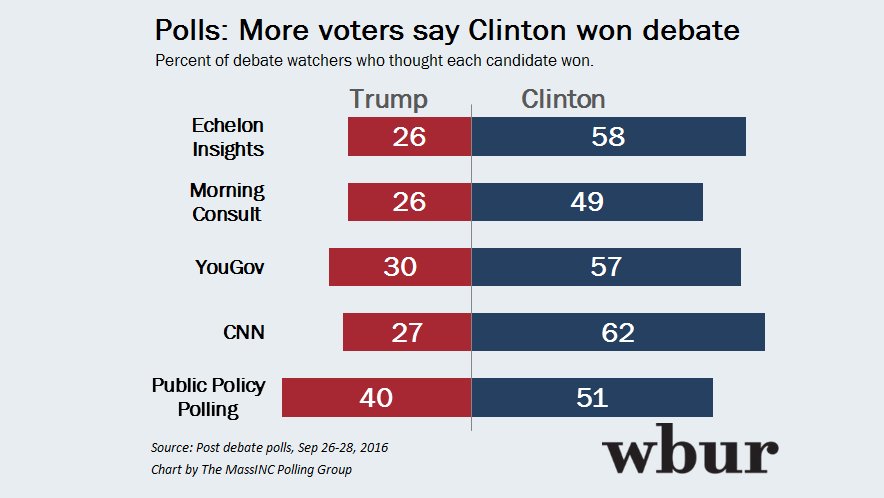 NEXT THURSDAY
Trump Transition Team Meeting with Silicon Valley VIPs
6 hours ago
THE DETAILS
Donald Trump's "transition team will meet next week with representatives of the tech industry, multiple sources confirmed, even as their candidate largely has been largely shunned by Silicon Valley. The meeting, scheduled for next Thursday at the offices of law and lobbying firm BakerHostetler, will include trade groups like the Information Technology Industry Council and the Internet Association that represent major Silicon Valley companies."