Add to Briefcase
Nov. 20, 2013, 9:14 a.m.
TORONTO"" You might have ques­tions about Rob Ford.
Was the may­or of Toronto al­ways like this? (Sort of.) Did the people of Toronto know that they were do­ing when they elec­ted him? (We should have.) Is it true that a siz­able minor­ity of people still sup­port him? (Ap­par­ently so.) Is this all some kind of elab­or­ate per­form­ance art pro­ject? (We can­not rule it out.)
The may­or of this city rock­eted in­to the in­ter­na­tion­al press after be­com­ing em­broiled in a bot­tom­less scan­dal that in­volves a mys­ter­i­ous video doc­u­ment­ing crack co­caine use, with a dol­lop of drunk driv­ing, ra­cist epi­thets, the ex­change of mys­ter­i­ous pack­ages in strip-mall plazas, a close as­so­ci­ation with a man who's been charged with ex­tor­tion, and months of brazen deni­als about all of it.
And it could get dark­er still: The story of the elu­sive "crack tape" in­volves threats, beat­ings, and the killing of a young man who was pic­tured with the may­or after the "crack tape" was made. We don't yet know how all these pieces fit to­geth­er, but cases are mov­ing through the courts. But the man won't resign, and as yet, there's no way to re­move him.
For all that, Rob Ford didn't come from nowhere. He may lurch from one "drunk­en stupor" to the next, but the elect­or­ate was sober: A city that once clung earn­estly to Peter Ustinov's de­scrip­tion of it as "New York run by the Swiss" went out and elec­ted a may­or who mar­ried Sarah Pal­in's polit­ics to Silvio Ber­lusconi's sense of de­cency and re­straint.
What's more, they knew what they were get­ting in­to: Ford's fail­ings were on full dis­play from the start. He won of­fice three years ago with 47 per­cent of the vote, in an elec­tion with re­l­at­ively high turnout, after be­ing caught ly­ing about a dec­ade-old ar­rest for DUI and pot pos­ses­sion. From the day he took of­fice, his ten­ure has lurched from one em­bar­rass­ing dis­turb­ance to the next. Yet even as he des­cends from buf­foon­ery to crim­in­al as­so­ci­ations, polls show he re­tains rock-hard sup­port from about 20 per­cent of Toronto­n­ians, and the soft back­ing of as many as 40 per­cent.
What on earth happened in Toronto?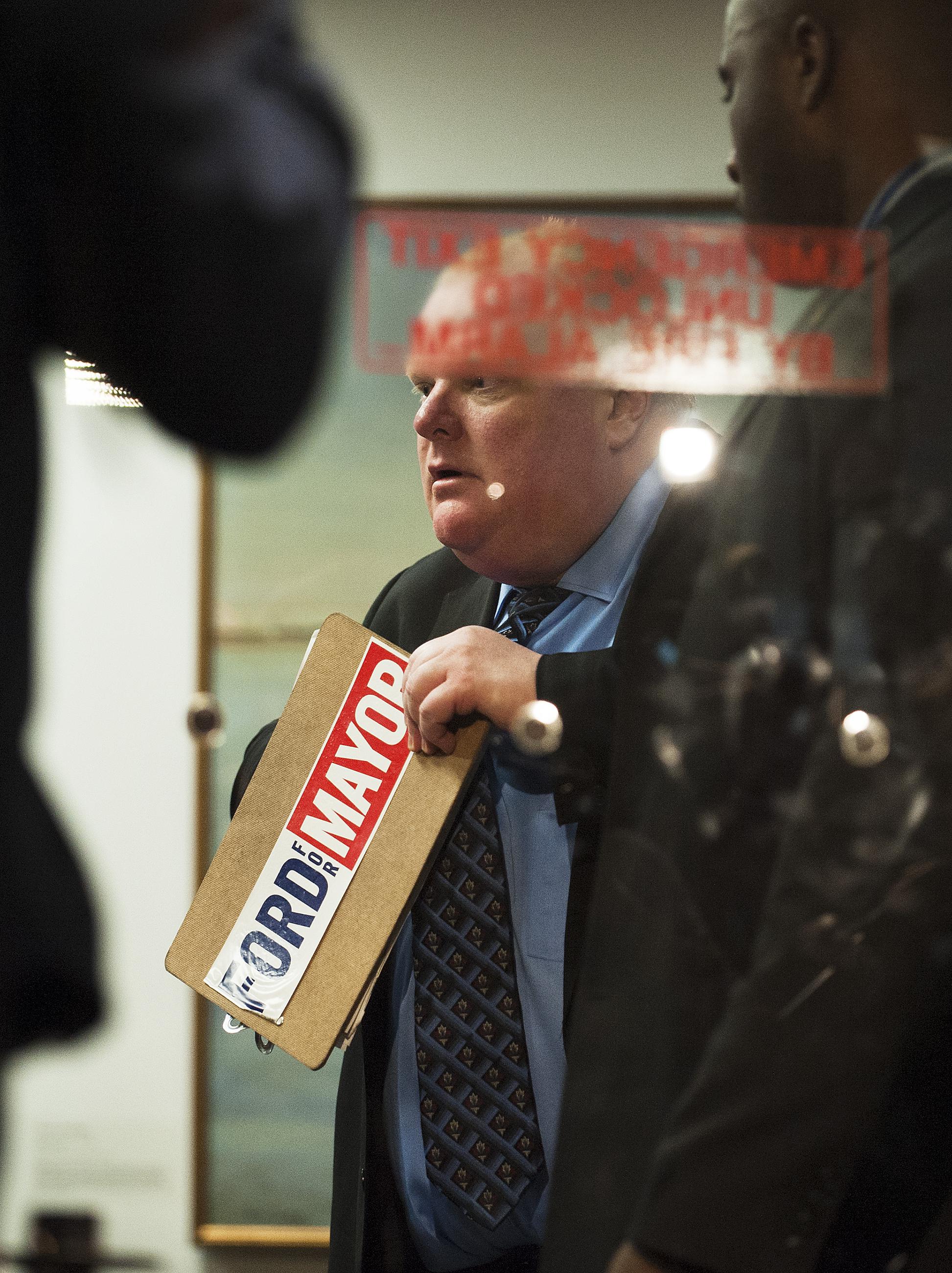 (Aaron Vin­cent Elkaim/Getty Im­ages)Toronto is a grand, peace­able city, a boom town that, with 2.7 mil­lion people, re­cently over­took Chica­go to be­come the fourth-largest mu­ni­cip­al­ity in North Amer­ica. But it's also, in many ways, a very young city. Its cur­rent bor­ders were only set in 1998, in an am­al­gam­a­tion that for­cibly mar­ried a dense, urbane down­town with a series of spread-out, car-de­pend­ent sub­urbs. It's also a city in which the middle class is be­ing stretched, and a widen­ing gap between rich and poor is emer­ging.
In many ways, it cre­ated a clas­sic Red State-Blue State cul­ture clash, all with­in the same city. But there's a catch: In ad­di­tion to be­ing home to well-main­tained white pick­et fences, Toronto's in­ner sub­urbs are wildly di­verse, and home to its boom­ing im­mig­rant com­munit­ies, as well as some of its most im­pov­er­ished neigh­bor­hoods. The real-es­tate boom down­town just doesn't ex­ist there.
This is Ford coun­try. The young­est son of a wealthy, polit­ic­al sub­urb­an fam­ily that ran a suc­cess­ful la­bel-print­ing com­pany — and the broth­er of sib­lings who were re­por­ted to have dabbled in the hash trade — Rob floundered through his young adult­hood, drop­ping out of uni­versity and half-heartedly join­ing the fam­ily busi­ness. ("Rob­bie just didn't have a pas­sion for la­bels," an as­so­ci­ate later told The Globe and Mail.) It was only after he fol­lowed his dad in­to con­ser­vat­ive polit­ics in 2000 that Ford found his call­ing: help­ing people fight City Hall.
Soon, he was en­dear­ing him­self to con­stitu­ents by driv­ing around his sub­urb in his beat-up minivan, per­son­ally an­swer­ing most every phone call and help­ing sort out mu­ni­cip­al is­sues. Hap­pi­est when help­ing people one-on-one, he would blow through the bur­eau­cracy like a can­non­ball on his con­stitu­ents' be­half.
He was less be­loved down at City Hall. Ford was a voice in the wil­der­ness, a small-gov­ern­ment agit­at­or with an ex­plos­ive tem­per who pro­tested much but con­trib­uted little. For a dec­ade, he would hold up city budget meet­ings with end­less com­plaints about any and all gov­ern­ment spend­ing, re­serving a spe­cial ire for the free lunches coun­sel­lors got when meet­ing, and who­ever it was who the city was pay­ing to wa­ter the plants at City Hall. He tried per­sist­ently to get these items cut, fail­ing every year.
Soon, a talk-ra­dio host dis­covered him, and Ford — a man who's halt­ing in per­son but ami­able on ra­dio — began to grow a city-wide base of listen­ers who, like him, were irked at the penny-ante ex­penses his fel­low politi­cians racked up: an of­fice es­presso ma­chine here, a bunny suit ren­ted for an East­er parade there. To Rob Ford, these wer­en't just wasted dol­lars, they were tokens of the elites' dis­respect for the little guy.
He was al­ways er­rat­ic, and of­ten loose with the truth. He would make boor­ish state­ments about gays and eth­nic minor­it­ies, once com­plain­ing that Asi­ans were "tak­ing over" since they "worked like dogs." In 2006, he drunk­enly har­angued a pair of vis­it­ors at an NHL game so vir­u­lently that he was thrown out by se­cur­ity — and then denied even be­ing at the game un­til his vic­tims came for­ward with busi­ness cards he'd handed out to them. Later, in the midst of his may­or­al cam­paign, he'd also deny a 1999 DUI charge and pot bust that came to light, un­til journ­al­ists dug up evid­ence and forced his hand.
Pun­dits pre­dicted, with per­haps some reas­on, that be­ing a proven li­ar with a bent for pub­lic in­tox­ic­a­tion would scuttle his hopes of be­ing may­or.
But come the 2010 elec­tion, a per­fect storm of factors made Ford the man of the hour. After sev­en years of am­bi­tious pro­gress­ive rule that had led to high­er taxes and a spate of uni­on un­rest, and in the midst of a re­ces­sion with tea-party parsi­mony in the air, Ford's well-run cam­paign erup­ted from the back of the pack.
He was a vis­ibly im­per­fect anti-es­tab­lish­ment cru­sader, and the more voters heard of his fail­ings, the more they liked him. Ford's anti-elite, anti-tax, anti-uni­on, anti-bi­cycle, anti-al­most-everything mes­sage ap­pealed to well-off sub­urb­an white fam­il­ies who dis­liked the big city they'd been lumped in with (Condo towers! Or­gan­ics re­cyc­ling! Street­cars!).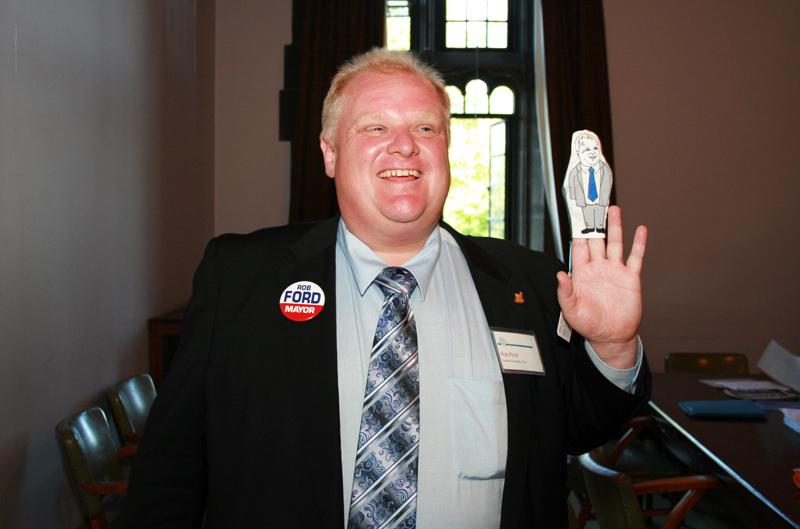 (Flickr/Shaun Mer­ritt)But he also clicked with the poor, the mar­gin­al­ized, and the re­cently ar­rived from all over the world, for whom the wealth, cul­ture, and at­ten­tion flow­ing down­town seemed dis­tant. It's a text­book story: Here was a man with a per­son­al touch, who made dir­ect con­tact with people who felt left out. Big, awk­ward, and ill-spoken, he was mar­gin­al­ized in his own way. There are many ways to feel ali­en­ated, and Rob Ford catered to them all.
So it was, to the un­dis­guised hor­ror of the city's down­town­ers, who Ford des­pised with an equally open gusto, a wave of sup­port from the city's edges bore him in­to of­fice.
It took less than a year for it all to fall apart. Ford turned out to be a bet­ter re­tail politi­cian than a lead­er. At first, his right-lean­ing coun­cil was pli­ant, and he won a series of early vic­tor­ies, re­peal­ing taxes and can­celing plans for light-rail trans­it. But with his thug­gish, hy­per­bol­ic broth­er Doug at his side, Ford was in­transigent and in­flam­mat­ory. He pushed away al­lies, and when he looked to his base for sup­port, he found that the protest move­ment that elec­ted him wouldn't mo­bil­ize between elec­tions.
Soon, he began los­ing votes, and his agenda stalled. Ford re­treated from gov­ernance, and went back to an­swer­ing calls from cit­izens, try­ing to help with little prob­lems, one-on-one, where he could.
And if voters thought elect­ing a volat­ile man may­or would soothe his tem­pera­ment, they soon learned bet­ter. Fail­ings that were bizar­rely en­ter­tain­ing in a ward politi­cian be­came scan­dals as a big-city may­or: giv­ing the fin­ger to a moth­er and child who mo­tioned for him to stop il­leg­ally talk­ing on his cell­phone while driv­ing; char­ging furi­ously at a re­port­er who was look­ing at pub­lic park­land be­hind his house; call­ing 911 on a pop­u­lar tele­vi­sion comedi­an who showed up on his drive­way.
It was dis­covered that the may­or was cut­ting out of work to coach high school foot­ball, his great pas­sion, and at one point a full bus­load of trans­it riders were sent out in­to the rain so the bus could ferry Ford's team home. Scram­bling for a good-news story, the may­or and his broth­er launched a pub­lic weight-loss chal­lenge, us­ing an in­dus­tri­al-size scale parked out­side his of­fice. The may­or ul­ti­mately quit, sprain­ing his ankle while fall­ing off the scale. It nev­er seemed to end.
But more ser­i­ous troubles were also brew­ing. Re­port­ers clued in­to rum­blings that all was not well in his of­fice: The may­or was reg­u­larly com­ing in to work late, and not tak­ing many meet­ings. There had been 911 calls from his private res­id­ence at Christ­mas­time, ex­act cause un­known.
Then came end­less court pro­ceed­ings: In late 2012, a judge ac­tu­ally ordered him ejec­ted from of­fice for breach­ing strin­gent con­flict-of-in­terest rules over a small sum, in a case sprung on him by polit­ic­al foes. The rul­ing was over­turned on ap­peal, and Ford struggled on.
By early 2013, The Toronto Star had gathered enough evid­ence to go pub­lic with a story on Ford's drink­ing prob­lem, which he vehe­mently denied, lash­ing out at re­port­ers as li­ars and "me­dia mag­gots." Then, in May, the bomb dropped: first Gawker, then the Star pub­lished the first al­leg­a­tions of the crack video. He denied these too — un­til proof forced his hand, two weeks ago.
Yet his cadre is still with him, and al­ways will be. In a city where the fault lines around Rob Ford be­came en­trenched long ago, the fight rages on, even as polls show that about 75 per­cent of res­id­ents feel he should resign, or at least step aside.
To Ford's sup­port­ers, much of the scan­dal smacks of a con­cer­ted ef­fort by elites to re­move him from of­fice come hell or high wa­ter. (In some cases, they're jus­ti­fied.)
The same dis­trust of the "main­stream me­dia" that has fuelled the rise of the tea party in the United States has isol­ated Rob Ford from cen­sure. And just as in the United States, Toronto­n­ians have drif­ted to­ward me­dia they agree with: Ford's crit­ics took to news­pa­pers and crowed on Twit­ter, while his fans flooded sym­path­et­ic talk-ra­dio lines. His over­all ap­prov­al fell to the mid-40s, but be­came en­trenched, and res­ol­utely stayed there through thick and thin. (Weirdly, this is not mu­tu­ally ex­clus­ive with the 75 per­cent who think he should go.)
Even be­fore be­ing stripped of power this week, Ford was an in­ert quant­ity at City Hall, un­able to muster polit­ic­al sup­port. But he con­tin­ues to be a po­tent cul­tur­al force, dom­in­at­ing head­lines and grow­ing a cult of per­son­al­ity about him­self as a cham­pi­on of the little guy and guard­i­an of the tax­pay­er dol­lar. Plenty of con­ser­vat­ives were long will­ing to for­give his per­son­al foibles as long as he talked the talk of run­ning a parsi­mo­ni­ous gov­ern­ment. But for his hard­core sup­port­ers, that talk of money is really a code for class, for anti-elit­ism, his badge as an out­sider.
There are plenty of politi­cians who mis­be­have. What's really cap­tured the world's at­ten­tion about Ford isn't his mis­be­ha­vi­or, but his spec­tac­u­lar im­pudence when caught. He's broken a law of polit­ics: that a man caught in the act should con­fess and re­pent. But not re­pent­ing for be­ing who he, nev­er chan­ging, is has been Ford's mak­ing and un­mak­ing. To Ford, play­ing by the rules of polit­ics — the rules that hon­or the of­fice, that pri­or­it­ize hon­esty, that man­date a sense of shame for mis­deeds — is an elit­ist thing to do.
Even after Ford goes — even­tu­ally, some­how — the sense of dis­pos­ses­sion and dis­par­ity at the city's fringes will re­main. Just as Amer­ic­an pro­gress­ives once scorned Sarah Pal­in's fans, with their not-al­ways-en­tirely-fac­tu­al grip on policy, pro­gress­ive Toronto­n­ians scorn those who stick by Ford, without really un­der­stand­ing why they liked him in the first place. It's not that com­plic­ated: It's the iden­tity, stu­pid.
Ivor Tos­sell is a colum­nist and the au­thor of The Gift of Ford. He lives in Toronto.