Nov. 24, 2013, 10:29 a.m.
Red-State Amer­ica's ab­dic­a­tion on Obama­care sparked fears of a na­tion di­vided, one in which some cit­izens en­joyed shiny new in­sur­ance ex­changes while their brethren lan­guished in failed or fail­ing sys­tems.
Today, that night­mare is nigh: The fed­er­ally run ex­changes are at a near-stand­still thanks to a web­site so buggy that Jon Stew­art christened it a "dot-turd," while a hand­ful of state ex­changes are beat­ing their en­roll­ment goals hand­ily. And bar­ring a rap­id turn­around in the fed­er­al ex­changes' for­tunes, the splin­ter­ing of Amer­ica's health-care sys­tem is un­der­way.
Des­pite Pres­id­ent Obama's as­sur­ances and ex­horta­tions, no amount of speech-giv­ing or tech-sur­ging is go­ing to fix that any time soon. Health­Care.gov could have been bet­ter de­signed and ex­ecuted, but the Feds were only ever in the run­ning for second place.
After all, the Af­ford­able Care Act's ar­chi­tects nev­er ex­pec­ted the fed­er­al gov­ern­ment to be tasked with fig­ur­ing out 36 states' worth of ex­changes. And the dif­fer­ence in the de­gree of dif­fi­culty between set­ting up an ex­change for one state versus craft­ing one for 36 states was al­ways more, health and tech­no­logy ex­perts say, than the Obama ad­min­is­tra­tion was ever go­ing to over­come.
"I don't think it comes as a sur­prise to any­one that [the pro­cess] is not work­ing as well at the fed­er­al level as it is for the state mar­ket­places," said Pa­tri­cia Booz­ang, man­aging dir­ect­or of Man­att Health Solu­tions. "States have an abil­ity to be nimble both in their ap­proach to their sys­tem design and re­spond­ing to is­sues that crop up … in a way that's very dif­fi­cult for the fed­er­al gov­ern­ment."
The ad­min­is­tra­tion's at­tempt to craft one plat­form for 36 states is com­plic­ated all the more by a U.S. sys­tem that in­ten­tion­ally al­lows health policies to vary widely from one state to the next.
Take Medi­caid, a fed­er­al en­ti­tle­ment pro­gram that is run on a state-by-state basis. The Af­ford­able Care Act ori­gin­ally in­cluded a pro­vi­sion that would have set a uni­ver­sal eli­gib­il­ity stand­ard for the pro­gram, but the Su­preme Court deemed that pro­vi­sion un­con­sti­tu­tion­al, and many states — in­clud­ing many of the same states that balked at set­ting up their own ex­changes — de­clined to ad­opt the uni­ver­sal stand­ard.
Now, the feds are tasked with build­ing a single portal to match that state-by-state patch­work. In prac­tice, that means the Feds were re­spons­ible for in­teg­rat­ing dozens of dif­fer­ent Medi­caid stand­ards in­to one portal that is re­spons­ive — on the first screen — to your ZIP code, said Wade Horn, a dir­ect­or at De­loitte.
"There's an old say­ing that if you've seen one Medi­caid pro­gram, you've seen one Medi­caid pro­gram," Horn ad­ded. "A state-based mar­ket­place only has to deal with one set of rules, it's own."
Such was the case in Ken­tucky, where a func­tion­al web­site has been key to the state ex­change's beat­ing its en­roll­ment tar­gets. Ken­tucky cre­ated its ex­change via ex­ec­ut­ive or­der and at­tached it to the Cab­in­et for Health and Fam­ily Ser­vices, where case work­ers who spe­cial­ize in things like Medi­caid eli­gib­il­ity worked dir­ectly with an in-house, cent­ral­ized IT de­part­ment, said Gwenda Bond, a Cab­in­et spokes­wo­man.
"We were able to lever­age sys­tems that were already in place," Bond said. "Hav­ing the same march­ing or­ders and hav­ing the ex­pert­ise [already there] can't be over­stated." Ken­tucky brought all rel­ev­ant stake­hold­ers to­geth­er and made them work as one unit, an op­tion that nev­er ex­is­ted for fed­er­al IT con­tract­ors.
The two-tier ex­change sys­tem cur­rently tak­ing shape is all the more prob­lem­at­ic be­cause it cre­ates a law in which the dis­tri­bu­tion of car­rots is un­even while the pres­ence of sticks — a sys­tem of man­dates and pen­al­ties es­sen­tial to mak­ing the law work — is uni­ver­sal. Tex­ans may have to grapple with Health­Care.gov while Ken­tucki­ans get to en­joy their state ex­change's sleek web­site, but both groups face the same man­date to buy in­sur­ance — and the same pen­alty for fail­ing to do so.
As the law moves for­ward, many ex­perts see reas­on to be­lieve that the gap will even­tu­ally shrink. The fed­er­al ex­change's ar­chi­tects en­vi­sioned it as a backup, only to be used in case of emer­gency if a hand­ful of states were strug­gling to get their own ex­change work­ing on time. But Health­Care.gov is in­stead be­com­ing a per­man­ent solu­tion, out of ne­ces­sity.
"If the states don't step up, the fed­er­al gov­ern­ment in a few years will be able to fig­ure this out," said Joel Ario, the former dir­ect­or of ex­changes at HHS who now also works with Man­att. "I don't think it will be as nimble or re­spons­ive as it could be, but it will be func­tion­al."
But between now and then, the polit­ic­al cal­cu­lus is dis­astrous for Demo­crats. Obama and his ilk are pin­ning their hopes on the "tech surge," the ad­min­is­tra­tion's all-hands-on-deck ef­fort to fix the web­site by the end of Novem­ber. Wheth­er that's suc­cess­ful or not, they'll have to sell a skep­tic­al pub­lic on a law whose un­pop­u­lar por­tions took cen­ter stage at the same time its be­ne­fits were delayed. And blam­ing Re­pub­lic­an ob­struc­tion, however det­ri­ment­al it was, is a feeble talk­ing point for a law col­lo­qui­ally named for the pres­id­ent who signed it.
Re­pub­lic­an gov­ernors, however, gloat over the fed­er­al ex­change's mis­haps at their own per­il. They get to cel­eb­rate a polit­ic­al set­back for the pres­id­ent, but then they have to go back to gov­ern­ing states whose health care sys­tems fall fur­ther and fur­ther be­hind.
What We're Following See More »
UNTIL DEC. 9, ANYWAY
Obama Signs Bill to Fund Government
4 hours ago
REDSKINS IMPLICATIONS
SCOTUS to Hear Case on Offensive Trademarks
4 hours ago
WHY WE CARE
"The Supreme Court is taking up a First Amendment clash over the government's refusal to register offensive trademarks, a case that could affect the Washington Redskins in their legal fight over the team name. The justices agreed Thursday to hear a dispute involving an Asian-American rock band called the Slants, but they did not act on a separate request to hear the higher-profile Redskins case at the same time." Still, any precedent set by the case could have ramifications for the Washington football team.
STAFF PICKS
Bannon Still Collecting Royalties from 'Seinfeld'
6 hours ago
WHY WE CARE
The Hollywood Reporter takes a look at a little-known intersection of politics and entertainment, in which Trump campaign CEO Steve Bannon is still raking in residuals from Seinfeld. Here's the digest version: When Seinfeld was in its infancy, Ted Turner was in the process of acquiring its production company, Castle Rock, but he was under-capitalized. Bannon's fledgling media company put up the remaining funds, and he agreed to "participation rights" instead of a fee. "Seinfeld has reaped more than $3 billion in its post-network afterlife through syndication deals." Meanwhile, Bannon is "still cashing checks from Seinfeld, and observers say he has made nearly 25 times more off the Castle Rock deal than he had anticipated."
IT'S ALL CLINTON
Reliable Poll Data Coming in RE: Debate #1
6 hours ago
WHY WE CARE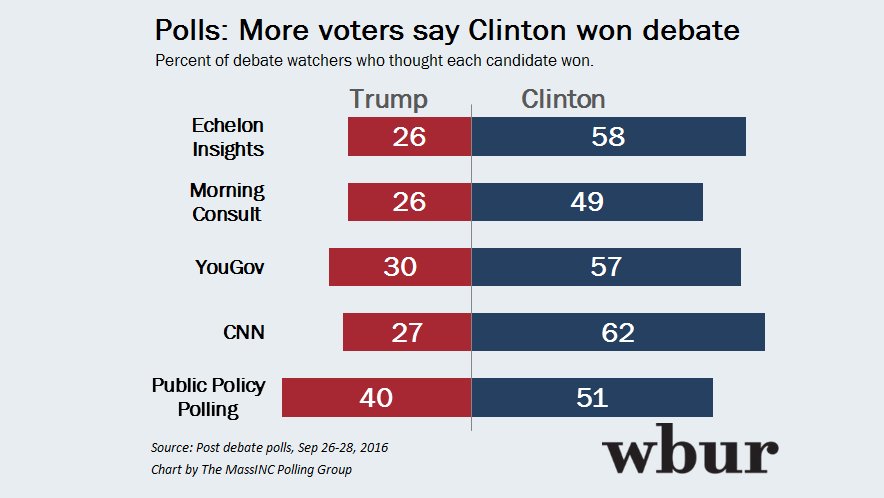 NEXT THURSDAY
Trump Transition Team Meeting with Silicon Valley VIPs
8 hours ago
THE DETAILS
Donald Trump's "transition team will meet next week with representatives of the tech industry, multiple sources confirmed, even as their candidate largely has been largely shunned by Silicon Valley. The meeting, scheduled for next Thursday at the offices of law and lobbying firm BakerHostetler, will include trade groups like the Information Technology Industry Council and the Internet Association that represent major Silicon Valley companies."