Funding for a program that provides health care coverage for low-income kids expired last month, and even if Congress ends up providing money in an end-of-year deal, some states will have already started shuttering their programs—and sowing confusion for families.
Delaying the funds could cause families in some states—including some where President Trump received large support—to receive notices in November and December that they are about to lose coverage. That could help fuel the perception that the governing party cannot achieve a legislative victory.
Funding for the Children's Health Insurance Program—which covers kids whose families make too much to qualify for Medicaid—expired at the end of September. While two bills to extend funding for the program have cleared the relevant Senate and House committees, battles around Obamacare and disagreements over pay-fors have stalled progress.
Energy and Commerce Committee Chairman Greg Walden said he had wanted to take his bill to the floor this week. And ranking member Frank Pallone said that if the House passed its bill, it could take the rest of the year to resolve differences in conference with the Senate. "We're trying to get away from the idea of paying for it by robbing from other health care programs essentially," he said at a district event Monday.
Senate Finance Committee ranking member Ron Wyden said that he and Chairman Orrin Hatch are still working on their proposal. "We at least have had a bipartisan approach rather than what we've had in the House," he said.
Although most states will have funds at least through December, the uncertainty around whether the funding will get renewed will cause practical problems for the programs and cause confusion for families who receive their coverage through CHIP.
Lawmakers may think they have wiggle room, but "there are going to be consequences well before" money runs out, said Matt Salo, executive director of the National Association of Medicaid Directors.
"At the bare minimum, you're going to be sending out really confusing messages to the people relying on this program," said Salo.
Some states, including states that may not run out of money until next year, plan to start notifying families earlier to inform them that their coverage will end. A recent report from Georgetown University found that a few states will start sending notices to families in December.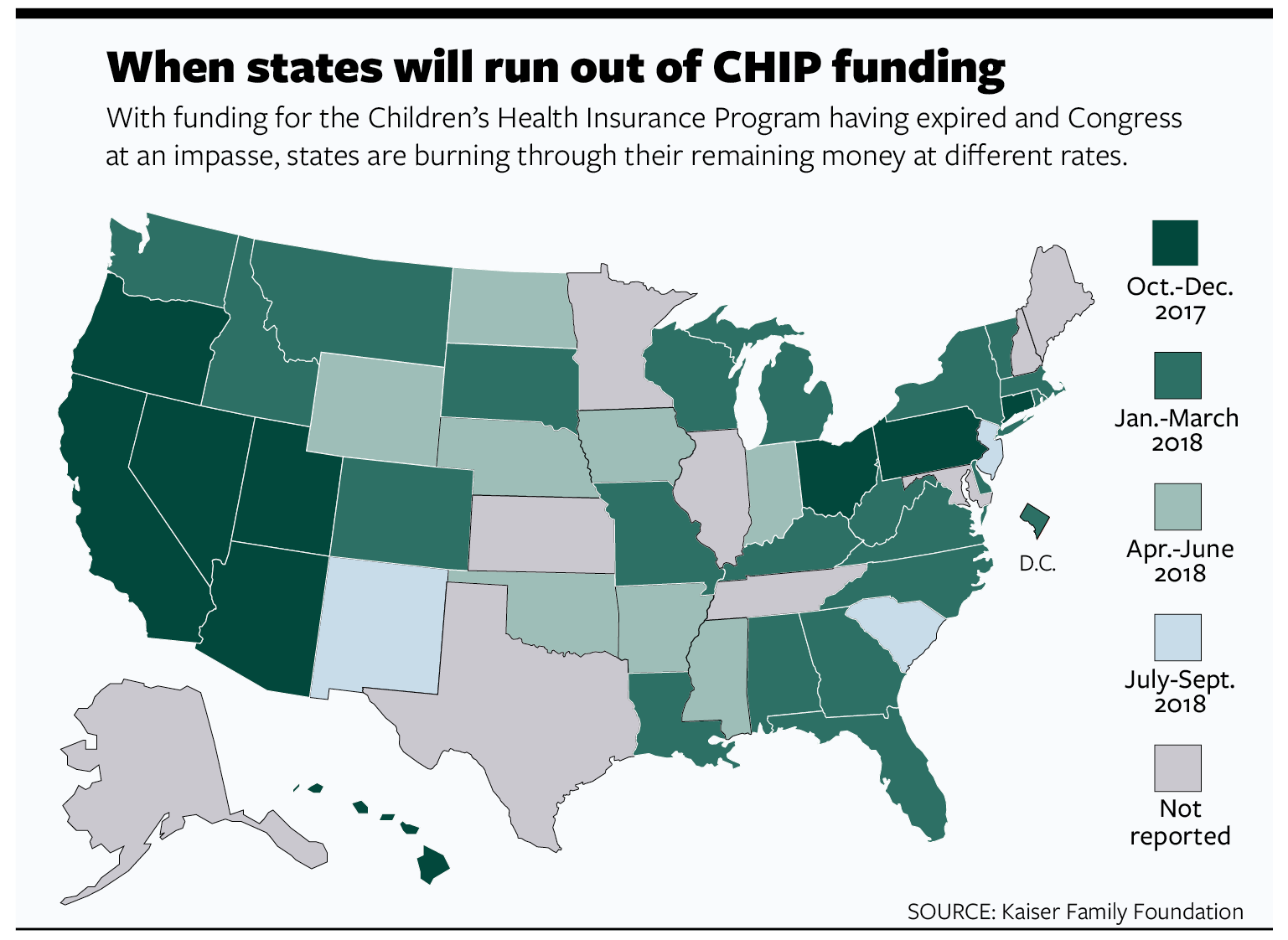 The Utah Department of Health anticipates running out of money by the end of December and plans to send notices to families in November.
"That I fear would trigger families to think that they may not have health coverage anymore," said Joan Alker, executive director of the Center for Children and Families at Georgetown University. "Once notices start going out, I think we will lose some children. I think states know that and are reluctant to send these notices."
Notices being sent to families will also be tangible evidence of Congress's inaction. "If this gets visibility it will be quite embarrassing for the Republicans … it could turn out to be a very emotional issue," said Robert Blendon, a professor of health policy and political analysis at Harvard University.
The estimates for when states will run out of money have varied. The Georgetown University report said that it is impossible to predict when a state will run out of money. "In reality, projections are a moving target that can be impacted by a number of factors, including a lag in provider-claims submission, or events such as a successful back-to-school outreach push or a natural disaster that drive up enrollment," the report states.
States may start preparing for a loss of funding in different ways, depending on how their programs are run. There are states that have used CHIP funds through Medicaid and others that have separate state programs. Many states use a combination of the two types.
States with Medicaid-expansion CHIP are required to continue coverage for children but with a lower funding contribution from the federal government. But Alker asserted that the apparent requirement for Medicaid-run programs to continue coverage could be up for debate. "The Trump administration hasn't issued any guidance on this question," she said. "They've indicated their desire to give states a lot of flexibility. Who's to say, they may waive that requirement."
If states decide to continue this coverage, it would be at the lower match rate, which can be a strain on state budgets. Ohio—which anticipates exhausting its funds by the end of the year—would receive federal reimbursements at the traditional Medicaid match rate of 62.8 percent, instead of the current 97 percent.
Separate CHIP programs are allowed to terminate coverage if federal funds run out, according to the Medicaid and CHIP Payment and Access Commission.
Children could be enrolled in subsidized exchange coverage, but it will likely not be as affordable or as comprehensive. "Moreover, families with access to what is 'deemed affordable' employer-based coverage are not eligible to receive financial assistance to purchase Marketplace coverage," the Georgetown University report said.