The prospect for passing a tax-overhaul bill in the Senate increasingly rests on the decisions of just a handful of key lawmakers.
With only 52 Republicans in the Senate, the vote math is extremely narrow. As with the failed effort to repeal Obamacare earlier this year, Republicans can lose only two votes and pass a tax bill.
It's familiar territory for the GOP. When asked Monday in Wisconsin what was the biggest obstacle to passing a tax bill, House Speaker Paul Ryan pointed to the upper chamber.
"Have you ever heard of the United States Senate before?" Ryan quipped.
With Republicans staring down a potentially challenging midterm next year, the as-yet-unwritten tax bill has become must-pass legislation for the party. The Senate is seen as the toughest legislative hurdle for the GOP's sweeping plan to cut individual and corporate rates while eliminating some tax breaks. Senate Majority Leader Mitch McConnell and the White House are working to lock down wary GOP members and perhaps scoop up a few Democrats to pad the vote tally.
President Trump has at times called on Democrats to back his tax plan and at others appeared to concede the measure will be a partisan effort.
"The Democrats will only vote for tax increases," Trump tweeted early Wednesday. "Hopefully, all Senate Republicans will vote for the largest tax cuts in U.S. history."
But later in the day, Trump and White House officials hosted more than a dozen Senate Finance Committee members for a bipartisan meeting to pitch the tax plan. Chairman Orrin Hatch, ranking member Ron Wyden, and Sens. Debbie Stabenow (D) of Michigan, Sherrod Brown (D) and Rob Portman (R) of Ohio, and Robert Casey (D) of Pennsylvania, among others, were in attendance. Most of the Democratic senators invited were from states Trump won in 2016.
The administration and GOP lawmakers have also been pushing to bring another Democrat, Sen. Joe Manchin of West Virginia, to board the tax-overhaul train. Manchin, who was not at Wednesday's meeting, is up for reelection in a state that Trump won by a landslide and is seen as the Democrat most likely to vote for the GOP tax plan.
On Monday evening, Jared Kushner and Ivanka Trump hosted Manchin in their Washington home along with other senators, including Democrats Heidi Heitkamp of North Dakota and Claire McCaskill of Missouri, according to a Manchin aide. Trump won both Heitkamp's and McCaskill's home states as well. Manchin and McConnell also held a meeting last week on the tax overhaul.
But Manchin's requests may be too much for conservative tax-cutters. Manchin has said that he doesn't want any tax plan to add to the deficit and has pegged target tax rates higher than the GOP plan, with a corporate rate at 25 percent and the rate for pass-through entities at 30 percent, the aide said.
The GOP framework released in September calls for a 20 percent corporate rate and a 25 percent rate for pass-throughs—entities that pass their profits on to the owners and are taxed at the individual rate.
And even Manchin's vote will be little help if McConnell doesn't hold the line with Republicans, some of whom have either attached hefty demands on tax writers or have bucked the party in recent critical votes.
Sen. Bob Corker has been an early foe of deficit-financed tax cuts, saying that he'd vote against any bill that added to the national debt.
A September report by the Committee for a Responsible Federal Budget, a spending watchdog, found that the tax framework could balloon the deficit by $2.2 trillion over a decade.
The Senate is set to take up its fiscal 2018 budget resolution Thursday or Friday, which will set the guidelines for a tax bill and unlock reconciliation, allowing Republicans to bypass a Democratic filibuster.
Corker has said he will back the budget, allowing the tax-overhaul process to advance. But that doesn't mean he'll back a tax bill, he told reporters Tuesday,
"It's in no way an indication on my part of a willingness to vote for a tax bill that actually generates deficits," Corker said.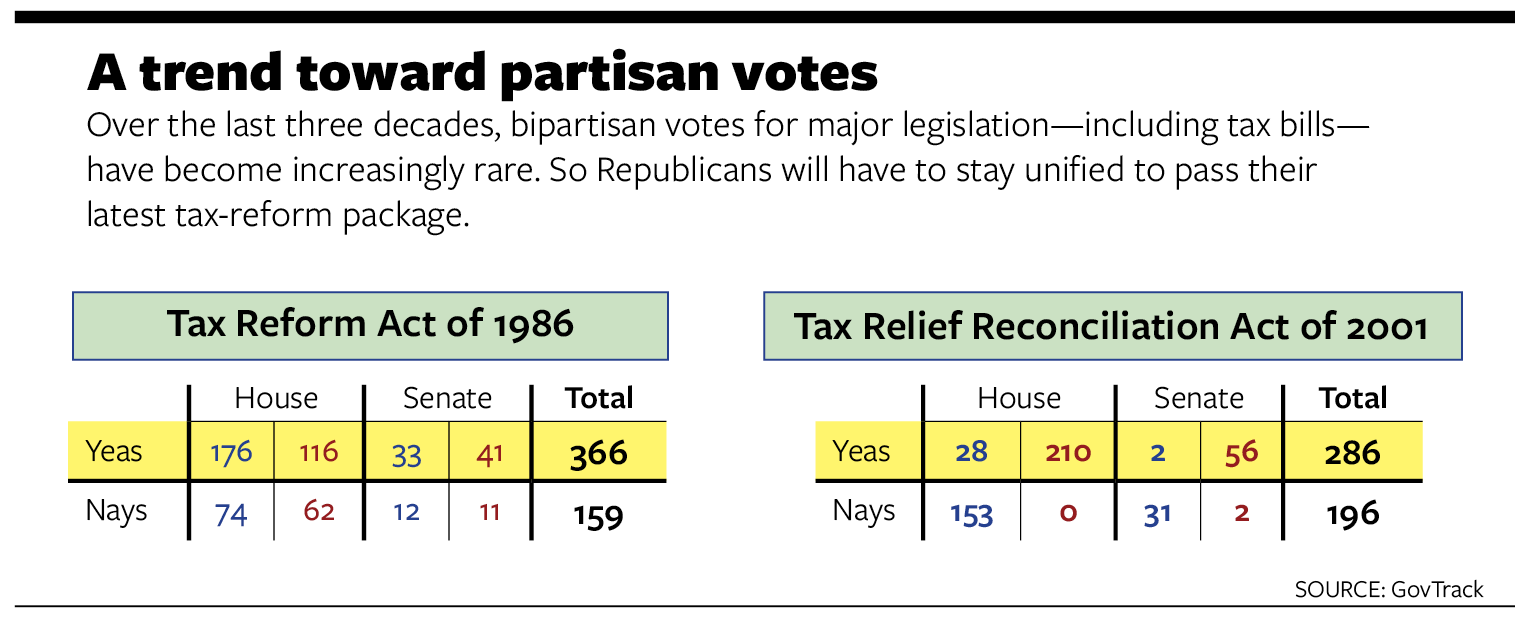 Sen. John McCain delivered the decisive vote when Republicans tried and failed to advance an Obamacare repeal in September. After he gave the late-hour thumbs-down on the measure, the Arizona Republican said that he was dissatisfied with the rushed process and called for regular order.
McCain could play a similar role on a tax bill, which will employ the same budget-reconciliation process used in the health care repeal effort. And McCain is no stranger to bucking his own party on tax legislation, having opposed the 2001 and 2003 tax cuts, citing concerns over the deficit.
McCain told reporters Tuesday that he's holding out to see the complete tax package before issuing a verdict, though he has said he will vote for the budget this week.
The White House is also focusing its attention on Sen. Rand Paul, with the Kentucky Republican joining Trump during a golf outing in Virginia over the weekend. But Paul has been critical of the current tax framework, saying that the proposal could lead to a middle-class tax hike.
"If you keep the middle rate at 25 percent and you get rid of two big deductions, how do we prevent the middle class from having a tax increase on this?" Paul said on Fox Business last Friday.
Paul is also likely to oppose the GOP budget, calling for spending cuts, and he voted against a similar resolution earlier this year that was meant to advance the health care bill.
GOP Sens. Lisa Murkowski of Alaska and Susan Collins of Maine helped vote down Obamacare repeal, and they are holding off on full support for the current tax framework.
Murkowski said Tuesday that she's leaning toward a "yes" on the budget, and Collins said over the weekend that she would likely vote for the resolution.
Despite the lofty, self-imposed deadline of the end of the year that Republicans have given themselves to finish a tax bill, lawmakers are still early in the process. There are weeks of deal-making and trillions of dollars in tax breaks left to cut. Top GOP officials are beginning to walk back that timeline. In a Rose Garden event Monday, Trump and McConnell both hedged against the end-of-year date.
"Don't forget, it took years for the Reagan administration to get taxes done," Trump said. "I've been here for nine months."