The House and Senate tax-writing committees have a broad tax plan in hand, but that's the easy part—and lobbyists are already preparing to attack two of the plan's biggest sources of revenue.
The Big Six, a group of House, Senate, and administration officials working on a tax-overhaul plan, released their framework last week. The document sets out plans for steep tax-rate cuts but left open the fate of many proposals to pay for them.
"The one thing that hasn't been discussed is the $4 trillion in base broadeners that have to occur in order for this to be successful, and every lobbyist in the world is going to be up here fighting those," Sen. Bob Corker, a vocal deficit hawk and member of the Budget Committee, said on NBC's Meet the Press on Sunday.
Lawmakers are already getting pushback on two pay-fors they're relying on to fund the broader tax plan: The proposal to eliminate the deduction for state and local taxes and the proposal to limit the ability for businesses to deduct loan interest are emerging as early hurdles in the bill-drafting process.
The framework is vague on exactly how tax-writing committees should cut the deduction for interest paid on business loans, saying only that it will be limited for C corporations and that lawmakers should "consider the appropriate treatment of interest paid by non-corporate taxpayers."
That leaves a lot to interpretation, and interest groups have been on Capitol Hill to try and secure carve-outs for their industries.
Tax writers have pushed limiting the interest deduction as a way to pay for another tax break: allowing companies to immediately write off the full cost of certain investments, such as buildings and equipment. The original plan had been for full expensing to be permanent, at a cost of more than $2 trillion over a decade, but last week's framework sunsets the provisions after five years.
That makes the proposal to scrap the interest deduction—which could raise nearly $1 trillion over a decade—a tough sell among some groups.
"We're always very cautious about giving up a permanent deduction for something that's temporary," said Pat Wolff, senior director of congressional relations at the American Farm Bureau Federation.
Lobbyists are pushing for exemptions for land purchases, agriculture, and small businesses, but for every industry carve-out, that means less revenue to pay for the promised tax cuts.
Other groups, such as the BUILD Coalition, short for Businesses United for Interest and Loan Deductibility, have been working to nix the proposal altogether.
The American Bankers Association says that for borrowers, interest expense should be deductible as long as interest income is taxable. For banks, the group says that interest expense is the cost of goods sold, and should remain fully deductible to them.
Meanwhile, Republicans in high-tax states like New York, California, and New Jersey are crying foul over the proposal to limit the state and local deduction. "Any tax reform legislation must retain the state and local tax deductions. Hard working New Yorkers must not be taxed twice," GOP Rep. Peter King tweeted last week.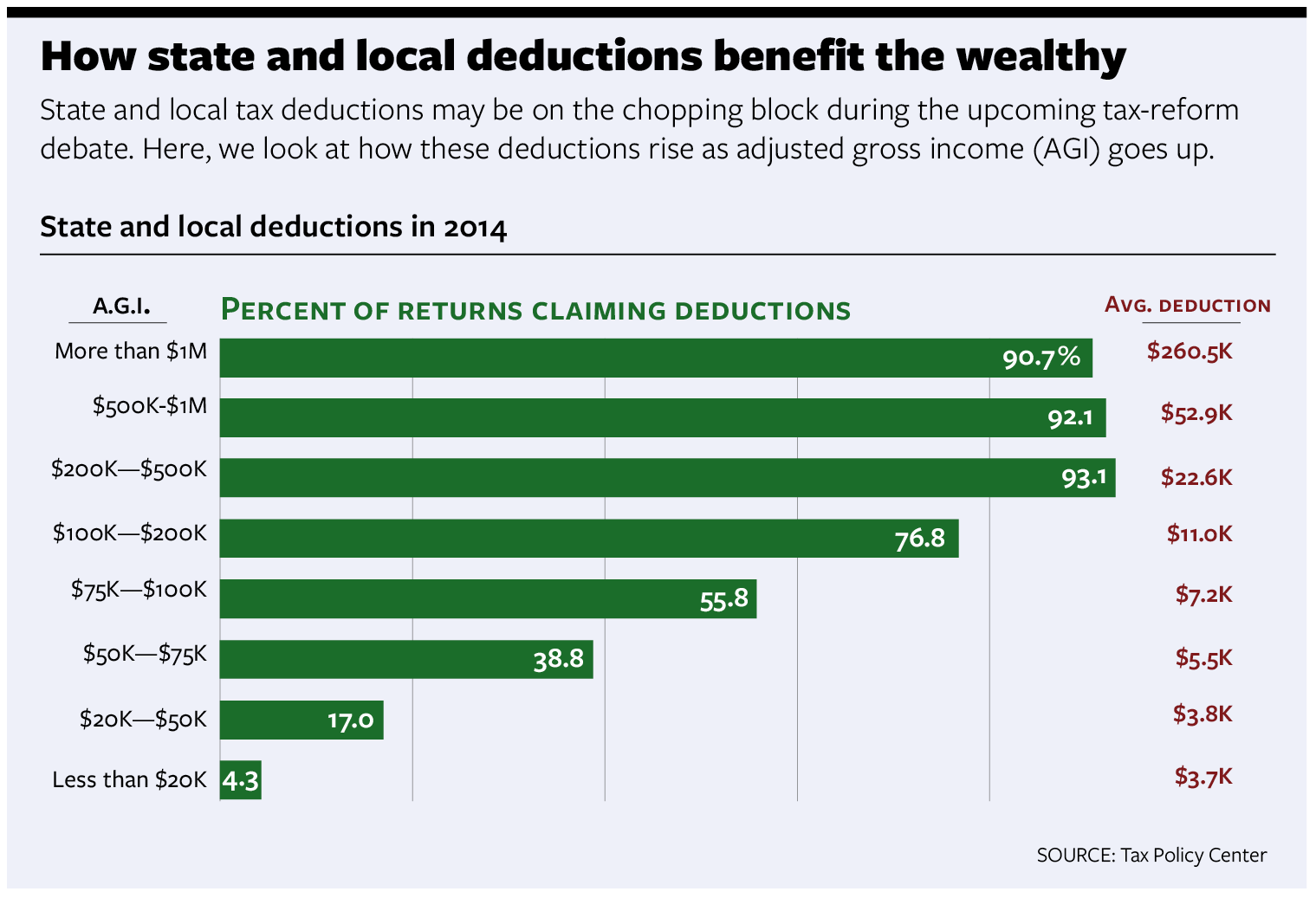 About 28 percent of all filers take the deduction, with taxpayers making more than $100,000 per year benefiting the most, according to the conservative-leaning Tax Foundation. Eliminating the tax break raises about $1 trillion over a decade.
To pass a tax bill in the House, the GOP can lose only about 22 Republicans if Democrats vote in a bloc against the measure. There are 36 Republican House members from the top 10 states who use the tax break, ranked on the percentage deducted from the adjusted gross income. Of those, four sit on the Ways and Means Committee: Reps. Devin Nunes, Erik Paulsen, Tom Reed, and Peter Roskam. Still, none of those members have so far said they would vote against the bill if it nixed the deduction. Reed has floated a compromise to turn some of the deduction into a tax credit.
Roskam, who is chairman of the Ways and Means Committee's tax-policy subcommittee, said last week that their plan is to craft a tax bill that every member can back when taken into the broader context.
A bipartisan coalition of lawmakers from high-tax states and outside groups helped sink the push to eliminate the state and local deduction as part of the tax-overhaul legislation of 1986. Today, they've banded together again. A group of state and local government organizations as well as public education groups have reformed Americans Against Double Taxation, which helped kill the proposal three decades ago.
Corker, whose home state has comparatively low taxes, backs eliminating the break if it helps pay for the broader bill, though he says it may be a challenge.
"And by the way, that's the low-hanging fruit," Corker told reporters.