Add to Briefcase
Dec. 29, 2014, midnight
Don't doubt the in­flu­ence of Matt Drudge. Ac­cord­ing to Quant­cast, the Drudge Re­port sees a steady stream of more than 2 mil­lion unique vis­it­ors daily. For pub­lish­ers, the dis­tri­bu­tion power of the Drudge Re­port — just like oth­er con­tent streams such as Face­book and Twit­ter — is hard to write off as trivi­al. Those 2 mil­lion daily vis­it­ors are sent around the Web via the news links that Drudge feels are most worthy of their at­ten­tion. Get a top link on the Drudge Re­port, and your site will have a steady stream of thou­sands of eye­balls.
So we wondered: What is Matt Drudge dir­ect­ing his massive fol­low­ing to read about? To mine the Drudge Re­port is to take a snap­shot of what's trend­ing in con­ser­vat­ive me­dia. Na­tion­al Journ­al's product man­ager and all-around techno-wiz­ard J. Argyl Plath wrote script to pull all the head­lines from DrudgeRe­por­tArchives.com for the year (for this list, it's Jan. 1, 2014, to Dec. 15) and then ranked the pop­ular­ity of the terms in those head­lines.
The res­ults pretty much trend with the biggest stor­ies of the year, al­though they do ap­pear weighted to­ward con­ser­vat­ive flash­points — im­mig­ra­tion, Obama­care, mil­it­ary is­sues. In the chart be­low, we com­pile the top terms of the year.
Some caveats: We had to fil­ter out pre­pos­i­tions and filler words; we also filtered out non­spe­cif­ic terms such as "video." We com­bined sim­il­ar terms such as "GOP" and "Re­pub­lic­ans." Also, be­cause the script sep­ar­ated out in­di­vidu­al words, we searched for first or last names that (most likely) refer to one per­son. Hil­lary, we can as­sume, is Hil­lary Clin­ton. Michelle is most likely the first lady (Bach­mann spells it with one "l"). And Rand is a rarer name than Paul.  
You can sort through the com­plete list of Drudge terms here. Po­ten­tial activ­it­ies in­clude cre­at­ing dec­or­at­ive Drudge word clouds and search­ing for coded mes­sages about the apo­ca­lypse. Drudge de­ployed a 20,830-word vocab­u­lary this year, so there's hours' worth of fun to be had.
Of the 2016 GOP pres­id­en­tial con­tenders, "Christie" got the most men­tions (al­though many of those con­cerned the Port Au­thor­ity scan­dal). "Rand" beats out "Cruz" by just a few men­tions, with "Perry" trail­ing not much fur­ther be­hind.
Drudge split his at­ten­tion some­what evenly between "Dems" and "Demo­crats" (325) and "GOP" and "Re­pub­lic­ans" (405). "Re­id" (79) has more men­tions than "Mc­Con­nell" (17).
Our ana­lys­is also re­vealed the top sites Drudge pulls from. They are the fol­low­ing.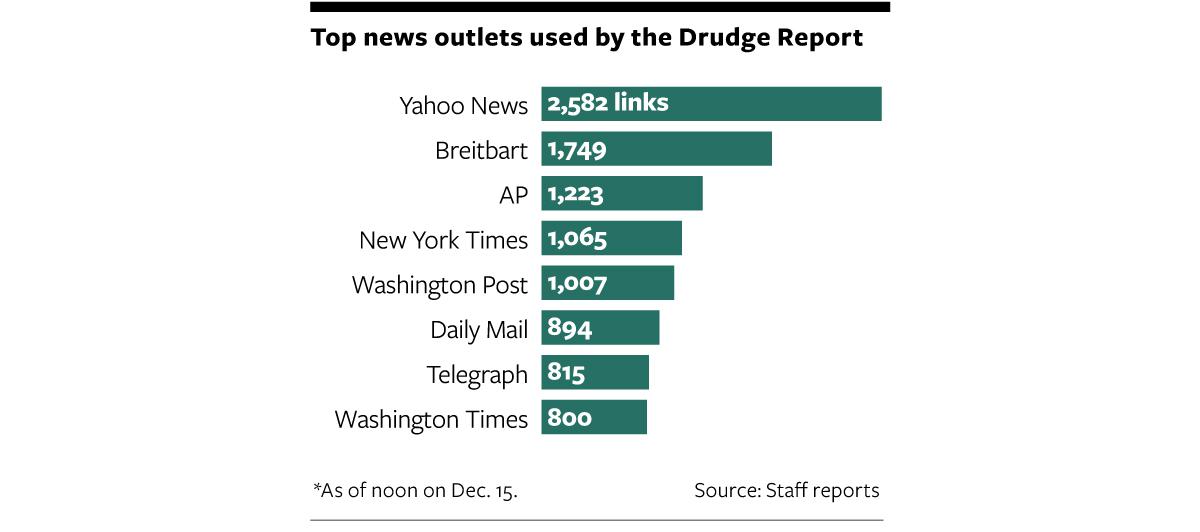 The power of the Drudge Re­port is not just dis­tri­bu­tion. Drudge can in­flu­ence how his read­ers think about the news. Head­lines on the Drudge Re­port are of­ten dif­fer­ent than the head­lines on the ac­tu­al story. So, "Sony Can­cels The­at­ric­al Re­lease for 'The In­ter­view' on Christ­mas" on the Hol­ly­wood Re­port­er be­comes "SUR­RENDER: SONY PULLS 'IN­TER­VIEW.' "
The dif­fer­ence isn't trivi­al. The first is a state­ment, the second is an ac­cus­a­tion. A re­cent study found that a skewed head­line di­min­ishes read­ers' abil­ity to re­mem­ber de­tails in the story. The first im­pres­sions a story makes mat­ters. And when Drudge owns the first im­pres­sions, in some way, he owns the news.