Polit­ic­al donor classes are like the cliques that make up the dif­fer­ent tables in a high school lun­ch­room. You've got your run-of-the-mill pop­u­lar kids. You've got your hip­pie tree-hug­gers. You've got your ec­cent­rics. And you've got your com­puter nerds.
So Na­tion­al Journ­al crunched the num­bers and came up with a list of some of the most in­flu­en­tial polit­ic­al donors in tech this cycle. It's hard to define the top mem­bers of any donor class, be­cause there are so many ways to fun­nel money in­to polit­ics without fil­ing the dona­tions un­der your own name.
That said, this list is a good jump­ing-off point if you want a rough pic­ture of the tech donor class, circa 2014. Some names may be very fa­mil­i­ar to you; oth­ers less so. Face­book founder Mark Zuck­er­berg didn't even make the cut, hav­ing donated a paltry $38,600 of his own funds to polit­ic­al causes in the 2014 cycle.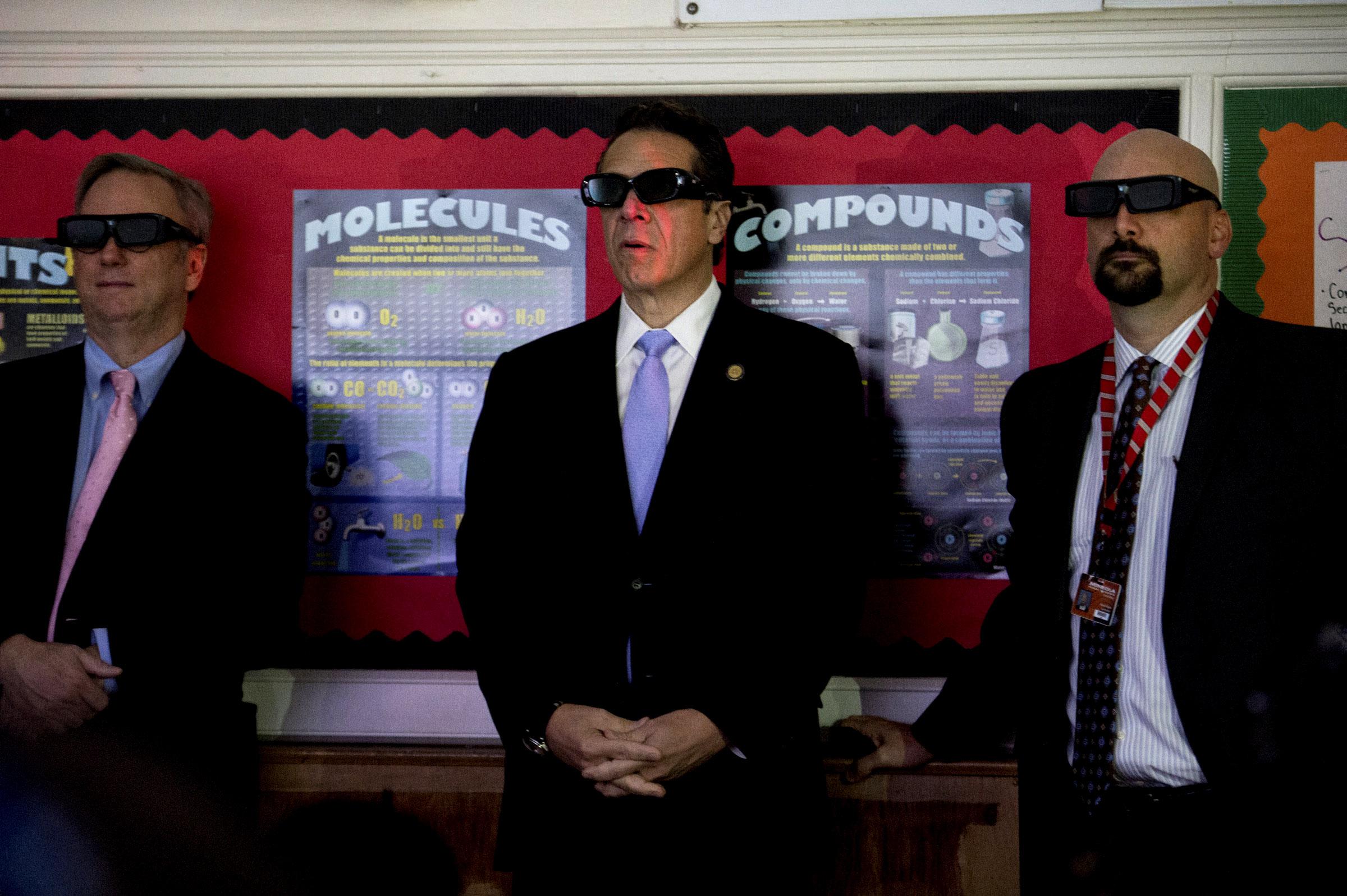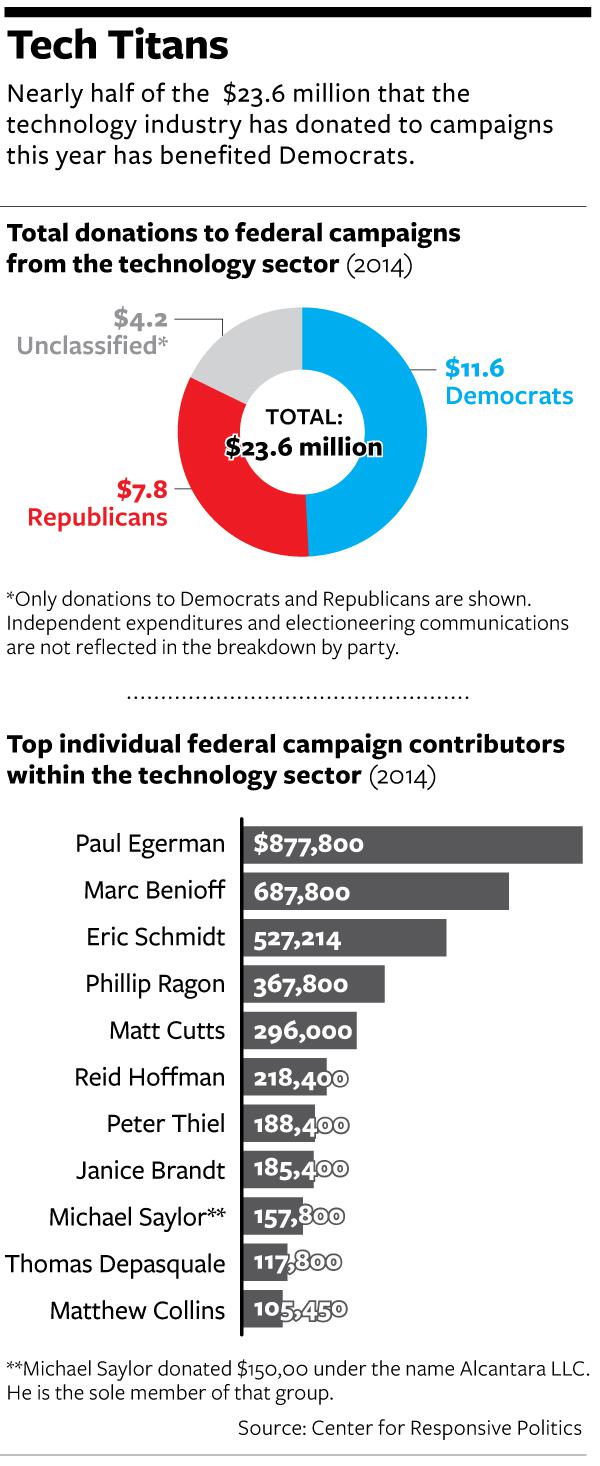 Over­all, the list shows that the tech donor class re­mains largely Demo­crat­ic. Nearly half of the $23.6 mil­lion donated by the tech in­dustry dur­ing the midterms has be­nefited Demo­crats. It's dif­fi­cult to say ex­actly how par­tis­an the in­dustry is, however, since $4.2 mil­lion is not clas­si­fied by party.
Paul Eger­man, a re­tired soft­ware en­tre­pren­eur, topped the list, hav­ing donated $877,800 to polit­ic­al can­did­ates and groups in 2014, ac­cord­ing to data from the Cen­ter for Re­spons­ive Polit­ics. Eger­man made his for­tune dur­ing the dot-com bubble after found­ing eS­crip­tion, a di­git­al med­ic­al tran­scrip­tion com­pany, and IDX Sys­tems, a health care tech­no­logy start-up. Gen­er­al Elec­tric ac­quired IDX in 2005 for roughly $1.2 bil­lion.
Eger­man for­ayed in­to polit­ics in 2012, when he led Sen. Eliza­beth War­ren's fin­ance com­mit­tee dur­ing her cam­paign against Re­pub­lic­an Scott Brown. Eger­man's (un­veri­fied) Twit­ter pro­file simply reads, "En­thu­si­ast­ic sup­port­er of Sen­at­or Eliza­beth War­ren." Eger­man is a mil­lion­aire in the school of War­ren Buf­fett — he thinks people like him­self should pay high­er taxes. It costs a lot of money to fight money in polit­ics.
When look­ing at the dona­tions made by tech bil­lion­aires, two trends emerge. The first: dona­tions to su­per PACs that are fight­ing to re­form the cam­paign fin­ance sys­tem. The second: dona­tions to a group called Vir­gin­ia Pro­gress PAC, which is sup­port­ing Demo­crat­ic Sen. Mark Warner's reelec­tion bid. The group has spent at least has spent $1.4 mil­lion in TV ads against Ed Gillespie, Warner's Re­pub­lic­an op­pon­ent.
Warner, who will likely win, has been a big be­ne­fi­ciary of polit­ic­ally act­ive tech en­tre­pren­eurs. Vir­gin­ia Pro­gress PAC, which is sup­port­ing Warner, has reaped a total of $450,000 from four tech ti­tans alone — Saylor, Schmidt, Brandt, and De­Pasquale.
When you're run­ning for of­fice, it helps to have friends in low places — a val­ley, if you will. But in polit­ics, as in start-ups, in­vest­ments can be big gambles that amount to noth­ing. It helps if you have a lot of money to throw around and not miss too much if it goes to waste.
An an­not­ated list of the donors:
Marc Benioff: CEO of Sales­force.com, which For­bes calls a "cloud com­put­ing king." His net worth is es­tim­ated at $3.3 bil­lion. He's not just gen­er­ous with polit­ic­al causes, though. "The self-made bil­lion­aire and his wife, Lynne, have donated $250 mil­lion to loc­al chil­dren's hos­pit­als and $4 mil­lion to ad­dress home­less­ness since 2010," For­bes re­ports. Curi­ously, Benioff donated $15,000 to the Demo­crat­ic Con­gres­sion­al Cam­paign Com­mit­tee this cycle, along with $25,900 to the Na­tion­al Re­pub­lic­an Con­gres­sion­al Com­mit­tee. He also donated $32,400 to the Demo­crat­ic Sen­at­ori­al Cam­paign Com­mit­tee this cycle.
Eric Schmidt: He is the chief ex­ec­ut­ive of Google — do you really need to know more? The $527,214 he donated to polit­ic­al causes in 2014 set him back all of 0.006 per­cent of his es­tim­ated net worth. He donated $250,000 alone to the Demo­crat­ic Sen­ate Ma­jor­ity PAC. His dir­ect dona­tions to can­did­ates run the gamut — from Demo­crat­ic Rep. Zoe Lof­gren and New Jer­sey Sen. Cory Book­er, to Re­pub­lic­an House Ma­jor­ity Lead­er Kev­in Mc­Carthy and Sen­ate Ma­jor­ity Lead­er Mitch Mc­Con­nell.
Phil­lip Ragon: Ragon foun­ded In­ter­Sys­tems in 1978 "and built it in­to a $463 mil­lion com­pany, selling data­bases and oth­er soft­ware tools," For­bes re­ports. Among In­ter­Sys­tems' cli­ents are GE, Siemens, and Epic Sys­tems, a suc­cess­ful health care soft­ware firm. Dur­ing this cycle, he shelled out $32,400 to the DCCC and a com­bined $64,800 to the DSCC.
Matt Cutts: Cutts is head of the "web­spam team" at Google. He's donated $295,000 this cycle to Friends of Demo­cracy, a su­per PAC that pro­motes cam­paign fin­ance re­form and cit­izen-fun­ded elec­tions.
Re­id Hoff­man: Hoff­man, the CEO of Linked­In, donated $150,000 to May­day PAC — a su­per PAC foun­ded by a Har­vard law pro­fess­or Lawrence Lessig that is iron­ic­ally work­ing to get money out of polit­ics. He also donated $32,400 to the Demo­crat­ic Na­tion­al Com­mit­tee's PAC.
Peter Thiel: Thiel, who cofoun­ded PayP­al, is a standout among his tech-bil­lion­aire peers in that he is the only sol­id Re­pub­lic­an donor on the list. He's an ar­dent sup­port­er of Ron Paul and his son, Sen. Rand Paul, and re­cently ap­peared on Glenn Beck's TV show to talk about the gold stand­ard. In 2012, he donated $2 mil­lion to the con­ser­vat­ive Club for Growth Ac­tion fund. This cycle, he in­jec­ted his tech-for­ward polit­ics in­to his dona­tions, giv­ing to tech-friendly can­did­ates like Justin Amash, Ro Khanna, and Sean Eldridge — who is mar­ried to Face­book cofounder Chris Hughes. Watch for him to be­come a big­ger polit­ic­al play­er among Re­pub­lic­ans come 2016. Along with Hoff­man, Thiel donated $150,000 to May­day PAC.
Janice Brandt: Brandt — the only wo­man to make this list — is a "dir­ect mar­ket­ing wiz­ard" who was hired as vice pres­id­ent for mar­ket­ing at AOL dur­ing the early days of the dot-com boom. Today, she's vice chair emer­it­us of Amer­ica On­line/Time Warner. She has been polit­ic­ally act­ive since the 1990s, and a long­time sup­port­er of EMILY's List. She donated the max­im­um $64,800 to the DCCC, as well as $100,000 to the Vir­gin­ia Pro­gress PAC. If Hil­lary Clin­ton runs for pres­id­ent in 2016, Brandt will likely be an en­thu­si­ast­ic donor.
Mi­chael J. Saylor: Saylor is the cofounder and CEO of Mi­croStrategy, a busi­ness in­tel­li­gence firm. Though he hasn't donated much money un­der his own name, Saylor has donated quite a bit through the Al­can­tara — a lim­ited li­ab­il­ity cor­por­a­tion "wholly owned" by Saylor. Through Al­can­tara, Saylor donated $150,000 to Vir­gin­ia Pro­gress PAC. The Rich­mond Times-Dis­patch re­ports that Saylor is per­son­al friends with Warner.
Thomas De­Pasquale: De­Pasquale is ex­ec­ut­ive vice pres­id­ent of Out­task, a soft­ware de­vel­op­ment com­pany. He has donated $100,000 to Vir­gin­ia Pro­gress PAC this cycle, along with $10,000 to the DSCC.
Mat­thew Collins: Collins is an ex­ec­ut­ive at 1 Source Con­sult­ing, which touts "syn­ergy between busi­ness and tech­no­logy." Aside from the buzzwords, Collins's group provides tech sup­port for fed­er­al en­tit­ies in­clud­ing the Home­land Se­cur­ity, Com­merce, Justice, Edu­ca­tion, Health and Hu­man Ser­vices, and Trans­port­a­tion de­part­ments. In April, Collins donated $100,000 to the Demo­crat­ic Sen­ate Ma­jor­ity PAC.
Of all the donors, Eger­man per­fectly en­cap­su­lated the mixed feel­ings that some Sil­ic­on Val­ley polit­ic­al donors feel to­ward the sys­tem they're con­trib­ut­ing to. On his (again, un­veri­fied) Twit­ter ac­count on Tues­day, Eger­man linked to a satir­ic­al New York­er story. Its head­line: "Midterms Pre­dic­tion: Bil­lion­aires to Re­tain Con­trol of Gov­ern­ment."