Al­though it may some­times seem ubi­quit­ous, the fed­er­al work-study pro­gram ac­tu­ally doesn't reach many col­lege stu­dents. And the money, which sub­sid­izes part-time jobs, of­ten flows to in­sti­tu­tions that primar­ily edu­cate wealthy and middle-class pop­u­la­tions. That's a prob­lem, be­cause a re­cent study finds that work-study aid can be in­stru­ment­al in help­ing help low-in­come stu­dents gradu­ate.
Re­search­ers at Teach­ers Col­lege, Columbia Uni­versity ana­lyzed fed­er­al sur­vey data, and found that stu­dents were more likely to com­plete bach­el­or's de­grees in six years when they re­ceived work-study aid. The ef­fect was great­er for low-in­come stu­dents and stu­dents with low SAT scores.
Work-study jobs don't pay much — on av­er­age, $1,670 per year — but they're de­signed to be con­veni­ent for stu­dents. They're usu­ally on cam­pus or close by, and of­fer flex­ible hours. "For a lot of stu­dents at big pub­lic in­sti­tu­tions or com­munity col­leges that are get­ting very little of this money, they are work­ing a lot any­way, and they're work­ing at jobs that are not that com­ple­ment­ary with their school­work," says Ju­dith Scott-Clayton, the Columbia study's lead au­thor.
Work-study aid cur­rently reaches about 704,000 un­der­gradu­ate and gradu­ate stu­dents a year. Stu­dents' wages come both from the gov­ern­ment and from the col­lege they at­tend (or an­oth­er eli­gible em­ploy­er). The amount of money a col­lege gets de­pends on the amount of money it re­ceived the year be­fore and wheth­er its stu­dent body can af­ford its tu­ition.
The fund­ing for­mula, which has been in place for dec­ades, leads to some odd out­comes. Many of the in­sti­tu­tions that get lots of fund­ing are elite private uni­versit­ies or se­lect­ive pub­lic flag­ships. At 11 of the 20 in­sti­tu­tions that re­ceived the most fed­er­al money in 2012-2013, less than 25 per­cent of un­der­gradu­ates re­ceived need-based fed­er­al Pell Grants.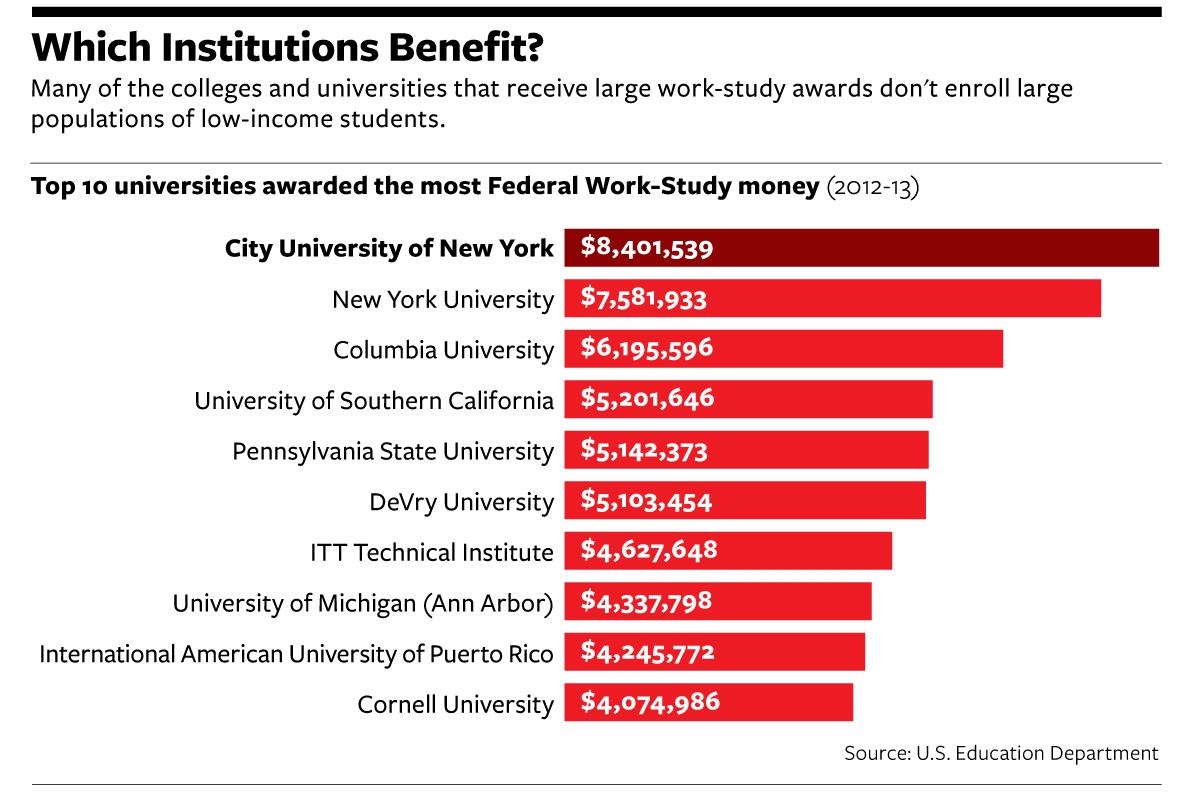 Thirty-eight per­cent of un­der­gradu­ates who are de­pend­ent on their par­ents and get work-study money hail from middle-class fam­il­ies. Middle-class fam­il­ies need help pay­ing for col­lege, too, es­pe­cially at ex­pens­ive in­sti­tu­tions like Columbia. But if the pro­gram served more low-in­come stu­dents, who may ex­per­i­ence a great­er aca­dem­ic be­ne­fit from it, the money would ar­gu­ably be dis­trib­uted more ef­fi­ciently.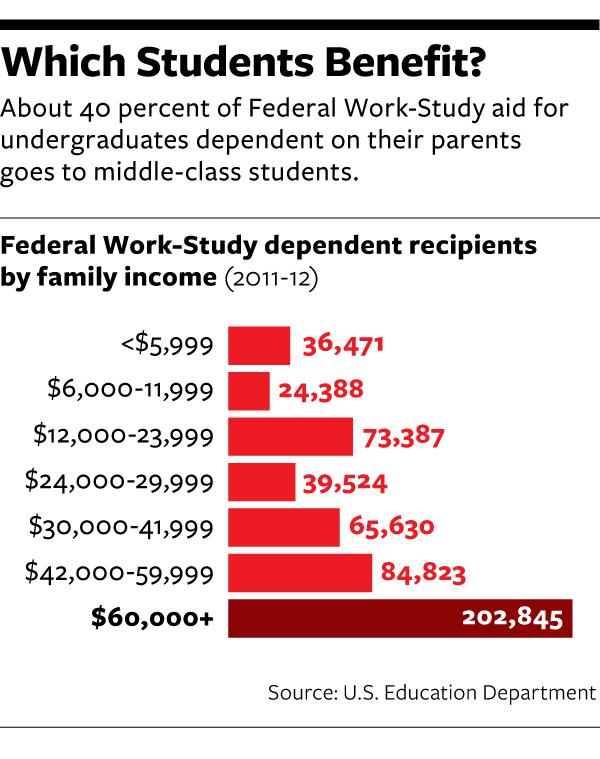 It's also worth not­ing that three of the 20 in­sti­tu­tions that re­ceived the most fund­ing in 2012-13 were run by pub­lic­ally traded com­pan­ies: DeVry, ITT Tech­nic­al In­sti­tute, and Ar­gosy. While for-profit in­sti­tu­tions like these serve large num­bers of low-in­come stu­dents, they of­ten don't serve them well. The Con­sumer Fin­an­cial Pro­tec­tion Bur­eau is cur­rently su­ing ITT Tech­nic­al In­sti­tute for pred­at­ory lend­ing prac­tices.
Young In­vin­cibles, a non­profit, re­cently pro­posed some tweaks to the pro­gram's fund­ing for­mula, in­clud­ing align­ing work-study money with the share of Pell-eli­gible stu­dents an in­sti­tu­tion en­rolls and gradu­ates, and mak­ing work-study jobs more like in­tern­ships. If that kind of re­form was in place, the re­port au­thors said in a state­ment an­noun­cing the re­port, every dol­lar spent on the pro­gram would count.