A month ago, the Na­tion­al In­sti­tutes of Health was the single largest source of re­search fund­ing for amyotroph­ic lat­er­al scler­osis, or ALS, in the world.
Now, it's a bunch of people dump­ing buck­ets full of ice wa­ter over their heads.
The ALS As­so­ci­ation said Fri­day it has re­ceived more than $100 mil­lion in dona­tions from people around the world in the last 30 days thanks to the ul­tra-vir­al Ice Buck­et Chal­lenge. The or­gan­iz­a­tion re­ceived $2.8 mil­lion dur­ing the same peri­od last year. That's a whop­ping 3,500 per­cent in­crease.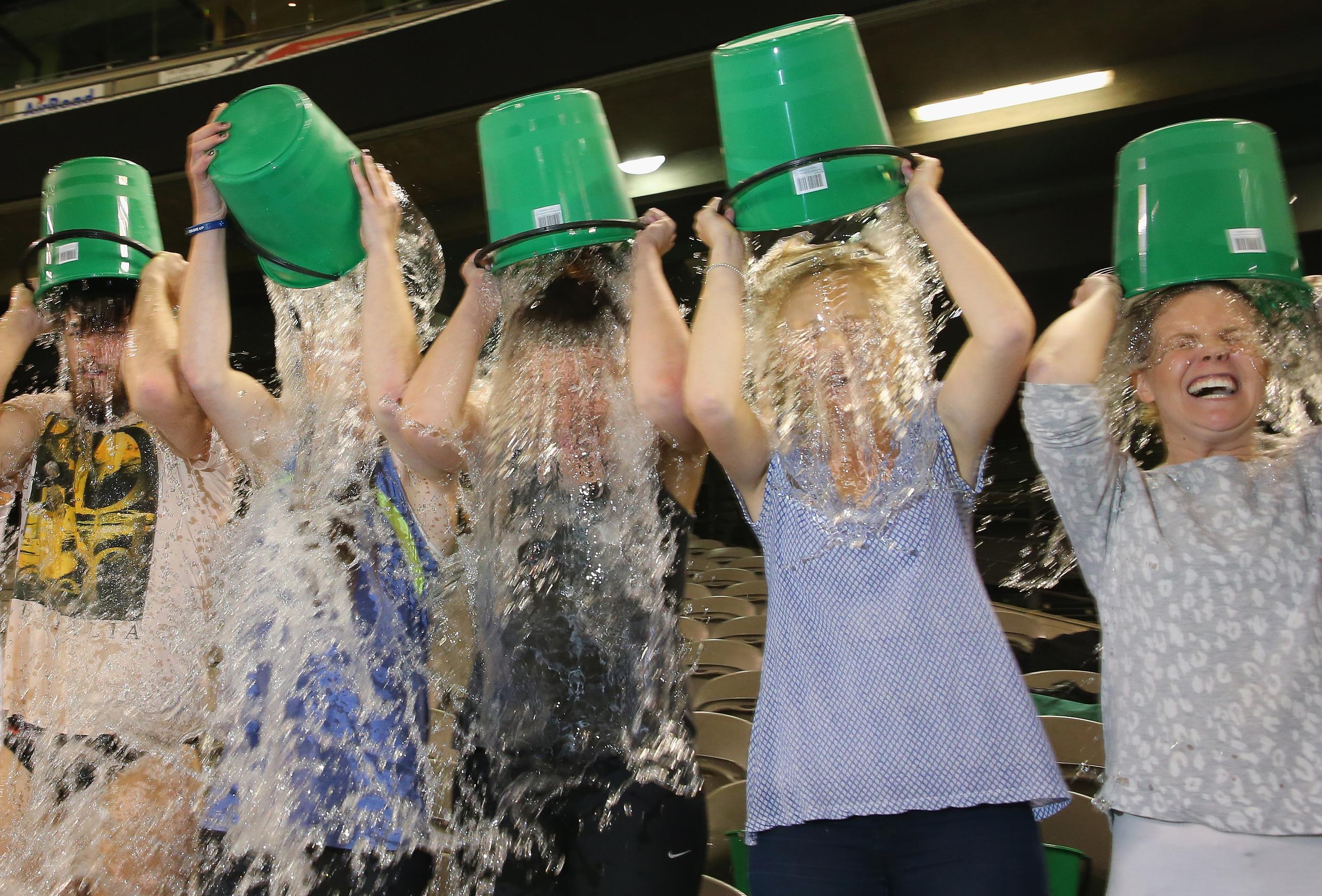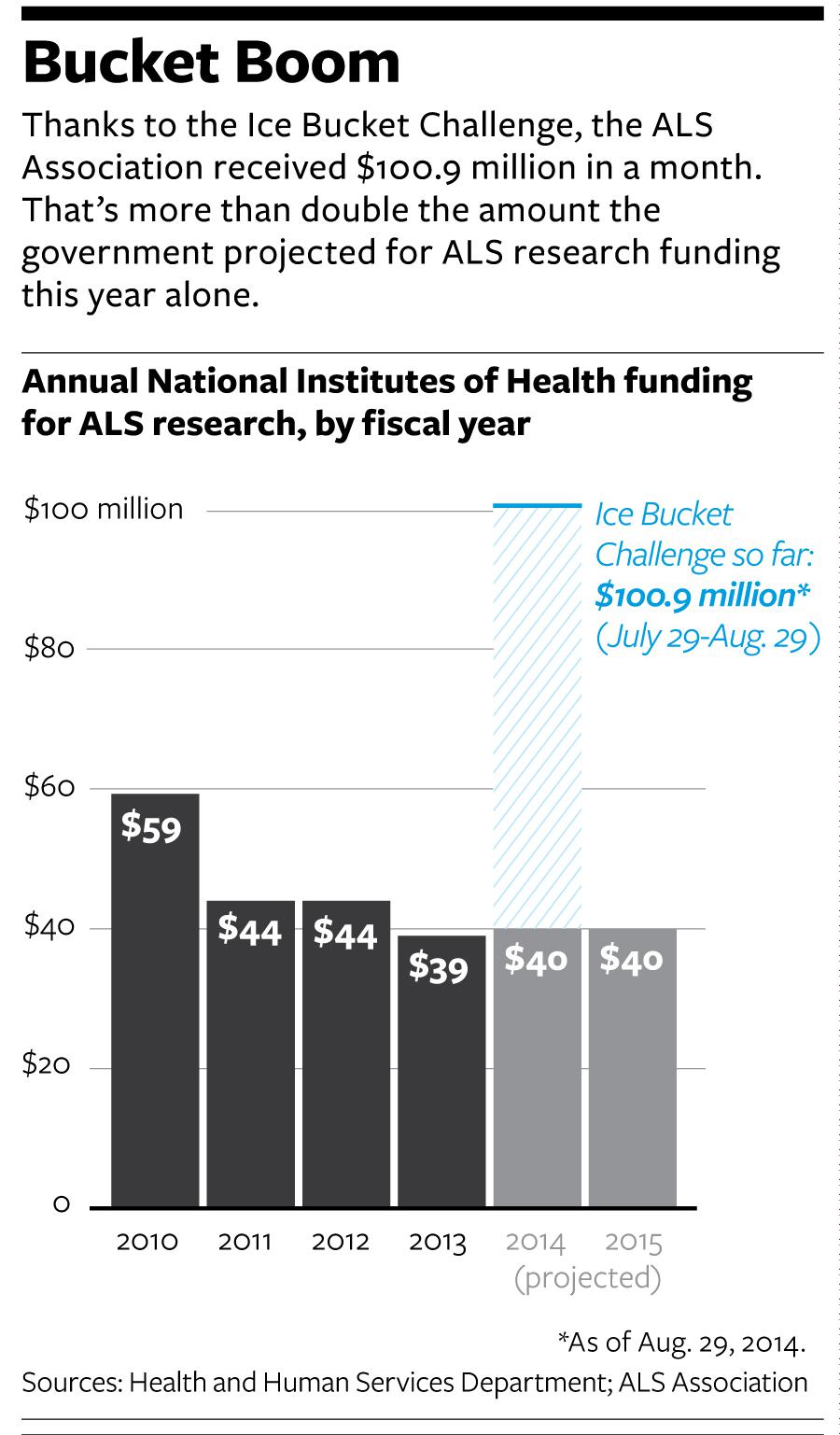 The sum­mer's dona­tions have ec­lipsed the amount of fund­ing the NIH, a fed­er­al fa­cil­ity, re­ceives each year for re­search for ALS, a pro­gress­ive neuro­de­gen­er­at­ive dis­ease. The $100 mil­lion is more than double the amount the NIH re­ceived for re­search in 2013 ($39 mil­lion), and the amount it is pro­jec­ted to re­ceive in fisc­al year 2014, which ends next month ($40 mil­lion).
An­nu­al fed­er­al fund­ing for ALS has de­creased stead­ily in the last few years, from $59 mil­lion in 2010 to $40 mil­lion today. The de­cline is thanks to the Budget Con­trol Act of 2011, which was passed to pro­tect the U.S. from de­fault. The le­gis­la­tion de­livered across-the-board budget cuts of about 5 per­cent in vari­ous fed­er­al agen­cies, in­clud­ing the NIH and its Na­tion­al In­sti­tute of Neur­o­lo­gic­al Dis­orders and Stroke pro­gram.
More than a dozen law­makers from both parties have re­ceived cri­ti­cism for vot­ing for the 2011 law and par­ti­cip­at­ing in the Ice Buck­et Chal­lenge this sum­mer. But the seem­ingly con­tra­dict­ory de­cisions don't ex­actly make them hy­po­crites, ex­plains The Huff­ing­ton Post's Sam Stein:
Many of them re­luct­antly cast that vote, and oth­ers are fine with fund­ing ALS re­search so long as the fund­ing comes from private sources and not fed­er­al taxes. But the con­tra­dic­tion does ex­pose the curi­ous ways in which gov­ern­ment of­fi­cials of­ten end up deal­ing with prob­lems they cre­ated.
Thanks to the Ice Buck­et Chal­lenge, private sources, like yet an­oth­er one of your Face­book friends, are pick­ing up the tab where the gov­ern­ment can't.
There is no cure for ALS, and there is only one drug for the dis­ease ap­proved by the U.S. Food and Drug Ad­min­is­tra­tion. The ALS As­so­ci­ation said Fri­day that the group will put dona­tions from the Ice Buck­et Chal­lenge to­ward re­search and pa­tient care. "We re­cog­nize a pro­found sense of ur­gency and are en­gaged in dis­cus­sions about how we're go­ing to put this money to work in the short term and in­to the fu­ture," ALS As­so­ci­ation Pres­id­ent Bar­bara Ne­w­house said in a state­ment.
About 5,600 people are dia­gnosed with ALS in the United States each year. Most die with­in two to five years.