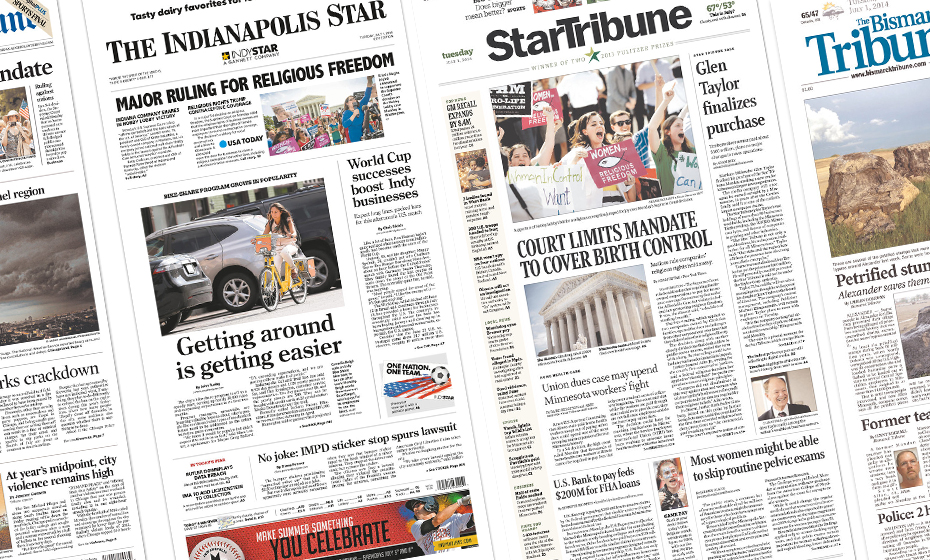 How loc­al news­pa­pers handle ma­jor na­tion­al stor­ies can tell a lot about the area they rep­res­ent. That was es­pe­cially true in the af­ter­math of Monday's Su­preme Court rul­ing to lim­it the Af­ford­able Care Act's con­tra­cep­tion man­date.
Front pages from across the coun­try either pro­claimed "A Ma­jor Vic­tory for Re­li­gious Rights" or "Court Lim­its Birth Con­trol Rule." The sub­tleties in the head­lines speak to the polit­ic­al lean­ings across the coun­try and how dif­fer­ent people in­ter­pret the Court's de­cision.
See the dif­fer­ences between 12 front pages from across the United States:
Wall Street Journ­al vs. New York Times
In­di­ana's Journ­al & Cour­i­er vs. San Fran­cisco Chron­icle
Chica­go Tribune vs. The Bis­mar­ck Tribune
In­di­ana­pol­is Star vs. Min­neapol­is Star-Tribune
The Des Moines Re­gister vs. The An­nis­ton Star
The Ok­laho­man vs. St. Louis Post-Dis­patch
Wall Street Journal vs. New York Times
The more con­ser­vat­ive Journ­al writes "Grants," while the left-lean­ing Times says, "Lim­its."
Indiana's Journal & Courier vs. San Francisco Chronicle
Dis­played prom­in­ently in an In­di­ana news­pa­per, while nearly ig­nored in the San Fran­cisco pa­per.
Chicago Tribune vs. The Bismarck Tribune
The Chica­go pa­per fo­cused on con­tra­cep­tion, while the North Dakota pa­per fo­cused on "re­li­gious rights."
Indianapolis Star vs. Minneapolis Star-Tribune
Again, "re­li­gious free­dom" versus "birth con­trol."
The Des Moines Register vs. The Anniston Star
Some news­pa­pers make a point to fo­cus on loc­al is­sues. The lead head­line in The Des Moines Re­gister is about the up­com­ing Iowa Caucuses, while the Alabama pa­per fo­cuses on South­ern Baptists.
The Oklahoman vs. St. Louis Post-Dispatch
Some head­lines her­al­ded Hobby Lobby's vic­tory, while oth­ers stuck to the Su­preme Court's ac­tions.
The read­er­ship for a news­pa­per in San Fran­cisco is a lot dif­fer­ent than the read­er­ship in Ok­lahoma City. It makes sense that the head­lines would re­flect that dif­fer­ence.