A man on Mis­souri's death row is ask­ing the state to al­low his ex­e­cu­tion sched­uled for next week to be video­taped, on grounds that his rare med­ic­al con­di­tion could cause him to suf­fer ex­cess­ive pain dur­ing his death.
Rus­sell Bucklew's at­tor­neys filed a mo­tion Fri­day in a Mis­souri Dis­trict Court re­quest­ing that a video­graph­er be present dur­ing the ex­e­cu­tion in or­der to "pre­serve vi­tal evid­ence of the events oc­cur­ring dur­ing his ex­e­cu­tion."
The pe­ti­tion comes in the wake of Ok­lahoma's botched ex­e­cu­tion of Clayton Lock­ett, and runs par­al­lel to chal­lenges that death-pen­alty op­pon­ents are mount­ing in both states over the secrecy shroud­ing the pro­duc­tion and ac­quis­i­tion of their leth­al-in­jec­tion drugs.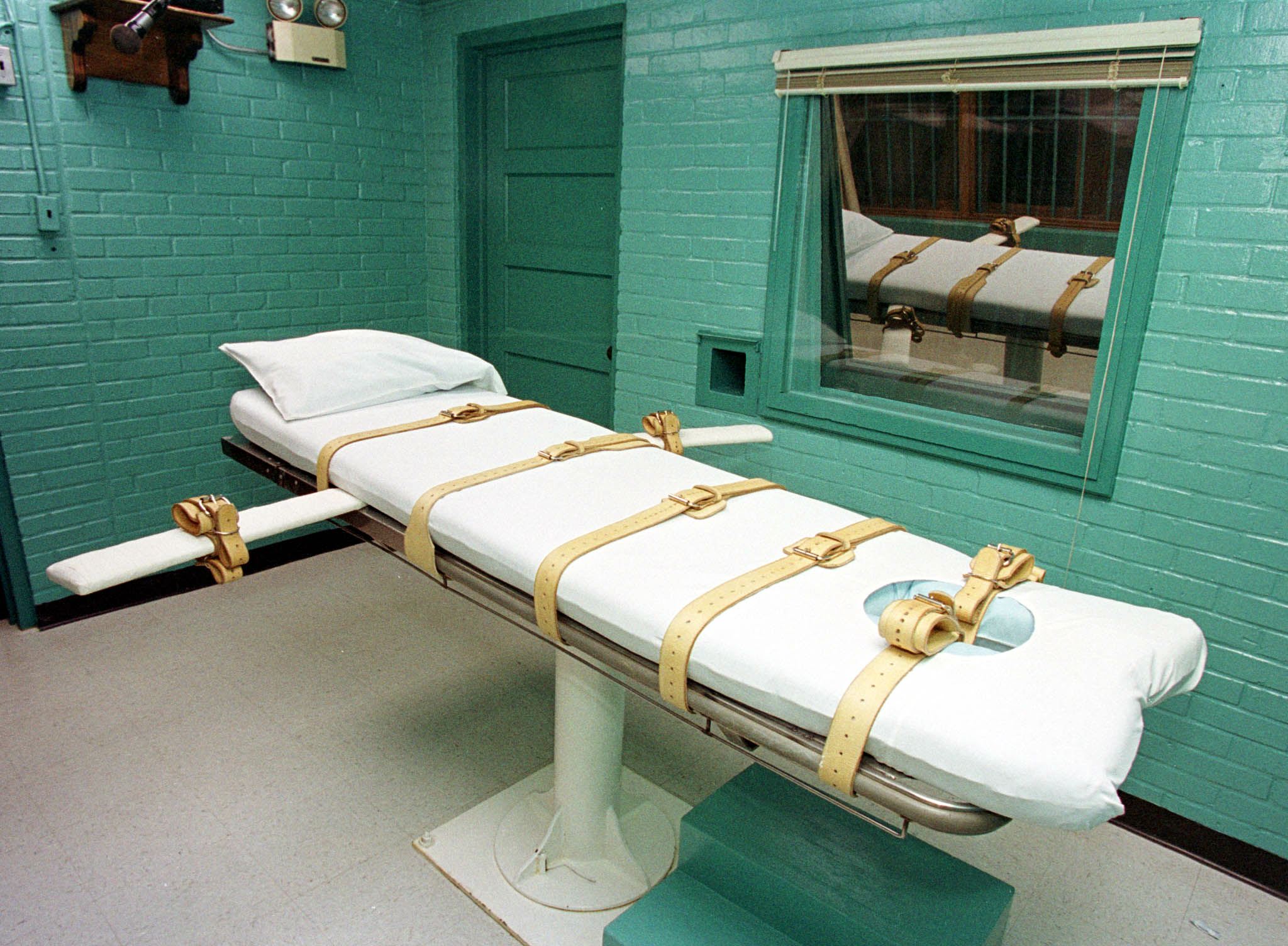 "If Mis­souri of­fi­cials are con­fid­ent enough to ex­ecute Rus­sell Bucklew, they should be con­fid­ent enough to video­tape it," said Cheryl A. Pi­l­ate, one of Bucklew's at­tor­neys, in a state­ment. "It is time to raise the cur­tain on leth­al in­jec­tions."
Bucklew, 45, is sched­uled to be put to death on Wed­nes­day for the 1996 murder of Mi­chael Sanders. His law­yers have ar­gued that a con­gen­it­al con­di­tion known as "cav­ernous hem­an­gioma," which causes vas­cu­lar tu­mors in the head and neck, could pre­vent the leth­al in­jec­tion from work­ing as in­ten­ded.
If the re­quest is gran­ted, Bucklew's ex­e­cu­tion would be the first to be video­taped in U.S. his­tory.
"It is clear that a tape of the ex­e­cu­tion is rel­ev­ant to fu­ture lit­ig­a­tion," the mo­tion reads. "Among many oth­er pur­poses, it may al­low this court, or any oth­er court, to bet­ter ex­am­ine wheth­er Mis­souri's leth­al-in­jec­tion pro­ced­ures are 'sure or very likely to cause ser­i­ous ill­ness and need­less suf­fer­ing' in vi­ol­a­tion of the Eighth Amend­ment to the United States Con­sti­tu­tion."
The pe­ti­tion rep­res­ents just the latest in a long list of leg­al chal­lenge to Mis­souri's secrecy laws, which since Oc­to­ber of last year have al­lowed the state to re­fuse dis­clos­ure of the source of its ex­e­cu­tion drugs. Earli­er this week, The Guard­i­an, the As­so­ci­ated Press and three Mis­souri news­pa­pers jointly sued the state's de­part­ment of cor­rec­tions in an at­tempt to force it to re­veal where it has ac­quired the drugs used to kill death-row in­mates.
Like Ok­lahoma and Texas, Mis­souri has turned to com­pound­ing phar­ma­cies — where medi­cin­al products are chem­ic­ally craf­ted to fit an in­di­vidu­al per­son's needs — to pro­duce leth­al cock­tails. Those stores, however, are not sub­ject to strict over­sight by the Food and Drug Ad­min­is­tra­tion, and have been hes­it­ant to be pub­licly as­so­ci­ated with ex­e­cu­tions.
In re­sponse, sev­er­al states, in­clud­ing Mis­souri, have passed secrecy laws al­low­ing com­pound­ing phar­ma­cies to re­main an­onym­ous, even to the at­tor­neys rep­res­ent­ing in­mates on death row.
"We don't know where the drugs are com­ing from," Pi­l­ate, the Mis­souri at­tor­ney, told Na­tion­al Journ­al last month. "They could be com­ing from a veter­in­ari­an, some dark corner of the In­ter­net, or someone work­ing in their base­ment."
Bucklew's ex­e­cu­tion will be the first car­ried out in the U.S. since Ok­lahoma's botched at­tempt on Clayton Lock­ett on April 29.