A not-so-shock­ing fact of law­mak­ing is that you are ex­pec­ted to make laws. So, which law­maker can boast that he or she has been be­hind the pas­sage of more laws in Con­gress than any col­leagues?
Out of the cur­rent class of sen­at­ors, the hon­or of Most Laws Passed goes to Sen. Or­rin Hatch, ac­cord­ing to data from the Lib­rary of Con­gress. Hatch has sponsored or co­sponsored 742 bills that even­tu­ally be­came law. For com­par­is­on's sake, the me­di­an sen­at­or, Dav­id Vit­ter, has seen 78 of the bills he sponsored or co­sponsored en­acted.
Hatch has served in the Sen­ate for 37 years. He's sup­por­ted bills as di­verse as a res­ol­u­tion to posthum­ously re­store cit­izen­ship rights to Jef­fer­son Dav­is (en­acted by Jimmy Carter in 1978), to the Song­writer Equity Act, which would al­low song­writers to be paid the "fair mar­ket value" of their work (Hatch him­self has dabbled in song­writ­ing).
"I've al­ways found that to be a suc­cess­ful le­gis­lat­or you need to fight for what you be­lieve in and nev­er give up try­ing to do the right thing," Hatch said in a state­ment to Na­tion­al Journ­al. "I look for­ward to con­tinu­ing to work with my col­leagues to sup­port le­gis­la­tion that is in the best in­terest of Utah and our coun­try."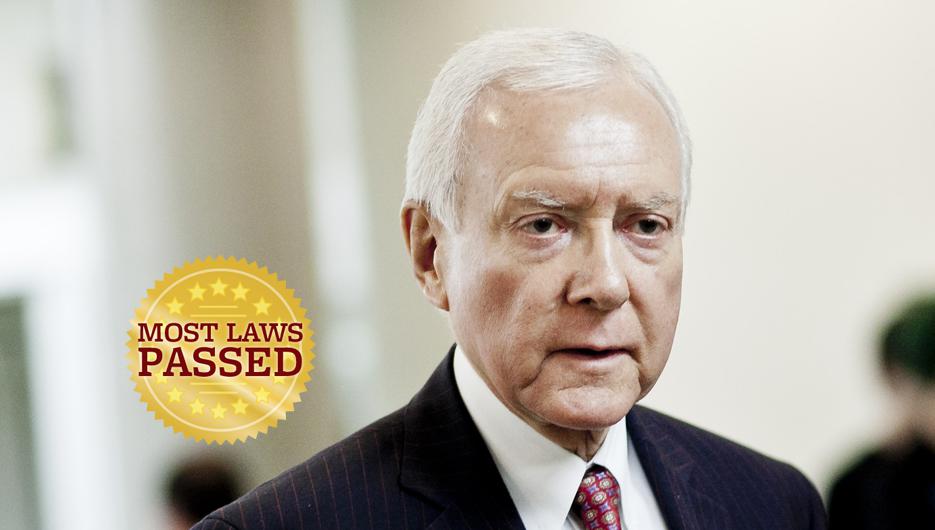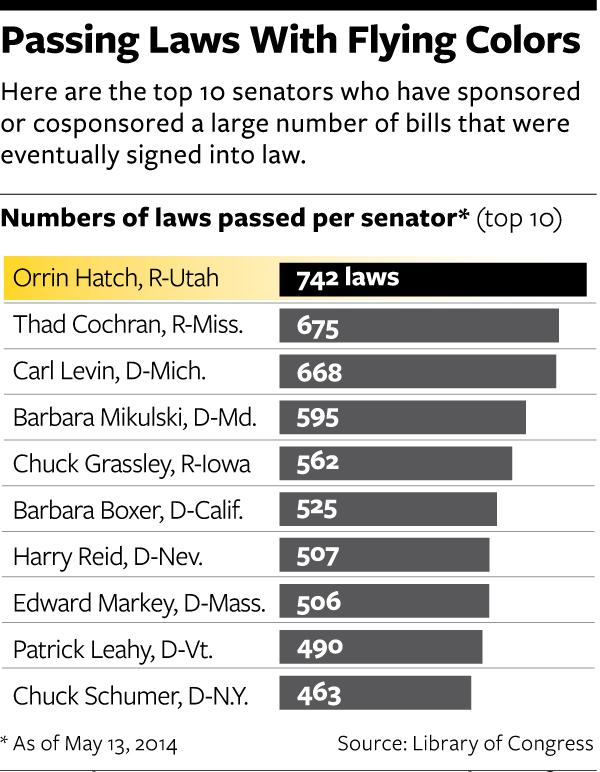 On the oth­er end of the spec­trum, four sen­at­ors — Ted Cruz, Heidi Heitkamp, Tim Kaine, and An­gus King — have each seen only one bill they've sponsored or co­sponsored be­come law. Of course, the unit­ing factor is that they've all been in of­fice for less than two years and, as with most of these met­rics, it's skewed against rook­ie sen­at­ors be­cause they've had less time and don't have the seni­or­ity to see their bills be­come law.
This met­ric also be­ne­fits young­er Demo­crats — who served when their party had a ma­jor­ity in both houses and the White House — and vet­er­an Re­pub­lic­ans, who had an ad­vant­age dur­ing the George W. Bush years. Put simply, it's a lot easi­er to get bills passed when the tracks are greased.
Longev­ity also plays a large factor. Each of the top 10 law­makers has served in Con­gress for more than 30 years — since 1983 or earli­er. Sen. Thad Co­chran (who ranks in second on our Top 10 list) has served in Con­gress since 1973 — five years in the House of Rep­res­ent­at­ives and 35 years in the Sen­ate. On the re­verse, Sen. Ed­ward Mar­key joined the Sen­ate in 2013, but served 37 years in the House be­fore then.
Work­ing on a pres­ti­gi­ous com­mit­tee (or be­ing Sen­ate ma­jor­ity lead­er) also en­titles you to shovel a lot of le­gis­la­tion through the pipeline. Along with former Sen. Ar­len Specter, Hatch, and Sen. Patrick Leahy have taken turns chair­ing the Sen­ate Ju­di­ciary Com­mit­tee since 1995. Sim­il­arly, Sen. Carl Lev­in has traded off his chair­man­ship of the Sen­ate Armed Ser­vices Com­mit­tee with former Sen. John Warner since 2001. But just be­cause a bill passes through your com­mit­tee and reaches the Sen­ate floor, that's no guar­an­tee it will be­come law.
Des­pite com­ing in ninth on the list, Leahy was less than thrilled about the abil­ity for the cur­rent Con­gress, which has be­come in­tract­ably grid­locked, to pass laws.
"There was a time when bi­par­tis­an­ship was the norm in the Sen­ate. We came to­geth­er, made reas­on­able com­prom­ises, and passed land­mark le­gis­la­tion to fight dis­crim­in­a­tion, pro­tect vic­tims of crime, sup­port Amer­ic­an jobs and pro­tect the most vul­ner­able among us," Leahy said in a state­ment to Na­tion­al Journ­al. "I have al­ways sought bi­par­tis­an sup­port for my le­gis­lat­ive pri­or­it­ies, from an­nu­al ap­pro­pri­ations bills to pat­ent re­form le­gis­la­tion, and from post-9/11 laws like the USA PAT­RI­OT Act to such mo­nu­ment­al ini­ti­at­ives as the In­no­cence Pro­tec­tion Act. Reach­ing across the aisle should be and still can be a path­way to suc­cess in the Sen­ate."
Lev­in, who came in third on Na­tion­al Journ­al's list, was less out­spoken. He de­clined to com­ment on his le­gis­lat­ive re­cord, but Sen. Jack Reed praised Lev­in's work.
"Part of what makes Sen­at­or Lev­in such a skill­ful, ef­fect­ive le­gis­lat­or is he is smart, ten­a­cious, and prin­cipled but still will­ing to com­prom­ise and work on a bi­par­tis­an basis to get things done," Reed said in a state­ment to Na­tion­al Journ­al. "He is someone who care­fully stud­ies the is­sues and al­ways shares the cred­it."
Sen. Chuck Grass­ley, who came in fifth on the list, made the point that a sen­at­or's suc­cess isn't al­ways about get­ting bills through the le­gis­lature. "Do­ing the job of a sen­at­or means passing le­gis­la­tion and some­times stop­ping le­gis­la­tion," he told Na­tion­al Journ­al in a state­ment. "Both le­gis­la­tion and over­sight are in­volved in my work for whis­tleblowers, and em­power­ing whis­tleblowers and fight­ing fraud against tax­pay­ers is a top pri­or­ity for me."
If you wanted to struc­ture your en­tire le­gis­lat­ive ca­reer in or­der to get in this Top 10 list (and who wouldn't?), a good guide would look like this: 1) Serve in Con­gress for a really long time. 2) Serve dur­ing a time when your party has the ma­jor­ity and is able to pass al­most whatever le­gis­la­tion it wants. 3) Serve on a com­mit­tee — such as Fin­ance or Ap­pro­pri­ations — that, by its nature, au­thors a lot of le­gis­la­tion. 4) Be prag­mat­ic about which bills you sup­port, and con­sider wheth­er they're likely to pass.
Of course, the quant­ity of le­gis­la­tion passed does not al­ways amount to qual­ity. Con­gress passes its fair share of Com­mem­or­ative Coin Acts and non­bind­ing res­ol­u­tions each ses­sion. Rank­ing sen­at­ors by the num­ber of laws they have passed may seem like a fa­cile meas­ure­ment. And there are cer­tainly factors that this met­ric doesn't take in­to ac­count. But it is use­ful in quan­ti­fy­ing the sheer volume of laws these sen­at­ors have seen en­acted. It speaks to their longev­ity, tenacity, and prag­mat­ism.
Re­quests for com­ment from the of­fices of oth­er sen­at­ors who made the Top 10 — Bar­bara Box­er, Thad Co­chran, and Bar­bara Mikul­ski — were not re­turned.
This is the second part of Na­tion­al Journ­al's series on Sen­ate Su­per­lat­ives, which ana­lyzes mem­bers of Con­gress by dif­fer­ent met­rics and grades their per­form­ance. You can read the first part in our series, about sen­at­ors' vote at­tend­ance re­cords, here.