If the job you're elec­ted to do is give your con­stitu­ents a vote in Wash­ing­ton, you should prob­ably be there to vote. On av­er­age, the cur­rent class of  U.S. sen­at­ors miss 2.5 per­cent of all the votes dur­ing their ten­ure, ac­cord­ing to data from Gov­Track.
So which sen­at­or earns the Per­fect At­tend­ance badge? That hon­or goes to Maine Re­pub­lic­an Susan Collins, who has not missed a single vote since her elec­tion to the Sen­ate in 1997.
"It is a great hon­or to serve in the U.S. Sen­ate and rep­res­ent the people of Maine. Vot­ing is one of a sen­at­or's most im­port­ant re­spons­ib­il­it­ies, and I feel strongly about mak­ing every ef­fort to be present when the roll is called," Collins said in a state­ment to Na­tion­al Journ­al. "People around the coun­try re­spect Main­ers for their strong val­ues and work eth­ic. I am proud to have con­tin­ued this vot­ing streak, which was in­spired by the le­gendary Maine Sen­at­or Mar­garet Chase Smith who did not miss a vote for 13 years un­til sur­gery forced to her to do so."
However, an hon­or­able men­tion must go to Iowa Re­pub­lic­an Chuck Grass­ley. Grass­ley has only missed 0.3 per­cent of votes over his 33-year ten­ure in the Sen­ate, and he has not missed a vote since 1993, when he was in Iowa in­spect­ing flood dam­age with Pres­id­ent Clin­ton. Since then, Grass­ley has cast 6,946 con­sec­ut­ive roll-call votes — the longest vot­ing streak among cur­rent sen­at­ors.
"It's not the num­bers them­selves that mat­ter so much, but people are cyn­ic­al and won­der if you're really on the job, so when the Sen­ate's in ses­sion, I'm in Wash­ing­ton vot­ing, and when the Sen­ate's out of ses­sion, I'm in Iowa hold­ing of­fi­cial meet­ings, in­clud­ing town meet­ings and ques­tion-and-an­swer ses­sions in of­fices, on fact­ory floors, at high schools, and with ser­vice clubs," Grass­ley said.
While three oth­er sen­at­ors also have per­fect at­tend­ance re­cords — Joe Don­nelly, Deb Fisc­her, and John Walsh — none of them have served as long in the Sen­ate as Collins or Grass­ley. Vote-at­tend­ance re­cords can dis­pro­por­tion­ately fa­vor sen­at­ors who have not been in of­fice for very long, since they have had few­er votes to miss in the first place. But it's a double-edged sword: If you're a sen­at­or who hasn't been in of­fice for long, even a hand­ful of missed votes can make you look like a slack­er.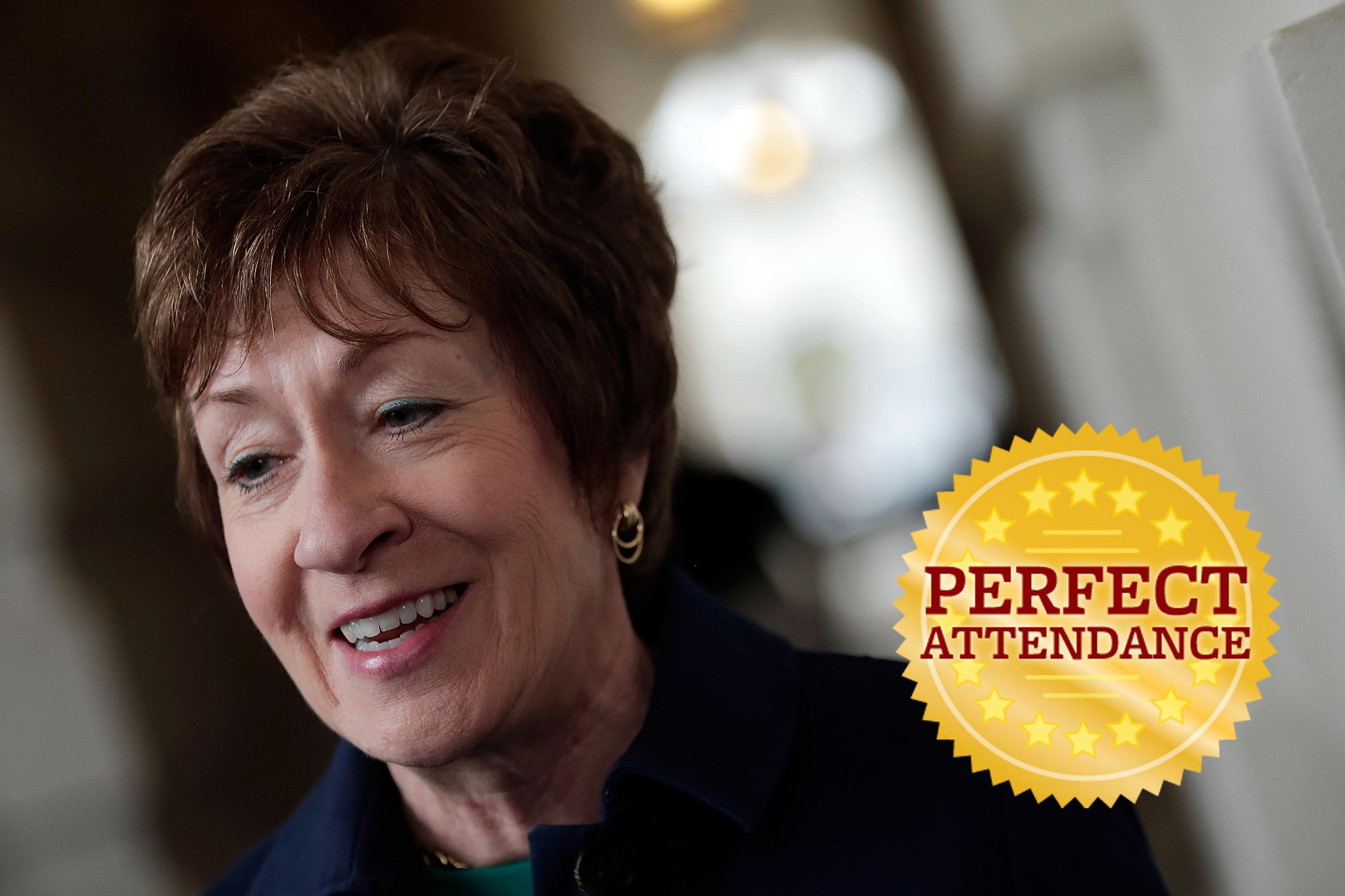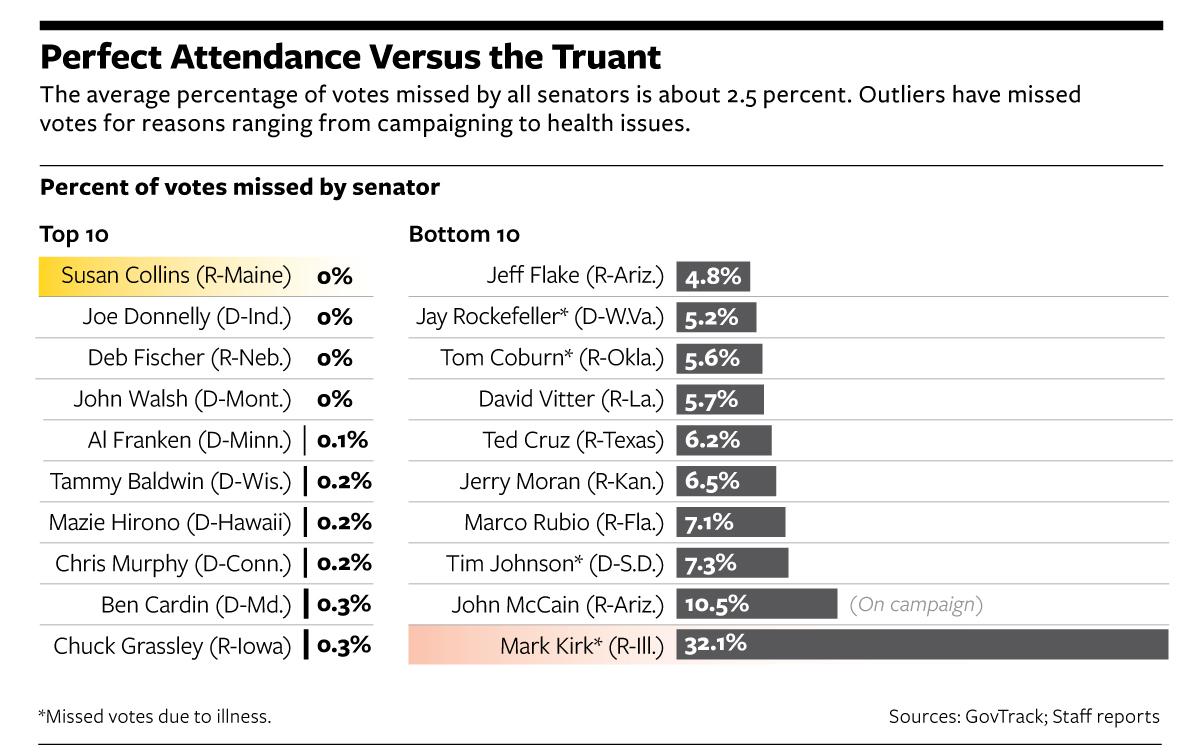 Of course, there are per­fectly le­git­im­ate reas­ons to miss votes. Sen. Mark Kirk was un­der­stand­ably ab­sent in 2012 after suf­fer­ing a de­bil­it­at­ing stroke, and missed an en­tire year's worth of votes. Sim­il­arly, Sen. Tim John­son was pre­ven­ted from vot­ing after suf­fer­ing from a brain hem­or­rhage in 2006. Sen. Jay Rock­e­feller had back sur­gery in 2006, caus­ing a spike of missed votes. And Sen. Tom Coburn, who is re­tir­ing after this term, an­nounced last Novem­ber that he had been dia­gnosed with pro­state can­cer.
Oth­er sen­at­ors have missed votes for reas­ons both per­son­al and polit­ic­al.
Ted Cruz, who joined the Sen­ate in Janu­ary 2013, missed votes for na­tion­al and in­ter­na­tion­al events. "Sen­at­or Cruz places top pri­or­ity on be­ing present dur­ing Sen­ate votes, but as all mem­bers of Con­gress, some­times has con­flicts," a spokes­per­son for Cruz told Na­tion­al Journ­al. "More than half of missed votes were due to travel to Nel­son Man­dela's fu­ner­al and the Fort Hood Me­mori­al [con­gres­sion­al del­eg­a­tion]. Oth­ers were due to delayed flights, fam­ily ob­lig­a­tions, and pre­vi­ously sched­uled events, in­clud­ing those with the Bush Lib­rary ded­ic­a­tion, Liberty Uni­versity, UVA, and the Her­it­age Found­a­tion."
Both Ari­zona sen­at­ors made the bot­tom 10 list. John Mc­Cain, un­sur­pris­ingly, missed many votes while he was on the pres­id­en­tial cam­paign trail in 2008. "Most people un­der­stand that when run­ning for pres­id­ent, you're un­for­tu­nately go­ing to miss votes," a Mc­Cain spokes­man told Na­tion­al Journ­al. "Ari­zon­ans un­der­stand that, and over­whelm­ingly reelec­ted him in 2010."
And fel­low Re­pub­lic­an Jeff Flake, who also joined the Sen­ate in 2013, missed votes last year to at­tend a me­mori­al ser­vice for the fire­fight­ers who died in the Yar­nell Hill wild­fire, and to at­tend his son's wed­ding. "Sen. Flake takes ser­i­ously his duty to rep­res­ent Ari­zon­ans in Wash­ing­ton, and tries to be present for every vote, al­though that's not al­ways pos­sible," a Flake spokes­per­son said.
Sen. Marco Ru­bio, who has missed 7.1 per­cent of votes since tak­ing of­fice in 2011, also cited fa­mili­al du­ties for his ab­sence.
"Sen­at­or Ru­bio takes his re­spons­ib­il­it­ies as both a sen­at­or and a fath­er ser­i­ously. The vast ma­jor­ity of missed votes are when the lat­ter du­ties take pre­ced­ent, and he needs to be in Miami for fam­ily com­mit­ments. He is one of the only sen­at­ors with young chil­dren who has not moved his fam­ily to D.C., and tries to spend as much time in Flor­ida with them as pos­sible," a Ru­bio spokes­man said.
"In ad­di­tion to his par­ent­al re­spons­ib­il­it­ies, in re­cent years he's also had to re­turn to Flor­ida and miss votes due to his moth­er's health and civic re­spons­ib­il­it­ies like jury duty. Nor­mally when he misses votes, his vote would not have been de­cis­ive, but in those in­stances he tries to sub­mit state­ments for the re­cord or writes a blog post ex­plain­ing how he would have voted."
Re­quests for com­ment from the of­fices of Sen. Dav­id Vit­ter and Sen. Jerry Mor­an were not re­turned.
This is the first part of Na­tion­al Journ­al's series on Sen­ate Su­per­lat­ives, which ana­lyzes mem­bers of Con­gress by dif­fer­ent met­rics and grades their per­form­ance.