Most Winter Olympic ath­letes come from places that are cold and snowy. That's true for most sports this year in So­chi. But for Amer­ic­an bobsled­ders and short track skaters, that's not the case.
It makes sense that places like Min­nesota, New York, and Cali­for­nia would be the lead­ing states in pro­du­cing winter ath­letes, con­sid­er­ing their cold cli­mates. Most ski­ers and snow­boarders come from the Moun­tain West. Most hockey play­ers come from the north­ern Mid­w­est. And the North­east pro­duces most of the cross-coun­try ski­ers. It fits in with the to­po­graphy and cul­ture.
But what about sports where the cli­mate doesn't ne­ces­sar­ily factor in? If Ja­maica can pro­duce a bobsled team, it's not a stretch of the ima­gin­a­tion that Team USA has three bobsled­ders from South­ern Cali­for­nia, and oth­ers from Geor­gia, Texas, Neb­raska, and Iowa.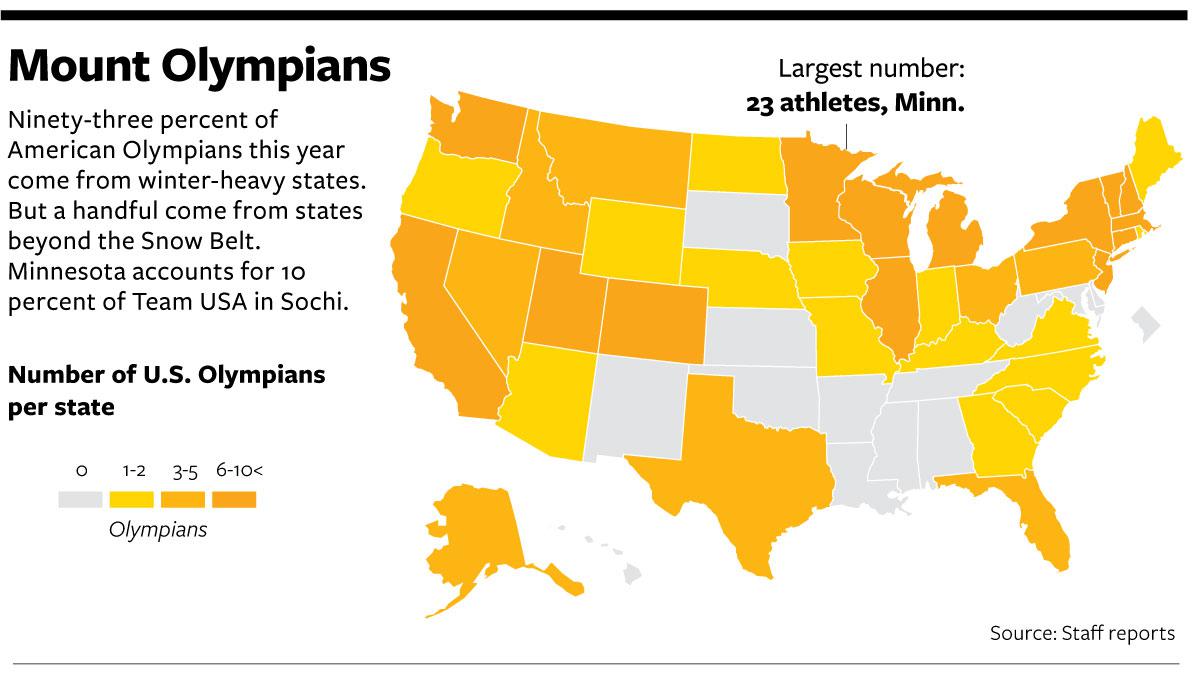 It's a sim­il­ar situ­ation for short-track ice-skaters. The U.S. team has rep­res­ent­a­tion from Flor­ida, Mis­souri, and Texas. It's an in­door sport. All you need is a rink.
But this trend doesn't stretch across all of the U.S. The Deep South and the Great Plains don't have much, if any, rep­res­ent­a­tion at these Winter Games. So­chi. Alabama, Arkan­sas, Delaware, Hawaii, Louisi­ana, Mary­land, Mis­sis­sippi, New Mex­ico, Ok­lahoma, South Dakota, Ten­ness­ee, and West Vir­gin­ia sent no Olympi­ans to So­chi.
So, if you want to be an Olympic ath­lete, you don't have to move to a cold state. But it helps.