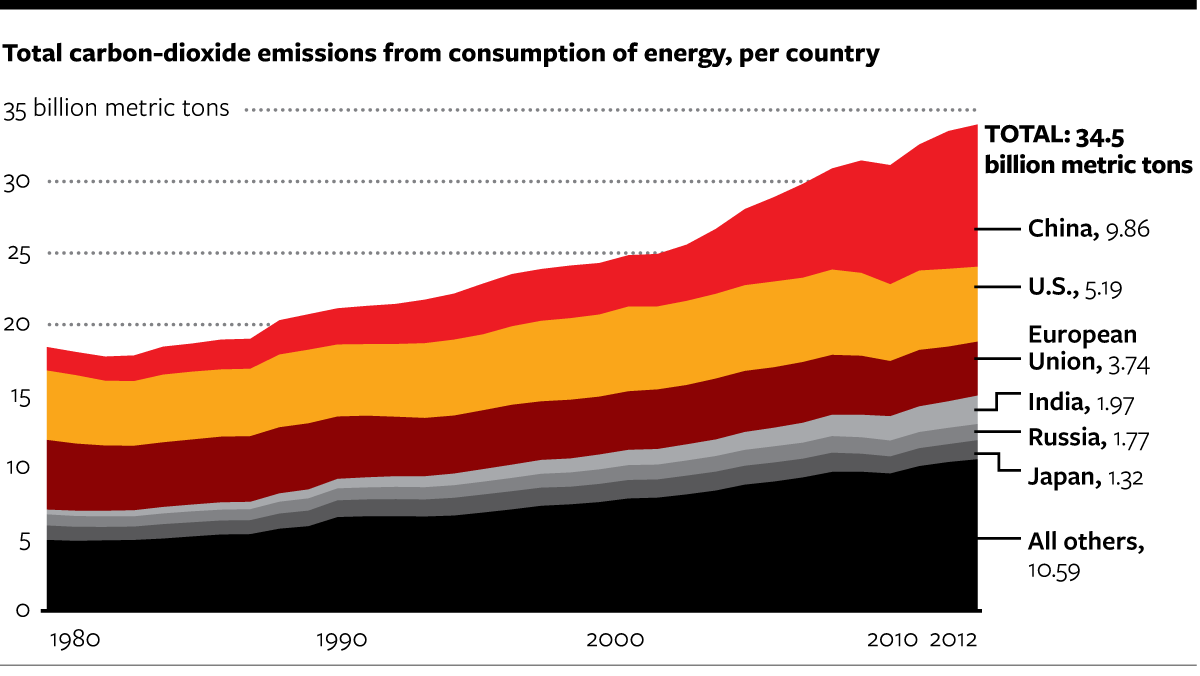 In 2005, China and the U.S. pos­ted nearly identic­al levels of car­bon di­ox­ide emis­sions. Today it's not even close. While the North Amer­ic­an su­per­power has cut its emis­sions by a small but meas­ur­able amount, the bur­geon­ing Asi­an gi­ant has be­come far and away the world's top emis­sions pro­du­cer — with no signs of slow­ing down.
Few be­lieve that this week's U.N. cli­mate talks in Warsaw will pro­duce a sig­ni­fic­ant agree­ment, but it's worth not­ing the ex­tent of the glob­al com­munity's role, par­tic­u­larly de­vel­op­ing na­tions, in the plan­et's yearly in­creases of car­bon emis­sions.
Not un­til 2006 did the U.S. cede its place as the world's worst emit­ter, but since then the re­versal in trends has been stark. The U.S. and the European Uni­on have dropped car­bon emis­sions by a com­bined 9 per­cent; the rest of the world has seen its emis­sions spike by more than 33 per­cent. Put an­oth­er way, the U.S./E.U. share of glob­al car­bon emis­sions has dropped from nearly 35 per­cent to less than 26 per­cent in just sev­en years.
In total, glob­al emis­sions have climbed nearly 18 per­cent since 2006, des­pite not­able cut­backs by many of the plan­et's in­dus­tri­al­ized na­tions. Most troub­ling is that the con­tin­ued rise leaves the world well short of where sci­ent­ists say it needs to be to avoid the worst con­sequences of cli­mate change.
Most sci­ent­ists be­lieve we need to keep tem­per­at­ure in­creases be­low 2 de­grees Celsi­us this cen­tury to avoid the most ser­i­ous fal­lout. To achieve that, they've laid out in­cre­ment­al goals for emis­sions re­duc­tions. But by 2020, says a U.N. re­port re­leased last week — even if every na­tion that has pledged cut­backs meets its self-im­posed stand­ards — car­bon emis­sions will still be 18 per­cent to 27 per­cent high­er than needed to stay off a path­way to 2 de­gree rises without sig­ni­fic­ant costs.
The year 2020 could also sig­nal an­oth­er mile­stone in the shift­ing cli­mate paradigm. It's es­tim­ated that, by then, de­vel­op­ing na­tions will have ac­coun­ted for more than half of all car­bon emis­sions since 1850.
Still, that doesn't get the United States off the hook. Amer­ica is still the lead­ing car­bon emit­ter in all-time cu­mu­la­tion, and it's re­spons­ible for many of the tech­no­lo­gies that have led to con­tin­ued emis­sions spikes else­where. And, of course, it will still bear the con­sequences if a rise in tem­per­at­ure isn't hal­ted.
Worse, there's little the U.S. can do to re­verse that trend. Even if Amer­ica had dis­covered a way to cut its emis­sions to zero between 2005 and 2012, it wouldn't have been enough to pre­vent glob­al emis­sions from climb­ing. And it's un­likely — even with the most am­bi­tious agenda, reg­u­la­tions, and tech­no­lo­gic­al ad­vances — that we will make any­thing but in­cre­ment­al pro­gress for the fore­see­able fu­ture. Mean­while, emis­sions in places like China are climb­ing by leaps and bounds, and there's not much we can do to stop it.
That doesn't mean we're not try­ing. Last month, the Obama ad­min­is­tra­tion an­nounced a near-com­plete end to fin­an­cing of over­seas coal plants, join­ing World Bank policies set this sum­mer that would cut in­vest­ments on such pro­jects. It may be a mat­ter of time be­fore those new stand­ards show res­ults, as oth­er donors and the private sec­tor are likely to fill the void. Still, ad­min­is­tra­tion of­fi­cials ex­pressed op­tim­ism that pub­lic back­ers would fol­low the lead of fed­er­al poli­cy­makers.
So while Pres­id­ent Obama's cli­mate dir­ect­ives at home have sparked a firestorm of con­tro­versy, the U.S.'s abil­ity to dent the glob­al on­rush of cli­mate change is mar­gin­al at best. Mean­while, few Amer­ic­ans will be pay­ing at­ten­tion as the glob­al com­munity as­sembles this week in Po­land, in what could be one of our few chances to make a mean­ing­ful dif­fer­ence on cli­mate.