President Trump put congressional leaders on the clock Tuesday, reigniting an incendiary immigration debate by announcing his intent to rescind a popular Obama-era program that temporarily protects the children of undocumented immigrants from deportation.
The decision places the burden on House Speaker Paul Ryan and Senate Majority Leader Mitch McConnell to find a legislative solution within six months for the roughly 800,000 people who came to the country illegally as children, but have been allowed to work legally under the Deferred Action for Childhood Arrivals program without the threat of imminent deportation.
Ryan said in a statement Tuesday that he hopes Congress can find "consensus on a permanent legislative solution that includes ensuring that those who have done nothing wrong can still contribute as a valued part of this great country."
Yet that will be a tall order in a Congress that has been trying for more than a decade to rewrite the federal immigration code in one way or another. Full Republican control of Congress and the White House has not made the issue any simpler.
Immigration has divided the Republican Party for years. Both Ryan and McConnell are aligned with the business-establishment wing that wants to protect DACA's beneficiaries. But both will face pressure from the Far Right, whose legislative power lies in the three-dozen or so members of the House Freedom Caucus and a pocket of Republican senators.
For their part, House conservatives do believe the issue should be handled by Congress, but they want any solution to also address border security and have the support of at least half of the Republicans in the GOP Conference, according to an aide.
"We have to start with border security and the wall," Freedom Caucus Chairman Mark Meadows said Tuesday on CNN. "If we have a comprehensive program that not only deals with our Southern border, it also looks in terms of e-Verify."
One House GOP aide said a fledgling thought among leadership is that a deal could be struck with Democrats to trade border-wall funding or border-security measures for a DACA bill.
"There is the potential for something if they would go along with some wall funding. Maybe a big package on immigration with a couple wins for us: wall funding, other stuff to increase enforcement," the aide said. "We give them DACA and maybe something on worker visas."
Yet that strategy comes with obvious downsides, too. Democrats showed no sign Tuesday that they would support funding for a border wall. "A wall won't work," said Sen. Dick Durbin, the No. 2 Senate Democrat, while House Minority Whip Steny Hoyer said, "We're not going to make a deal on wall funding."
Some Republicans from border states, meanwhile, remain opposed to the idea of a physical barrier between their states and Mexico. And the larger an immigration package gets, the more it comes to resemble the same comprehensive immigration-reform ideas that stalled in several successive Congresses.
"I think that would pretty much guarantee failure," said Sen. John Cornyn, the No. 2 Republican, of a "comprehensive" bill.
In the Senate, a number of Republicans echoed Ryan in saying that the beneficiaries of DACA came to America "through no fault of their own," signifying a desire to protect them from deportation.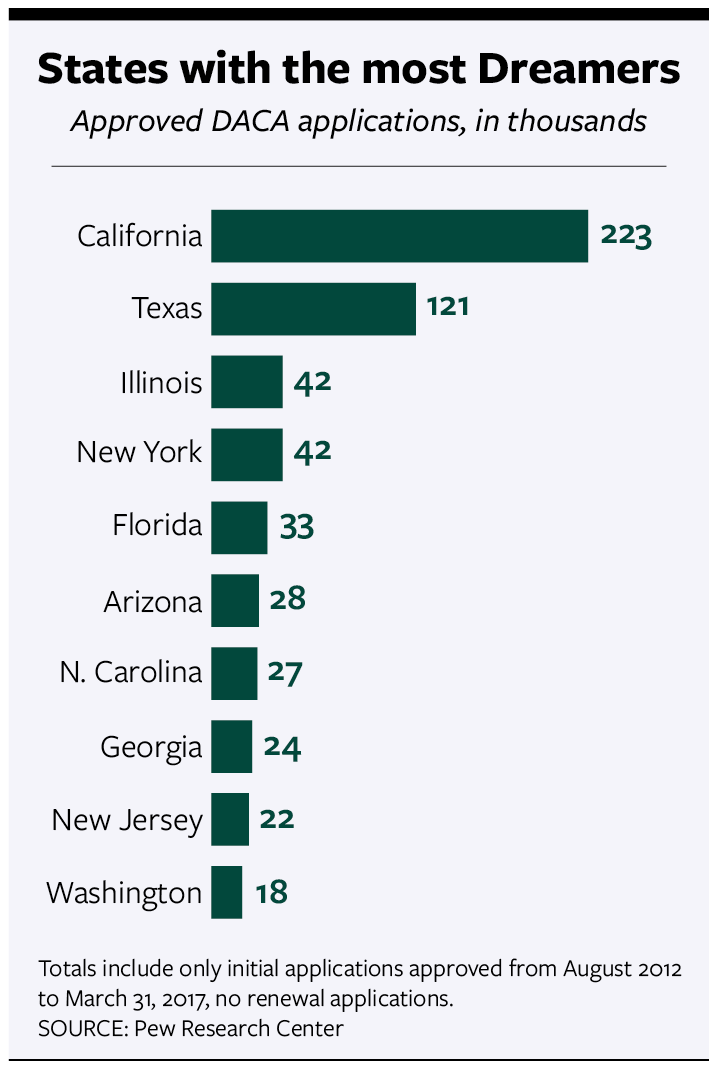 But Congress has repeatedly failed in the past to come up with a bill to address the broken immigration system. In 2012, President Obama created the DACA program through an executive order, a couple of years after Republicans and some red-state Democrats blocked legislation in the Senate known as the Dream Act, which would have granted a path to citizenship for certain young immigrants who came to the country illegally as children. In 2013, a Democratic-led Senate passed a broader immigration bill that went nowhere in a Republican-led House.
In a statement, the White House emphasized that Congress would have six months to create some sort of legal status for the so-called "Dreamers," as it gradually winds down the program. While new work permits won't be accepted, existing ones will be processed and honored for up to two years.
"I am not going to just cut DACA off, but rather provide a window of opportunity for Congress to finally act," Trump said.
That's good for Congress, which won't act anytime soon. It has to pass legislation to keep the government running, raise the debt limit by the end of the month, and renew a host of programs like those providing flood insurance and children's health insurance.
With funding for the Federal Emergency Management Agency depleting rapidly, Sen. Cornyn of Texas said Tuesday that the Senate will soon link the raising of the debt limit with funding for relief efforts from Hurricane Harvey, which has wreaked havoc on his state.
"There's no way" that Congress would pass a DACA bill this month, he said.