Add to Briefcase
July 20, 2017, 8 p.m.
There is no denying that President Trump's historically low approval rating is bad news for the White House. But the history of the past nine first-term presidents suggests that it is much worse for his party and congressional Republicans than it is for his own hopes to win a second term in 2020.
All the previous presidents enjoyed much more robust approval ratings than Trump does. All, except Bill Clinton, had enjoyed honeymoons that boosted their six-month marks. Yet all, except one, suffered losses in the House or Senate in their first mid-term elections. That is where the danger is for Trump's GOP.
"Six-month approval ratings have little or no predictive relationship with reelection," said Frank Newport, editor in chief of the Gallup Poll. He noted that George H.W. Bush and Jimmy Carter lost their bids for second terms despite enjoying six-month approval of 66 and 62 percent. And Clinton, who had the pre-Trump low mark of 45 percent in July of his first year, handily won reelection.
Democratic pollster Mark Mellman, who has been working mid-term races since 1982, said the six-month approval "doesn't tell us anything about reelection. It does tell us something about midterms. There is a definite relationship between presidential approval as we go into those midterms and the midterm outcomes." That is because presidents almost never see increases in their approval between the six-month mark and his 22nd month when voters go to the polls to pick members of the House and the Senate.
"Only when there is some kind of outside intervention, some external circumstance, do we really see anyone getting a material increase in their approval numbers between their sixth month and their 20th month," he said. The two examples of that since World War II came because of the Cuban missile crisis, which was not resolved until nine days before the 1962 midterms, and the terrorist attacks of Sept. 11, 2001.
"In the summer of 2001, everyone was talking about sharks and congressman Gary Condit. But things changed in a snap with 9/11," said Bill Schneider, a visiting professor at UCLA and a longtime political analyst. "It is impossible and foolish to make predictions. What we do know from the six-month polls is that Trump has a lot of enemies. He is not widely admired. He is way below 50 percent in the polls, which is normally required for both his own reelection and for his party to do well in the midterms."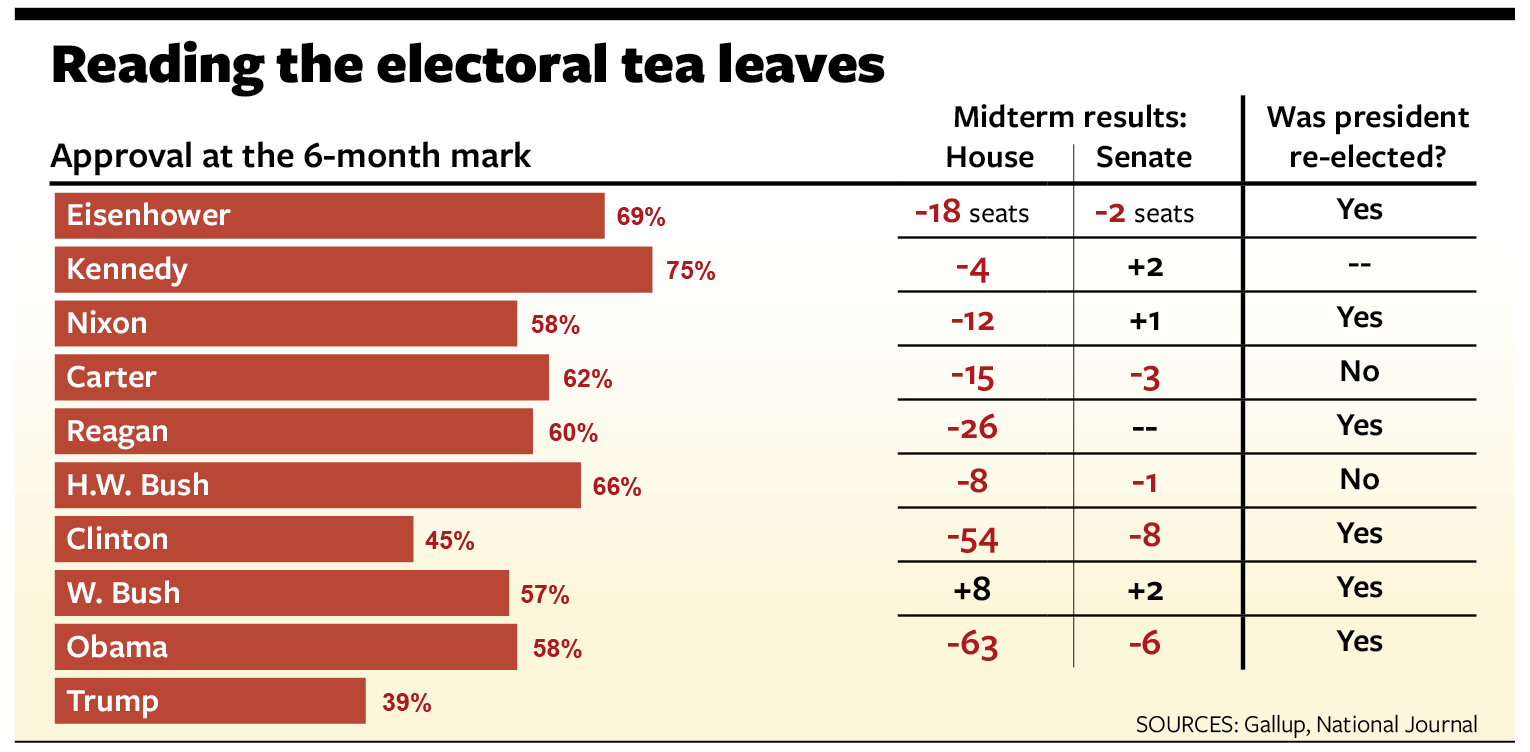 Critically, the six-month polls come at a crucial time for potential candidates deciding if they want to mount races for Congress or other offices in 2018. Already, Trump's travails have fueled Democratic hopes. It is why Mellman finds himself more optimistic about the midterms than he can remember. "I'm not usually quite so bullish," he said. "But I think the circumstances warrant it this time. Am I saying that we're certainly going to take back the House? No. But is the House in play? I think the answer is absolutely yes. Is the Senate in play? That is a lot harder because of the geography."
He sees a direct link between the polls and candidate recruitment so far. "We have extraordinarily high-quality candidates on our side precisely because of Trump, both because his numbers are so bad and because people are so enraged by what he's done," said Mellman. And, while the pollster believes Democrats need to find a "retooled economic message that is more credible and more relevant to people" before 2020, he thinks anger at Trump is a powerful message in 2018.
Schneider also sees a link between Trump's polls and early Democratic success at raising money for next year's races. Like Mellman, he recognizes the power of being anti-Trump. "What is driving the Democrats is Trump hatred," he said. "Democrats see an opening and they are seeing the possibility that even after the defeats in the special elections, that they could overturn the Republican majority in the House."
Just being against Trump, he said, will go pretty far in 2018 but is not enough in 2020—another reason why six-month polls do not predict second terms. "They have to stand for something in 2020 because that will be a choice between Trump and the Democrat. But in 2018, it is a referendum on Trump." He said that was particularly true in 1994, which was a referendum on Clinton, and in 2010, which was a referendum on Barack Obama's health care plan. Both incumbents absorbed what Obama at the time called a "thumping." But both easily won second terms.
As Trump tries to dig out of a hole that has him almost 20 points below where Bush and Obama were at this point in their presidencies, that history is the only bright spot in an otherwise bleak time.